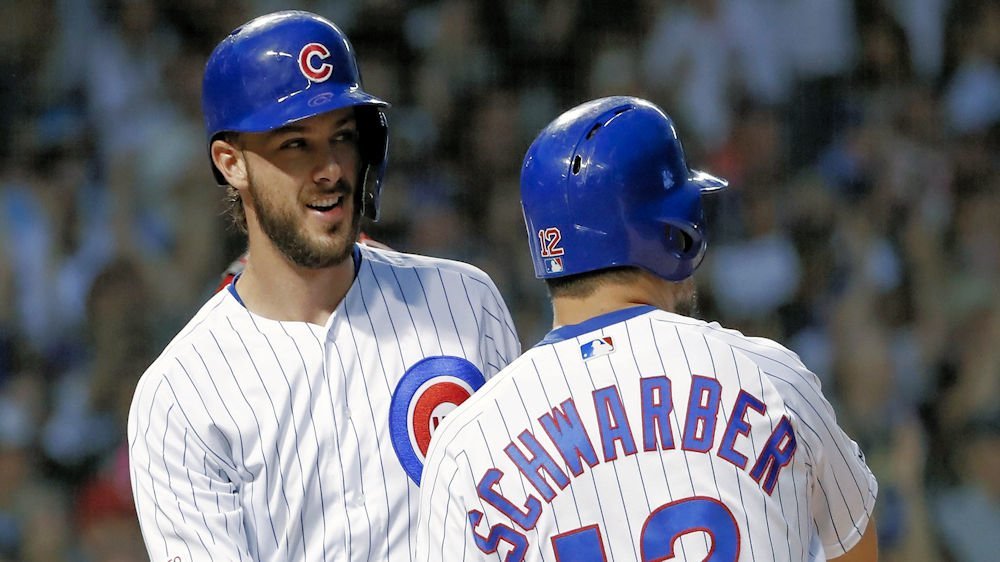 | | |
| --- | --- |
| Cubs vs. Mets Series Preview: TV times, Starting pitchers, Injuries, Predictions, more | |
---
| | | |
| --- | --- | --- |
| Thursday, June 20, 2019, 4:14 PM | | |
For as desperate as the Cubs are to get back on the winning track, the Mets may be even more so. Recent reports say that Mets' GM, Brodie Van Wagenen, is torn between making deals ahead of the deadline to make a run for the playoffs or deciding whether he should sell off the team and start again next year. Either way, the future of the 2019 Mets has a little less than six weeks to figure out what they're doing, and if the players wish to stay together, they're going to be playing hard.
Injury Report:
CUBS: (1) Kyle Hendricks: 10-Day IL (right shoulder inflammation. (2) Steve Cishek (right-knee bruise) has thus far avoided the IL but remains day-to-day. (3) Carl Edwards, Jr.: 10-Day IL (thoracic strain).
METS: (1) RHP Noah Syndergaard: 10-Day IL (hamstring). (2) OF Brandon Nimmo: 10-Day IL (bulging disc in neck/whiplash). RHP Jeurys Familia 10-Day IL (lesion in right shoulder). (4) LHP Justin Wilson: 10-Day IL (elbow). (5) LHP Luis Avilan 10-Day IL (elbow). (6) OF Yoenis Cespedes: Out for the season due to multiple ankle fractures. (7) INF Jed Lowrie: 60-Day IL (sprained knee, hamstring). (8) LHP Jason Vargas had been sidelined die to left-calf ramps and missed his last appearance but is expected to make his start on Friday in Chicago.
The Pitching
For the Cubs, the area of pitching remains the same; a powerful, yet unpredictable rotation, who's backed up by a bullpen which continues to struggle. When the starters are on, they absolutely nail it, but even then, a shaky bullpen usually comes into play.
The quartet this time around will feature Tyler Chatwood, Yu Darvish, Jose Quintana, and Cole Hamels, who've combined to turn in a mixed bag of performances. Hamels has been excellent this season, as has Chatwood, but while Darvish is improving, Q continues to struggle. It's imperative that the starters go deep, as the bullpen seems to offer very few safe choices lately for Joe Maddon.
For the Mets, their team ERA of 4.64 leaves a lot to be desired, yet somehow (obviously not through run support), they've managed to play .500 ball. Ranking near rock bottom in the National League (13th to be exact) in hits and earned runs allowed, the Cubs have the opportunity to exploit a glaring weakness; the question is, will they be able to do it?
The Mets' starters have been even shakier than the Cubs', and if Chicago can get to NY's bullpen early, their chances to score are even better. The one reliever that the Cubs want to avoid is Seth Lugo, who's 2.36 ERA ranks best on the team.
The Offense
I saw a tweet from The Athletic yesterday that caught my eye- "Forget the relief pitching, what about the Cubs' slumping offense? The Cubs should hit a lot of homers; they're undoubtedly great. But they also need to find other ways to score runs." I've only been saying this for three months, but it's nice to know the issue has now become so blatantly obvious, that The Athletic has validated my thoughts.
There's no rhyme or reason to the Cubs offense this season, and it's become increasingly frustrating (I'm politely ignoring that the issue was present last year as well). This is a team who should be right up there with the Dodgers and their 100+ run differential, but they can't seem to manage move runners from second (or third) to home plate unless someone delivers a blast to the bleachers. Anthony Iapoce (the new, yet seldom seen Cubs hitting coach) vowed to make "opportunity hitting" a priority while mixing in the long-ball for power, but to date, the Cubs seem to be focusing on the all-or-nothing approach to scoring runs. Power is a beautiful thing, but there are a time and a place, and the Cubs better figure this out fast.
NY has an offense that should be able to generate runs, but with an overall team who's been functioning much like the Cubs, they've failed to produce the run support needed to cover the shortcomings of the pitching staff. Despite having a negative run differential that continues to hover around minus 20, the Mets have somehow managed to keep themselves in games, enough so, that they've clung to third place in the east.
Mound Matchups
Thursday: RHP Walker Lockett (0-0, 0.00 ERA) vs RHP Tyler Chatwood (3-1, 3.60 ERA). Game time 7:05 PM CDT; Televised on WGN, SAP WGN, MLB Network (out of market only) and MLB TV.
The series opener will feature a battle of the spot-starters, as both scheduled starters have hit the IL. As of mid-afternoon on Monday, Mets' manager, Mickey Callaway, was still scrambling to find a spot-starter to replace Noah Syndergaard, who hit the IL earlier in the week (see above). Syndergaard had been underperforming this year, but he's never a guy to be taken lightly, and he'd undoubtedly have been Callaway's choice to face the Cubs. Instead, the Mets will utilize righty, Walker Lockett, who the Mets recently acquired from Cleveland.
Lockett had been in Triple-A Syracuse since the Mets got him, as he was nursing an arm injury, so this will be his debut for NY. During his four outings in the minors, he posted a 3.28 ERA. The good news is, Heyward, Rizzo, and Schwarber have all gone 2 for three against him in the past, while Russell is 1 for 2. The only other two Cubs that he's faced (Baez and Contreras) have each gone 0-2 against him.
For the Cubs, it'll be Tyler Chatwood, who's been incredibly useful this year, as compared to last. Chatwood's had one start this season (on 4/21 vs. Arizona, while filling in for Jon Lester), and he turned in quite the performance: 6.0 scoreless innings (though he could have gone longer), giving up just a pair of hits and as many walks while striking out three. Joe Maddon had predetermined that Chatwood's innings would be limited and pulled him after only 77 pitches.
Chatwood doesn't have any experience to speak of against the Mets, having only ever faced four of the players on the roster. Chatty has held Conforto to a .222 average in nine at-bats, while Cano and Rosario have gone 1 for three against him in the past.
Friday: LHP Jason Vargas (3-3, 3.74 ERA) vs RHP Yu Darvish (2-3, 4.65 ERA). Game time 1:20 PM CDT; Televised on NBC Sports Chicago and MLB TV.
Still looking for his first win at Wrigley Field, Darvish has had minimal experience with anyone except Cano, who's managed a .375 average against him in 16 at-bats. Conforto, Hechavarria and Ramos have faced collectively faced Yu 17 times for a .178 combined average, while Rosario and Lagares are each 1 for 3.
Vargas has had even fewer opportunities to see the Cubs, facing only half of the roster for a total of 15 at-bats. Of the Cubs that Vargas has faced, (Albert Almora Jr., David Bote, Willson Contreras, Carlos Gonzalez, Anthony Rizzo, and Kyle Schwarber), Vargas has managed to almost completely shut them down, as the Cubs have combined to go just 3 for 17 (.176).
Saturday: RHP Zack Wheeler (5-5, 4.94 ERA) vs LHP Jose Quintana (4-6, 3.87 ERA). Game time 1:20 PM CDT; Televised on ABC-7, MLB Network (out of market only) and MLB TV.
Quintana has been up and down this season, with more downs than ups lately. When Quintana is effective, he's been dominant, but at the blink of an eye, he goes from being in control to losing total control.
Q's been able to limit the Mets offense in the past, with the one exception of Cano, who's blasted him for a .417 average in 12 at-bats, but he's done well against the remainder, despite a small sample size. Gomez has gone .111 in nine at-bats, while Lagares has gone just 1 for 5. Everything has been an even smaller sample size, but certainly, nothing alarming to speak of.
Zack Wheeler may be pitching on borrowed time for New York, and he's acknowledged that trade rumors regarding him are likely to start circulating. Wheeler's had a bit of an off-year, as his current 4.94 ERA and a 5-5 record isn't indicative of his norm.
Wheeler's faced everyone on this Cubs' roster with the exceptions of Victor Caratini, Bote and Kyle Schwarber, but he's done some significant damage to the majority of the rest, most specifically Rizzo, who's 1 for 9 (.111) against him. Jason Heyward does seem to have Wheeler's number, as he's smashed him to the tune of a .444 average in 18 at-bats, as does Addison Russell who's gone 3 for five against him.
Sunday: RHP Jacob DeGrom (3-6, 3.26) vs LHP Cole Hamels (6-4, 4.08 ERA). Game time 1:20 PM CDT; Televised on ABC-7 and MLB TV.
The Mets still haven't officially announced deGrom as the finale starter, but other sites I refer to have named him. Much like some of his fellow pitchers, deGrom has been "off" this season- not that a 3.26 ERA is terrible, but it's a half-run higher than his career ERA of 2.72. Jacob deGrom is one guy who's always just a start away from wreaking havoc, and this weekend will prove to be no different.
Hamels has been fantastic this year and has battled back quickly from his few bad starts. Remaining calm, cool and collected, he's pitched himself out of some jams- most recently against the White Sox in the first inning of Tuesday night's game.
Cole Hamels has seen a bunch of this Mets roster, and he's found a few trouble spots. Lagares has managed a .400 average in 15 plate appearances; Hechavarria who's batted .350 in 20 at-bats, and Rosario who's gone 3 for three against Hamels. The remainder has struggled, with no one hitting higher than .250, and most under .211.
Series Prediction:
The way things have been going for Chicago, I'm almost scared to predict this one. The signs point to a 3-1 series win (remember those?) for the Cubs, but then again, I was reasonably confident they could sweep the White Sox. I'm playing this one safe: Cubs split the series 2-2, on a combination of bad pitching and a slow offense.
Next up: The Atlanta Braves at Wrigley.

Tags: Cubs Baseball
,
Kyle Hendricks
,
Steve Cishek
,
Justin Wilson
,
Tyler Chatwood
,
Yu Darvish
,
Jose Quintana
,
Cole Hamels
,
,
Albert Almora Jr
,
David Bote
,
Willson Contreras
,
Anthony Rizzo
,
Kyle Schwarber
,
Victor Caratini
,
Jason Heyward
,
Addison Russell
,
Joe Maddon
,
Anthony Iapoce