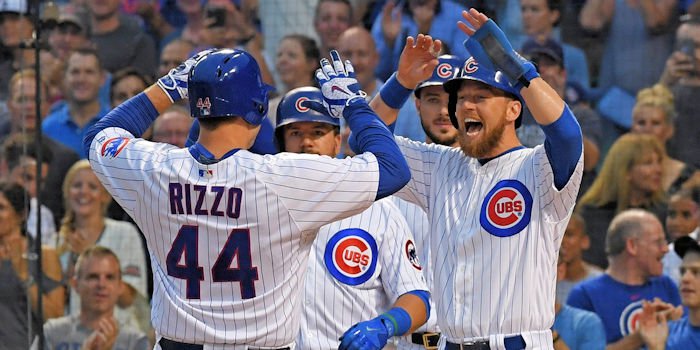 | | |
| --- | --- |
| Cubs win in walk-off fashion to cap off strange game | |
---
| | | |
| --- | --- | --- |
| Thursday, August 17, 2017, 12:39 AM | | |
CHICAGO – Video game-like in nature, Wednesday's battle between the Chicago Cubs and the Cincinnati Reds sported several uncanny moments that made it seem almost too strange to be true. From a 38-year-old starting pitcher stealing a base to a bevy of home runs scattered throughout and a wild pitch to end the game, the divisional rivalry had a unique feel to it in the Cubs' 7-6 victory. Wasting a five-run lead, the Cubs were able to step up with the game on the line, winning in walk-off fashion.
True to form, Cubs starting pitcher John Lackey backed himself into a corner early on, giving up a leadoff double to Reds center fielder Billy Hamilton and proceeding to walk a batter and give up a single. With the bases loaded, the speedy Hamilton scored with ease on a sacrifice fly by Reds third baseman Eugenio Suarez.
Lackey was bailed out in the ensuing inning, though, when Cubs first baseman Anthony Rizzo hit his third career grand slam to put Chicago up 4-1. Marking his 28th bomb of the season, Rizzo's four-bagger to left-center off of Reds ace Homer Bailey was the tipping point of a miserable opening inning for Bailey, who failed to accrue an out prior to the fifth batter of the frame.
Unpacking the bags. pic.twitter.com/rCVCNKeGvz

— Chicago Cubs (@Cubs) August 17, 2017
Fitting with the theme of his season, Lackey was at his worst in the first two innings, as he balked, loaded the bases and was lucky to avoid giving up additional runs in the second inning. The veteran right-hander was able to settle down thereafter, though, finishing with just four hits to his name in a six-inning, six-strikeout performance.
As for Bailey, despite striking out 10 batters, he was never able to settle into a groove, struggling with walks and being taken to task by Rizzo, who collected a double off of Bailey in his next at-bat following the grand slam. An ensuing single by catcher Cubs Alex Avila plated Rizzo, who finished the game 2-4 with two runs and two RBI.
Leading 5-1 at that point, the Cubs were in total control and taking advantage of a flustered Bailey. Even Lackey got in on the offensive fun, stealing the first base of his 15-year career in the fourth after getting a sizable lead off of first because of a seemingly unconcerned Bailey. Though it took an awkward slide to pull it off, Lackey did earn a steal for the top offensive highlight of his season so far. Interestingly enough, though, Lackey was picked off at at second soon after displaying his base-running acumen on the steal.
That's what speed do. pic.twitter.com/YHAX7o65qm

— Cut4 (@Cut4) August 17, 2017
Prior to being pulled from his start in the sixth, Bailey allowed yet another run by giving up a double to Cubs pinch hitter Tommy La Stella that scored right fielder Jason Heyward. After the sixth, the Cubs went cold with the bat, allowing the Reds to catch up. Cubs manager Joe Maddon chose to sit Lackey down after the sixth inning, which proved to be a mistake, as relievers Hector Rondon and Brian Duensing proceeded to cause Chicago's five-run lead to dissipate, all by way of the home-run ball.
In the seventh, Rondon gave up a solo shot to pinch hitter Phillip Ervin and a two-run blast to shortstop Zack Cosart. Although 13 total runs were scored, Wednesday's game was not exactly teeming with hitting success, as home runs contributed in a major way to the high scoring output in a 17-hit game. The fourth and final home run of the night came in the eighth, as Reds outfielder Adam Duvall hit a game-tying two-run home run beyond center field off of Duensing to knot the game up at six apiece.
The Cubs avoided melting completely down, though, as they were able to win in an unorthodox fashion to put a bow on an overall unorthodox game. The bottom of the ninth featured plenty of excitement, including Maddon getting ejected for arguing that a strike should not have been issued against Cubs second baseman Ben Zobrist when he was seemingly hit by the pitch. Maddon's ejection proved to be moot, however, as Cubs infielder Javier Baez scored the winning run later in the inning.
VIDEO: @CubsJoeMadd gets ejected and is likely to be suspended for making contact with multiple umps multiple times. @Cubs #CubsTalk pic.twitter.com/hKcInEFg06

— Billy Krumb (@ClubhouseCancer) August 17, 2017
Baez originally reached base on a leadoff double, later taking third on a grounder by Zobrist. But, with two outs in the inning, the Reds made the interesting decision of putting young reliever Blake Wood on the mound. And, although he struck out the first batter whom he faced, Wood then came unglued under pressure, throwing a wild pitch that enabled Baez to advance home from third base and give the Cubs the victory.
Just how we drew it up. #Walkoff pic.twitter.com/Vz2TSttvfz

— Chicago Cubs (@Cubs) August 17, 2017
Winning 7-6 in a strange, yet memorable, National League Central clash, the Cubs improved to 63-56, while the Reds dropped to 50-71. Looking to increase their slim lead in the division, the Cubs will look for a series victory against the Reds when they battle in the fourth and final game of the NL Central affair tomorrow afternoon at Wrigley Field.