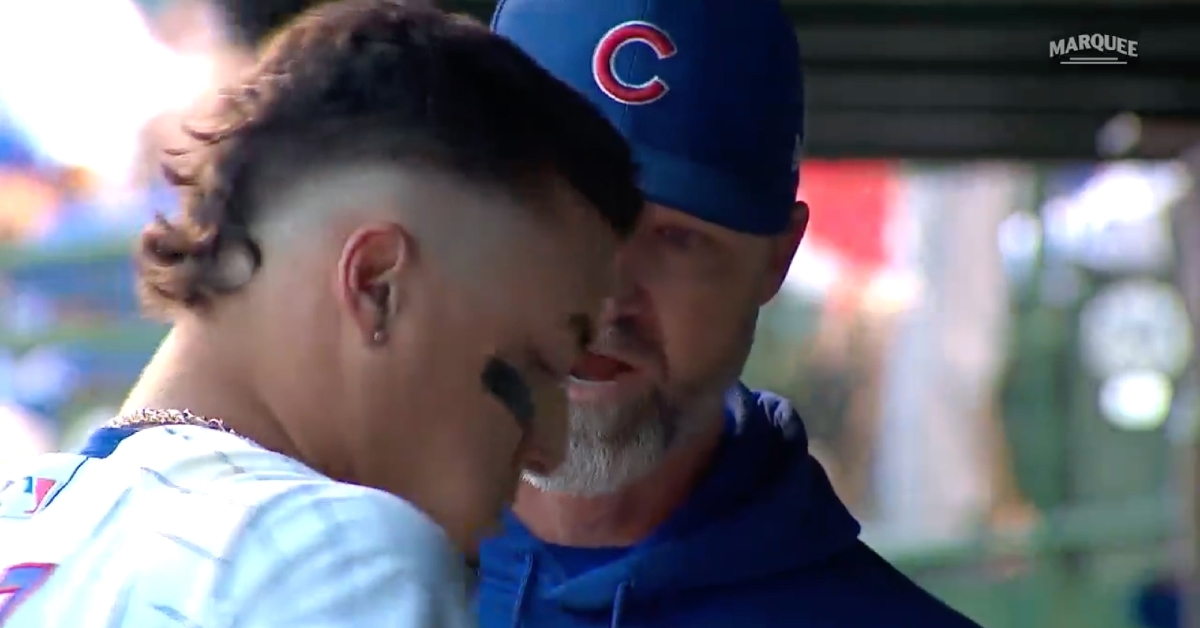 | | |
| --- | --- |
| Cubs News: David Ross benching Javy Baez has layers | |
---
| | | |
| --- | --- | --- |
| Tuesday, June 22, 2021, 6:00 PM | | |
In the late fall of 2019, after Joe Maddon and the Cubs had "mutually decided to part ways," it was time for Theo Epstein, Jed Hoyer, and the organization to find its replacement for one of the franchise's best managers. If nothing else, Maddon was the manager who broke the 108-year curse and brought Chicago its first World Series in over a century — pretty big shoes to fill.
The Cubs interviewed numerous potential suitors, including former Cub Joe Girardi. Still, they ultimately decided to stay in-house with a member of the front office and a player on that 2016 World Series-winning team, David Ross.
Ross became the Cubs 61st manager despite not having any managerial experience, he was widely respected in the MLB after 15 seasons as a backup catcher and considered a future manager from his first day in the big leagues. His knowledge of the game and of pitching staffs is unmatched, so nobody questioned his ability to lead a team.
The concerns with hiring Ross just three seasons removed from winning a World Series were that several players he would now be in charge of he used to be teammates with. Despite being a gritty, hard-nosed type leader — Ross developed the Grandpa Rossy reputation in Chicago. Would Grandpa be able to have a hard conversation with Anthony Rizzo or Javier Baez or Jon Lester, and the list goes on?
Ross is now in year two at the helm, and the Cubs have six players (Rizzo, Baez, Willson Contreras, Kris Bryant, Jason Heyward, and Kyle Hendricks) who won a World Series with Ross in 2016 — and while he has had opportunities to discipline or have conversations with players in his year and a half as manager, Monday night presented a great opportunity to see how Ross would handle a situation like that.
After a scorching hot May, the Cubs' offense and bullpen have cooled off considerably in June — partly because of injuries and the schedule gauntlet the Cubs have had to play. The Cubs lost just one series in all of May and have already lost three in June, plus a guaranteed loss/split with the Indians after dropping game one of the series Monday. The Cubs have fallen out of their contact approach and have become increasingly dependent on the long ball, something that doesn't quite work when your best player hasn't had an extra-base hit in over 60 at-bats.
On Monday night, the Cubs hosted the Indians and truly never felt into the game. For a team that usually brings so much energy, they looked especially zapped Monday night. In the bottom of the fourth inning, Javier Baez hustled to beat out what would've been his second double play of the game. Then, Anthony Rizzo flied to left field with one out, and Javier Baez turned on the jets like there were two outs — a huge mental mistake for arguably the Cubs' best baserunner. Instead of slamming on the breaks and trying to salvage the inning, Baez just walked off the field into the dugout.
Ross had a quick conversation with Baez, and by the time the next inning had started, Baez was nowhere to be found, and Sergio Alcantara had become the Cubs' shortstop.
Here's Báez and Ross in the dugout after the inning-ending double play. #Cubs pic.twitter.com/wO1m3oLO16

— Andy Martínez (@amartinez_11) June 22, 2021
While Baez is the energy on this team, and he leads the Cubs in home runs and RBIs, Ross did what he thought he had to do and benched his star shortstop.
While the Cubs eventually lost the game 4-0 and the move did nothing in the short term to fire up the team, it should send a message that a certain effort and focus is required to play on this team and win ballgames — something the team and Baez lacked on Monday and as of late. That is something that the Cubs seemed to lack late in the Maddon era and something that the Cubs expected Ross to hone in on as manager.
Ross took advantage of his opportunity on Monday, now let's just see if it can spark the Cubs back into playing winning, motivated, passionate baseball…or if Ross will have to reach back into his bag of tricks.