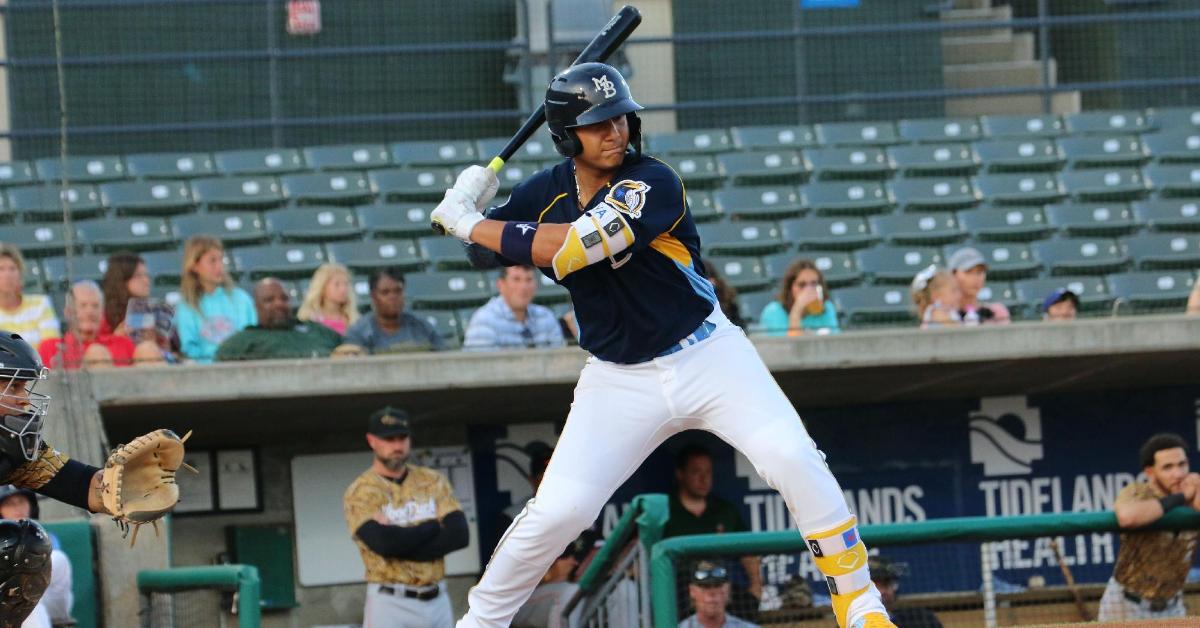 | | |
| --- | --- |
| Down on Cubs Farm: Colin Rea impressive, Pelicans win fourth straight, Amaya clutch, more | |
---
The Cubs continue to produce consistent wins on the farm going 3-2 for the third straight night.
IOWA CUBS 9 – Omaha Storm Chasers 0: Looking for the huge sweep to finish off their season series, the Cubs turned to one of the best stories in AAA this season Colin Rea. Rea (9-2) the lone Iowa player to make the all-star team, made a great case to be the games started as he went seven innings strong allowing just three hits for an easy shutout win.
Backing Rea on the mound was Dixon Machado who homered in his third straight game with his 11th in the bottom of the third to give the Cubs a 1-0 lead. Not only did that homer put Iowa in front, but it proved to be the game-winning run as Rea was simply brilliant yet again. The lead grew to 2-0 in the fifth off an Ian Happ single, but it was in the sixth when Iowa turned things on putting Omaha in a tailspin.
Three batters into the sixth, Iowa had the bases loaded as Robel Garcia started things off with a single before a pair of walks put two more runners on base. Francisco Arcia kept the line moving with another single as the bases remained loaded and 3-0 lead. Jacob Hannemann pushed the lead 4-0 with a sacrifice fly before two more walks, one an RBI walk for Happ kept the bases loaded with a 5-0 lead.
Mark Zagunis continued the big inning for Iowa as his single brought home a pair of runners to make it a 7-0 Iowa lead. With runners now on the corners, Phillip Evans capped off the six-run frame with a sacrifice fly giving the Cubs an 8-0 lead. Machado added another RBI in the bottom of the seventh with a single to make it 9-0 as Duane Underwood Jr. finished things off from there to give the Cubs a 9-0 win for the series sweep.
Iowa had plenty of great performances on the night, but it was Machado and Happ leading the way with a pair of hits each to go with three combined RBI's. Zagunis also added a couple of RBIs' as he brings his average to 337 for the season with Garcia, Trent Giambrone, Taylor Davis, Arcia and Hannemann rounding out the hit category. After struggling all season as a starter, Underwood appears to have found his groove in the pen tossing two scoreless innings to bring his ERA to under 3.00 as a reliever. Iowa is now 45-35 and a full nine games over Omaha after the sweep.
Nothing to see here, just an All-Star pitcher with an All-Star performance.
Colin Rea is your @EMCInsurance Player of the Game! ???? pic.twitter.com/GOs1ODUGh6

— Iowa Cubs (@IowaCubs) June 29, 2019
Bring out the brooms! Iowa sweeps Omaha! pic.twitter.com/pR4oCeX0iQ

— IowaCubsGameDay (@IowaCubsGameDay) June 29, 2019
TENNESSEE SMOKIES 1 – Chattanooga Lookouts 10: Some games managers toss certain games out the windows without ever wanting to talk about them again. For Tennessee, Friday was one of those nights as the Lookouts used a trio of crooked run innings to cruise 10-1.
On the mound for the Smokies was Thomas Hatch (4-8) who, despite a good start early in the game got hit hard allowing 6ER in just five innings of work. Things were not always bad for Tennessee as they managed to strike first in the third inning. With one down, Zach Short took a walk before a throwing error on a pickoff attempt moved him to second. Now standing on third after a wild pitch, Jared Young brought him home with a sacrifice fly as it was 1-0 Smokies.
Not only was that the lone run of the night for Tennessee, that lead quickly evaporated with Chattanooga grabbing the lead for good in the bottom of the third. Mitch Nay tied things up with an RBI grounder before Gavin LaValley gave the Lookouts the lead for good 3-1 with a double. That lead continued to grow in the sixth inning as a Michael Beltre single mixed with a pair of errors stretched the lead to 7-1 with just three innings to go.
With both teams going quiet in the seventh, the Lookouts once again hung a crooked number in the eighth as their offense was clearly in full force. With a pair of runners on base, Alfredo Rodriguez pushed the lead to 8-1 trading a run for an out with a groundout. Jose Siri delivered the exclamation point as his fifth homer made it a 10-1 game with three outs to go.
Although the Smokies staged a nice ninth inning rally with a Connor Myers triple and Charcer Burks walk to put runners on the corners, nothing was able to come of it as the Lookouts made things look easy 10-1. Tennessee is now 38-40 for the season.
Jhonny Pereda continues to swing a hot stick as he picked up three of his teams seven hits in the game. Roberto Caro, P.J. Higgins, Christian Donahue, and Myers rounded out the hit category. Tennessee continues to monitor Nico Hoerner down in Arizona as all signs indicate he is doing fine after not seeing action in nearly two months.
Hug it out people, it's Friday. ??#TGIF #hugmebrothaFriday pic.twitter.com/cTxG0EZqTA

— Tennessee Smokies (@smokiesbaseball) June 28, 2019
MYRTLE BEACH PELICANS 3 – Fayetteville Woodpeckers 2: What is going on in Myrtle Beach? I can tell you what is going on, and that is the Pelicans suddenly found out what winning baseball feels like as they picked up a fourth straight victory on Friday.
Taking the ball for a start was Erick Leal who was merely masterful in his 6 2/3 innings of work. Leal not only struck out a season-high eight batters but allowed just 2 ER on 3H in a no-decision effort before turning things over to Jesus Camargo for the final 2 1/3. Camargo was just as dominant, as he picked up the win allowing only 1H with 4K in his relief outing.
The Pelicans got off to precisely the kind of start they needed with Zach Davis leading off the game with a double. Two batters later a fielding error put runners on the corners, but Myrtle Beach came away empty-handed with the score still knotted at 0. The Woodpeckers responded in the bottom of the first as they managed to draw first blood on an RBI groundout from Jeremy Pena to take a 1-0 lead.
That lead was short lived as the Pelicans battled back to tie things up in the third. This time it was a little two-out rally to get things going as Jimmy Herron extended the inning with a walk. That was ahead of a Carlos Sepulveda double as things were back to even 1-1. Just like in the first, however, Fayetteville managed to pull ahead as Chandler Taylor showed off his wheels with an RBI triple putting the Woodpeckers back in front 2-1.
That score would hold up through seven innings as Leal was on the hook for a tough-luck loss up to this point. That all changed in the eighth inning when the Pelicans picked up another clutch hit. With one down, a pair of walks and a Herron single loaded the bases as this was an ideal time to come through. 2019 Futures Game participant Miguel Amaya showed precisely why he was chosen for that game coming through with a line drive single to left giving the Pelicans a late 3-2 lead.
That would be all the offense they would need as Camargo took care of the rest on the hill to give the Pelicans another win 3-2. The win is now the fourth straight for Myrtle Beach as they improve to 25-51 on the season, but 4-5 to start the second half. The Pelicans managed just five hits in the ball game but made all five count as two of them brought home runs.
THAT'S FOUR IN A ROW!!@jesuscamargo25 locks the door and throws away the key in the ninth and the Pelicans win 3-2!!! pic.twitter.com/X216CdOclk

— Myrtle Beach Pelicans (@Pelicanbaseball) June 29, 2019
SOUTH BEND CUBS 8 – Fort Wayne Tin Caps 1: Looking to return home on a positive note, the Cubs closed out their series with their in-state rival Fort Wayne by sending Peyton Remy and Jack Patterson to the hill for a piggyback outing. Patterson (5-1) continues to impress as he picked up the win following Remy's two-inning start by allowing just 1BB in three innings of work to bring his ERA down to 2.34 for the season.
Things were not so smooth early on as Lee Solomon took Remy deep in the second for the 1-0 Tin Caps lead. Fort Wayne was hoping to enjoy that lead a little while longer, but in the top of the third, it was all South Bend as their offense put a whopping on the next three innings. South Bend showed terrific patience at the plate as a pair of one-out walks put two runners on setting things up for the big boys.
Brennan Davis was the first to get in on the action, as his single tied things up 1-1 as two runners remained on base. Tyler Durna followed that up by delivering what proved to be the game-winning knock as his single gave the Cubs the lead for good 2-1. Christopher Morel loaded the bases with another single ahead of the fourth straight single from Cole Roederer to push the lead to 4-1. A sacrifice fly off the bat of Jonathan Sierra put South Bend up 5-1 capping off the huge inning.
South Bend continued to keep their feet on the gas in the fourth inning wasting no time extending their lead. With Delvin Zinn getting hit by the pitch, he was in danger of being stranded as he was still on first base with two outs. Have no fear, Davis is here as he ripped a double to over the head of the center fielder Jawuan Harris to make it a 6-1 game.
The fifth inning proved to be more of the same for the Cubs as their hitting continued to be a problem for the Fort Wayne pitchers. With Morel standing on first following a leadoff single, he used his speed to steal second putting himself in scoring position. Now with one gone, Sierra made sure Morel could trot home as he smoked a double for the 7-1 lead. Eric Gonzalez capped off the three-inning barrage with a single as South Bend continued to be in control 8-1.
That would be all the support the Cubs would need as four pitchers combined to allow 1ER on just 4H en route to the 8-1 series splitting victory. South Bend improves to 41-35 with the win and continues their .500 clip in the second half of the season.
It was Morel's turn to lead the offense as he picked up three hits in the win. Both Davis and Sierra each collected a pair hits to go with a pair of RBIs' in the win with Roederer also adding two RBI's. Sean Barry continues to be mister consistency out of the pen as another scoreless inning brought his ERA under a 1 for the season at 0.96.
CUBS WIN! pic.twitter.com/89YLKs7hSJ

— South Bend Cubs (@SBCubs) June 29, 2019
EUGENE EMERALDS 2 – Hillsboro Hops 6: Looking to get back to their winning ways, Eugene continued their road trip as they headed to Hillsboro to take on the Hops. It was a pair of rough innings for the Emeralds that did them in as they dropped yet another game 6-2 for their fourth straight loss.
Getting the start in this one was Yunior Perez who had a start to forget in this one. Perez couldn't even make it out of the first inning as he yielded three earned runs in just 2/3 of an inning putting his team in a big hole early. That damage came from Kristian Robinson and Jorge Barrosa as a sacrifice fly, and a two-run single put the Hops in front 3-0 in the first as they refused to give up that lead.
With Maikel Aguiar now on the mound for the Emeralds, things were not much easier for him as the Hops continued to keep the pressure on in the third. Lyle Lin added to the Hillsboro lead with an RBI single to push the lead to 4-0. The Emeralds were able to pick up a huge double play off the bat of Daniel Wasinger to halt what could have been another big inning, but another run was able to come home on the play making it 5-0 Hops.
Looking for some offense in the fourth, the Emeralds finally broke through as they began to chip away at their deficit. With one out, it was Edmond Americaan getting the rally started as he picked up a key single. In danger of coming away empty-handed with two outs, Jake Slaughter took a 2-0 pitch and flared it into right field for a single as the Emeralds were on the board 5-1.
Eugene continued to battle back in the sixth as their pitching finally was under control. After having the night off Thursday, Fernando Kelli returned to the lineup and picked up where he left off reaching base with a one-out single. Americaan followed that up with a double to put runners on second and third as the Emeralds had a great chance to make things interesting. Despite Yonathan Perlaza making it a 5-2 game a few pitches later with an RBI groundout, the Emeralds stalled at the plate as they couldn't bring home anyone else the rest of the inning.
An eighth-inning single from Lin was the final run of the ball game for either side as the Emeralds have suddenly found themselves in a rough patch, falling 6-2 for the loss. With that loss, not only has it been four-straight defeats, but the Emeralds are back under 500 for the first time since the opening week of the season as they sit at 7-8 thus far.
Eugene didn't have many hits to help jumpstart the offense, but it was Americaan leading the way with two hits and delivering the lone multi-hit game. Kelli kept his average above 300 at 301 with his hit, while Slaughter, Perlaza and Luis Vazquez rounded out the hit category for the Emeralds. After their rough start to the game pitching-wise, Jeremiah Estrada came in and held down the fort allowing just 1ER in 4 1/3 innings to keep things close hoping to give his team a chance to win.
Final from Hillsboro. Hops take game 1, 6-2.

Game tomorrow night at 7:05pm at Ron Tonkin Field.#ItAllStartsHere

— Eugene Emeralds (@EugeneEmeralds) June 29, 2019

Tags: Cubs Baseball
,
Colin Rea
,
Dixon Machado
,
,
Robel Garcia
,
Francisco Arcia
,
Jacob Hannemann
,
Mark Zagunis
,
Phillip Evans
,
Duane Underwood
,
Trent Giambrone
,
Taylor Davis
,
Thomas Hatch
,
Jared Young
,
Connor Myers
,
Charcer Burks
,
Jhonny Pereda
,
Roberto Caro
,
Christian Donahue
,
Jesus Camargo
,
Zach Davis
,
Carlos Sepulveda
,
Miguel Amaya
,
Peyton Remy
,
Tyler Durna
,
Christopher Morel
,
Cole Roederer
,
Jonathan Sierra
,
Delvin Zinn
,
Eric Gonzalez
,
Sean Barry
,
Maikel Aguiar
,
Fernando Kelli
,
Yonathan Perlaza
,
Luis Vazquez