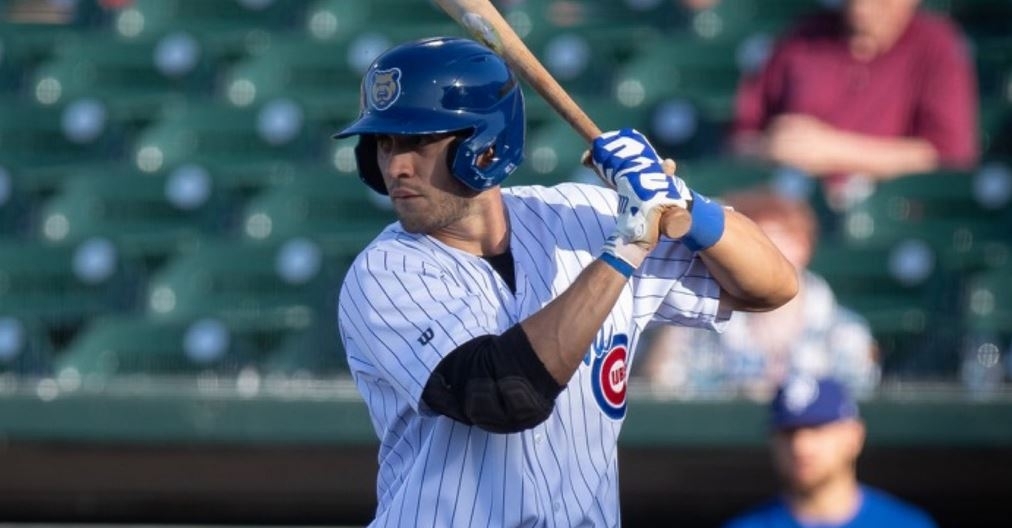 | | |
| --- | --- |
| Five under-the-radar 2023 prospects to watch for Cubs | |
---
| | | |
| --- | --- | --- |
| Friday, October 28, 2022, 9:00 AM | | |
The 2022 MLB season had its ups and downs for the Cubs, but there were way more ups during the second half. Despite working with a makeshift roster that some felt was more of a minor league roster, this team went 39-31 after the all-star break to finish 74-88.
Credit David Ross for that as this team way exceeded expectations this year. With that being said, Jed Hoyer made it a point to talk about the direction this team is going, and the plans are for the offseason. He not only has the money to spend, but he wants to spend and put a competitive product on the field.
Money will help aid in that, but so will the up-and-coming prospects that the Cubs and their fans have yet to see. While most of those guys are years away from contributing on the MLB roster. However, there are a lot of guys who came through the door this season and others like Brennen Davis waiting in the wings to perhaps make an impact in 2023.
Outside of that, the 2023 season could be a very exciting time in the minors for the Cubs, even if they don't have the same organizational success this season as they did last year. Expect 2023 to be a developmental year of a lot of these guys as they will push to make the major leagues for the first time next season.
Not only was the second half fun to watch because of the win-loss record, but the Cubs finally started to show signs of an organization that can develop starting pitching. You saw it in the majors where the starters posted a 3.02 ERA after the all-star break as well as seeing some guys break out in the minors.
Luis Devers
Luis Devers was one of those surprising arms last year as the season he had lands him in the teams top 30 list where he checks in at 24. The 22-year-old right-hander had a year to remember as he earned the team's organizational pitcher of the year after going 13-3 with a 1.91 ERA. He walked just 26 and struck out 122 in 117 innings.
2023 is going to be a huge year for him as the Cubs want to figure out if he is a one-year wonder or not. Not the biggest in terms of a strikeout guy, Devers does a great job of getting guys out on the ground, and that is all that matters at this level.
Riley Martin
Another pitcher who could make significant movement in the system next season is left-hander Riley Martin. Unlike Devers who is a starter, Martin was a reliever last season, and that looks to be where he will remain going forward. A 24-year-old, Martin was known as a strikeout artist in college, where he averaged 17.4 punchouts per nine innings.
That continued this season as Martin struck out 120 across 83 innings between South Bend and Myrtle Beach while walking just 43. Add in a 3.38 ERA, and Martin was a nightmare to deal with all season. Currently, Martin is getting some extra work in the Arizona Fall League, which is often one of the last stops before the majors. A good showing here mixed with a strong spring could see him knocking on the door by opening day.
There was a time in the Cubs system when the plethora of infield talent was taking over. Granted, the Cubs are still loaded with infield talent, particularly shortstop it is the outfield that is now starting to take over. Pete Crow-Armstrong, Davis, Kevin Alcantara and Alexander Canario headline the list of outfield prospects, but there are two guys who flew under the radar all season.
Darius Hill
Darius Hill immediately comes to mind when talking about under the radar guys and his 2023 roster decision ultimately will come down to him being eligible for the rule five draft. All the 25-year-old did was hit this season, as he finished with a combined 166 hits between AA and AAA this season.
That number tied him with Will Brennan of Cleveland for the most hits in the minors, and that alone is an impressive feat. Along with, Hill went on to hit .314 for the season while showing some increased power across the board. His 13.4% strikeout rate is considered elite, and pair that with 35 doubles, 82 runs, nine homers, and 55 RBIs, Hill could be a top-of-the-order bat to come in next season.
Yonathan Perlaza
Yonathan Perlaza not only flew under the radar much of last season, but started to emerge during the second half of the year. That resurgence lands him in the top 30 going into next season where he will be looking to build on this season.
Perlaza started the season in South Bend but finished in Tennessee. Once the 23-year-old arrived in Tennessee, he put on an impressive show posting a 1.007 OPS with 14 homers, 20 doubles, and a 16.7% walk rate. There was also a three-week stretch where he was next to impossible to get out. What happens next is anyone's guess, but he will have some big expectations next season.
Mash Mervis
Of all the potential players to have a break-out 2023 campaign, Matt Mervis seems to be the one that will most likely be major league ready on opening day. Mervis is the classic example of what hard work can do as he posted a .677 OPS in 2021 before posting a nearly 1000 OPS all season.
Not only that, but he proved he can be both a high-average guy and a power guy, where he hit .314 across High-A, AA, and AAA this season. To go with that, he collected 36 homers which ranked second in the organization behind Canario, 40 doubles, and a minor league baseball high 119 RBIs. That would have landed him in the top five in the majors as he was an ideal run producer this season.
His walk rate and strikeout rate improved at each level, from High-A to Double-A to Triple-A, and he has continued to perform in the Arizona Fall League. Mervis could be in the mix for the Cubs' first-base job in Spring Training. Should that be the case, fans will be ok with Anthony Rizzo no longer being here as he would be the next best thing to the lefty.