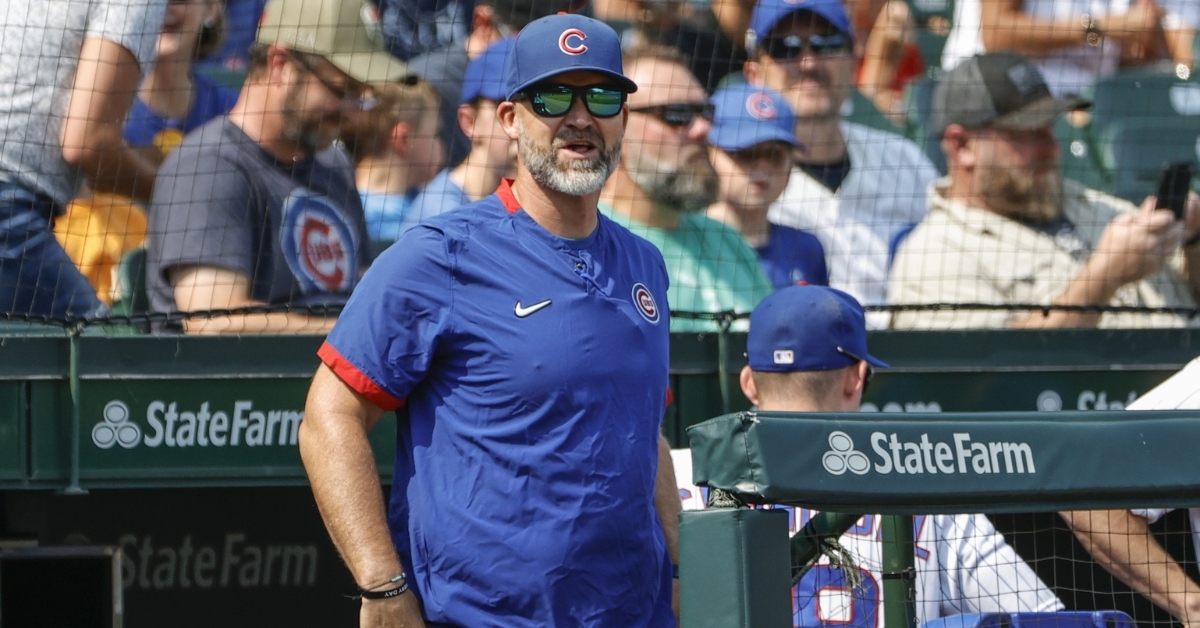 | | |
| --- | --- |
| Giants sweep Cubs in Kris Bryant homecoming | |
---
| | | |
| --- | --- | --- |
| Sunday, September 12, 2021, 6:18 PM | | |
CHICAGO – The Kris Bryant homecoming ended Sunday at Wrigley Field as he can now focus on the rest of the season. Despite another loss to the San Francisco Giants (93-50), the Chicago Cubs (65-79) can still say they had a successful homestand going 6-4 across the 10-games.
What stands out the most is how close most of the games were on this homestand, as only Friday and Saturday were decided by more than three runs. That included six one-run games capped off by another one-run game on Sunday where the Giants held off the Cubs 6-5. One of the better pitchers in the National League this season has been Logan Webb, as he improved to 10-3 on the season while lowering his ERA to 2.80.
Justin Steele, on the other hand, continues to be a work in progress after being stretched out as a starter in late July. Steele continues to get through five innings giving the Cubs a bit of length, but after allowing a career-high five runs on 11 hits in five innings, his ERA has risen to 4.39 while his record fell to 3-3. Wilmer Flores had a great day at the plate for the Giants, going 3-3 with three RBIs.
Over the next two innings, the Giants found various ways to score runs as they built a 3-0 cushion over Steele and the Cubs. The first of those RBIs came in the second inning when Flores took a Steele pitch to center field for an RBI single, putting the Giants on top for good 1-0. Bryant picked up an RBI on a third-inning fielder's choice while Austin Slater hustled down the line to beat out an infield single making things 3-0 in the fourth.
Even though the Cubs wound up on the wrong side of another close game, you can't discredit their effort as they continue to fight. They showed that fight in the bottom of the fourth inning when Rafael Ortega led off the inning with an RBI triple. He could home on the Frank Schwindel groundout before Ian Happ unloaded on a solo shot to pull the Cubs within 3-2.
This ball's gotta chance ... GONE!

Ian Happ's 22nd ?? of the season. pic.twitter.com/9bo4g7nJnl

— Marquee Sports Network (@WatchMarquee) September 12, 2021
One of the biggest issues for Steele and his struggles as a starter has been keeping the ball in the yard, and that part of his game showed up in the fifth. With Bryant leading off the inning with a single, Steele was one out away from keeping the Giants off the board only to see Flores pick up another hit with this going for a two-run shot to make things 5-2 Giants.
The Cubs continued to keep things close in the bottom of the fifth, with David Bote reaching base on a costly error before coming around to score on a Nick Martini grounder. Ortega followed that up with a single, but Webb was able to keep the Cubs offense right there. Codi Heuer was called on to pitch the sixth as he has been lights out since coming to Chicago.
Heuer continued his dominance the sixth but uncorked a wild pitch on a walk in the seventh inning to allow Bryant to score and made things 6-3. That run would prove extra costly as that was the difference in the game. The seventh inning is when the Cubs started to make things interesting, with Sergio Alcantara leading off with a walk before hustling home on the Bote double. Bote would also use his legs to trot home as Robinson Chirinos picked up an RBI single, pulling the Cubs within 6-5.
That single was followed by singles by Schwindel and Happ as the Cubs had the bases loaded with one down.
.@Cubs strike twice in the 7th and make it a 1-run game!

Watch: https://t.co/H3zb8lL7lW pic.twitter.com/GSwUJ9hLZo

— Marquee Sports Network (@WatchMarquee) September 12, 2021
Unfortunately, they couldn't cash in with the hit they needed as the Giants were able to pitch around that jam to keep them in front. Rowan Wick was the final pitcher out of the pen for the Cubs, who was impressive in two scoreless innings. Not only did he make quick work of the Giants, but he struck out four of the six hitters he faced putting the pressure on the Cubs offense in the ninth.
With Jake McGee looking to pick up his 31st save, Patrick Wisdom came through with a one-out pinch-hit double as the Cubs were in business. Looking to keep the clutch hitting going, Schwindel looked to have bounced one over the head of Flores only to see Flores make the play for the out. Happ followed that up with a grounder to first, and the Giants held off the Cubs 6-5 to complete the three-game sweep.
Wick impressive
Since coming back from a near-season-long IL stint, Wick has been nothing short of outstanding as he has reasserted himself in the Cubs bullpen. Used as a middle to late reliever the last several seasons, Wick was considered a crucial piece in 2021, but David Ross didn't have the pleasure of using him until August.
Now that he has worked himself back into the bullpen equation, Wick is starting to find his groove and delivered what may have been his best outing of the season on Sunday. His velocity was sitting around 96-97, he was hitting the corners, and he overpowered the hitters he faced. Those are the kind of outings that closers put together, and Wick is continuing to show he can close next season.
Impressive stuff from Rowan Wick today. Retired all six batters he faced, four on strikeouts.

— Tim Stebbins (@tim_stebbins) September 12, 2021
Welcome back David Ross
Lost in the successful homestand that saw the Cubs post a 6-4 record, Jed Hoyer and Ross tested positive for COVID. Both men were vaccinated, and both felt great, but because of protocols had to quarantine for seven days. It just shows how lucky the Cubs have been when it comes to navigating through this virus, as they haven't been that affected by it.
In his absence, Cubs bench coach Andy Green took over and had the Cubs playing well. He may not have had the best luck in his first go-around as a manager in San Diego, but Green was auditioning for a future job over the week and may have garnered some attention. With Hoyer and Ross missing this weekend's games, they didn't have the privilege of being a part of that Bryant ceremony on Friday.
They did, however, get to pay their respects today, but you know Ross wanted to be there especially considering how close those two were across the last five years. Hopefully, the COVID situation between those two doesn't escalate, and the Cubs can avoid a Boston Red Sox situation.
Cubs manager David Ross on getting back with the team after his 10-day isolation period?? pic.twitter.com/ErNdMX8KCg

— Jordan Bastian (@MLBastian) September 12, 2021
Although the weekend didn't bring too many positive vibes, the Cubs did receive some good news on Sunday as Nico Hoerner is off to Iowa to begin another rehab stint. After missing time with an Oblique strain, Hoerner was sent to South Bend, where he took one swing and left the game hurt. He reaggravated that Oblique and hasn't played since.
With just three weeks remaining in both the MLB and AAA season, Hoerner is finally feeling well enough to try it again, and the Cubs are not going to hesitate to get him into game action. Hitting .313 before going down, Hoerner is viewed as a critical piece of this team going forward, especially with Javy Baez no longer in the organization.
It is unclear what the Cubs plans are for Hoerner and if they will leave him in AAA the rest of the season or call him up before the season is done. Either way, he needs at-bats and is ready to show the Cubs that he will continue to work his tail off to be the hitter they hope he can be.
Nico Hoerner gets a round of BP in. Hoerner is beginning a rehab assignment with the Iowa Cubs today. pic.twitter.com/oM9Aep8IWK

— Tommy Birch (@TommyBirch) September 12, 2021
Nico Hoerner started at shortstop and went 0-for-2 today in his first rehab game with Triple-A Iowa. He played five innings in the field.

An off day tomorrow and then he will play Tuesday and probably Wednesday before they determine what happens next. #Cubs

— Meghan Montemurro (@M_Montemurro) September 12, 2021

Tags: Cubs Baseball
,
Kris Bryant
,
Justin Steele
,
Rafael Ortega
,
Ian Happ
,
David Bote
,
Rowan Wick
,
Patrick Wisdom
,
David Ross
,
,
Javy Baez