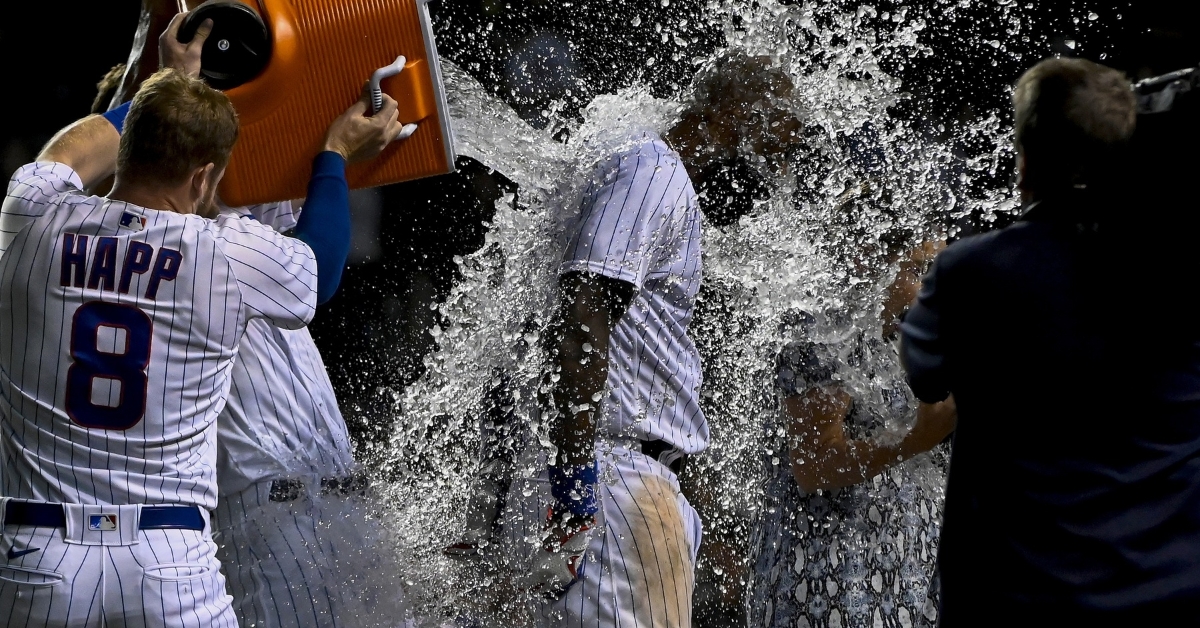 | | |
| --- | --- |
| Heyward delivers walk-off bomb as Cubs top Reds in extras | |
---
| | | |
| --- | --- | --- |
| Thursday, September 9, 2021, 8:16 AM | | |
CHICAGO – Baseball is a beautiful thing when teams are having fun, and right now, the Chicago Cubs (65-76) are having a ton of fun. Even though they are all but eliminated from playoff contention, the Cubs will use these final three weeks of the season to lay it on the line and prove to the world that they still can be a tough out.
That started with a four-game sweep of the Pittsburgh Pirates to open this homestand and has carried over to the Cincinnati Reds (74-67), who are battling for the final wild-card spot. After snapping the Cubs season-long seven-game winning streak on Tuesday, the Cubs look to start a new streak as Jason Heyward wrapped up the series in walk-off fashion, delivering a three-run shot in the 10th to pick up the 4-1 win.
In a matchup of opposites on the mound, rookie right-hander Vladimir Gutierrez took on Alec Mills, who continues to impress since moving back to the rotation. Mills continued to do his thing again, giving the Cubs six impressive innings and allowing just one run on four hits. Equally impressive was Gutierrez, who has now faced the Cubs three times this season and has gotten better with each outing.
Although he only lasted five innings, Gutierrez allowed just one run on two hits to go with six punchouts as he did his part to keep the Reds in the game. That run came immediately in the first inning when the scorching hot Ian Happ launched a no-doubter into the right-field seats putting the Cubs up 1-0. It was Happ's 21st homer of the season, putting him three shy of tying his career-high as he homered in every game during the series.
A second-inning bunt single by Sergio Alcantara was the final hit for the Cubs for quite some time as Heyward reached second on the play and was the last baserunner to reach second base for the Cubs until extras. Even with the offense going quiet, Mills did his work on the mound as he continued to make life difficult for the Reds.
That was until the fourth inning when Joey Votto took him deep to left-center tying things up 1-1. With that homer, Votto capped off an impressive season at Wrigley, connecting for seven homers at Wrigley Field this season, only behind the eight by Mike Schmidt in 1980. In what now became a battle of the bullpens, you had to give the Cubs the edge considering what fans have seen all season long.
Rowan Wick was first out of the pen as he delivered a pair of scoreless innings, allowing two hits in the process. He gave way to Codi Heuer, who continues his excellent work since being traded from the Southside, striking out a pair in his two innings to earn the win. After Tony Santillan tossed two innings of his own, the Reds turned to Luis Cessa and Mychal Givens as they did their job to send the game to extras.
With the Reds going down quietly in the top of the 10th, it was the Cubs who brought the noise as they had as many hits through nine innings in just that inning alone. Amid a horrible slump at the plate, Patrick Wisdom saw a pitch to his liking and laced it into left field to put runners on the corners with one out. As Heyward walked to plate against former Cub Brad Brach, there was a lot of thought he would be intentionally walked to set up a force out at the plate.
Going with five infielders, Brach fell behind 2-0 to Heyward and put himself in a predicament. Instead of letting him have first base, he went back to a breaking ball only to hang a slider, and Heyward didn't miss it, depositing it off the right-field video board to cap off the 4-1 walk-off win and series win.
Just need a little poke. #Walkoff pic.twitter.com/ZCjIFNorAU

— Chicago Cubs (@Cubs) September 9, 2021
A winning homestand
When you looked at this homestand two weeks ago, most fans would have thought this team would be lucky to win three games out of 10. Instead, seven games into the 10-game homestand, and you have a Cubs team 6-1 with three games left to play.
That means no matter what happens this weekend, the Cubs have guaranteed themselves a winning homestand, and that is huge for this team right now. As rough as things have been since late June, this team is playing some of their best baseball of the season with plenty of new faces. Winning series like this and coming away with a winning homestand against some quality opponents is a moral victory that this team will take going forward.
Reds take the season series
Even with the loss, the Reds wrapped up their season series with the Cubs posting an 11-8 record against them. That marks twice in the last three years that the Reds walked away with the season series win after the Cubs dominated them for the better part of four seasons.
Although they walked away with a season series win, you have to wonder if the Reds missed an opportunity to close closer to a playoff berth this week. After playing a great stretch of baseball that saw them emerge as the No. 2 wild card team, the Reds have now dropped 10 of their last 14 and have fallen two games behind San Diego for the final playoff spot.
These are the games the Reds need to have, and for them to drop two of three is a missed opportunity. Credit the Cubs for making things difficult all series long as they came within one stuck ball in the Ivy of a possible sweep as they played spoiler for the Reds this week.
HAPPY Time
Whoever, this version of Happ, is, where you been all season. The fifth-year switch hitter is in the middle of having his best stretch of baseball of his career after putting together his worst overall season. Happ is up to 21 on the season with his home run in the first and has now homered in three straight games, one in every game this series.
After looking like he would be a non-tendered player for four months, Happ is starting to live up to the hitter the Cubs hoped he would, and he may have played himself into a job again next season. Baseball is a complicated game, sometimes filled with mysteries. One of those mysteries was watching Happ struggle as much as he did, knowing the season he had last year and how he finished 2019.
For whatever reason, something clicked, and it clicked in a big way as Happ has been a monster over his last 30 games. Hopefully, whatever clicked is something that is here permanently as Happ has always lacked consistency. His bat is a massive presence in this lineup, and should this version of Happ carry over into next season, the Cubs have to like their chances of being better than what many people expect them to be.
Ian Happ leads the NL in home runs since August 13th!@ColeWright & Ryan Sweeney have the breakdown. pic.twitter.com/561sFYpary

— Marquee Sports Network (@WatchMarquee) September 9, 2021