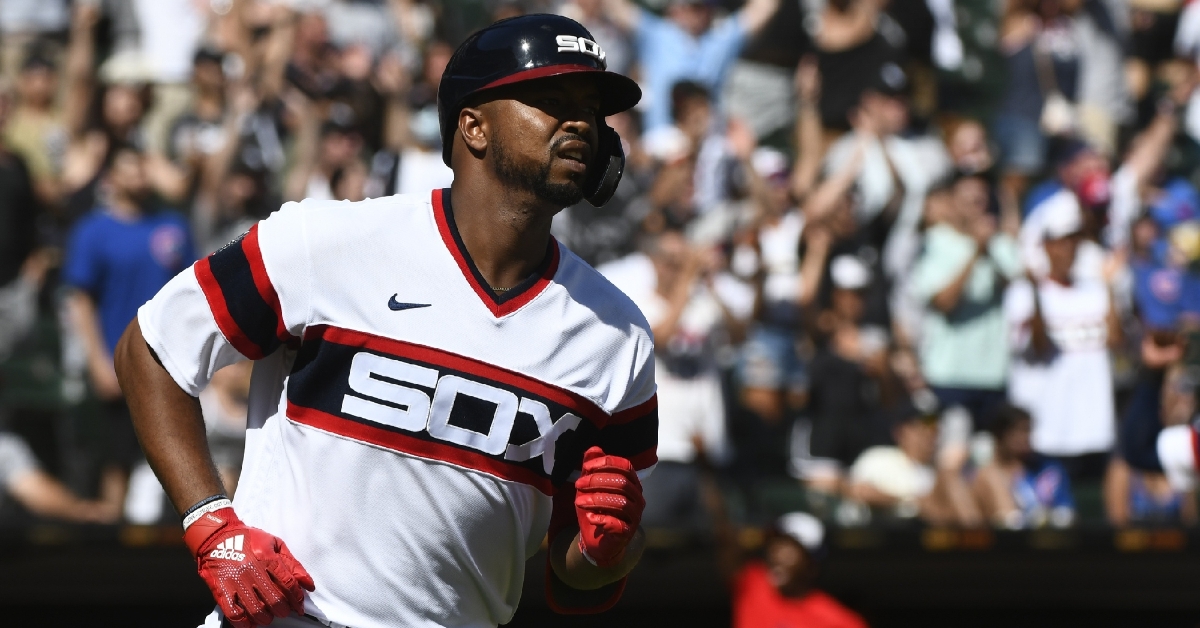 | | |
| --- | --- |
| Jimenez, Cease dominate as White Sox crush Cubs | |
---
| | | |
| --- | --- | --- |
| Sunday, August 29, 2021, 6:11 PM | | |
CHICAGO – Guaranteed Rate Field will be exciting come playoff time, and for the Chicago Cubs (57-75), they found out firsthand how tough it will be. Looking to bounce back from a shutout loss on Saturday, the Chicago White Sox (76-56) jumped all over Kyle Hendricks and the Cubs on Sunday to take another series and finish the season 5-1 against the Northsiders.
Hendricks has been nothing short of impressive this season as he continues to be at the top of the major league wins list. Ironically, his ERA would be a career-high, which makes what he has done this season much more impressive. Not only did the White Sox jump on him early and often, but they also made him pay for mistakes as they clubbed three homers in the process. That translated to eight earned runs on the afternoon, tying for the worst start in his career.
Two of those homers came in the game's first two innings with Luis Robert unloading on a first-inning changeup while Brian Goodwin took a fastball the other way to put the Sox up 3-0 in the second. That was more than enough for Dylan Cease as the right-hander was on his game. Despite ranking near the top in average pitches per inning, Cease got through six innings, striking out 10 hitters for the second time in as many outings vs. the Cubs this year. That included a run of five straight towards the end as he got stronger as the game went on.
The lone run for the Cubs came in the top of the fourth as they too wanted to get in on the home run fun. After a quiet last few games, Frank Schwindel connected for his sixth homer of the season, pulling the Cubs within 3-1. Take that away, and the debut of Alfonso Rivas was about the only exciting thing happening for the Cubs, as we will get into that later.
With the score still sitting 3-1 in the fifth, the White Sox put the game away as Hendricks couldn't make it out of that inning. The scoring all started with a ground-rule double by Jose Abreu to bring home a pair before that man again Eloy Jimenez took Hendricks deep for the White Sox third homer of the game as they built up an 8-1 lead.
Still in the fifth and with Adam Morgan on the mound, Yasmani Grandal went deep for the White Sox fourth homer of the game as his two-run shot had the
White Sox up 10-1. Grandal had a great series as he connected for three homers in 10 RBIs in his first series back from the IL. As if one major league debut wasn't good enough, why not make it two as right-hander Scott Effross stepped on the mound in the sixth to make his first major league appearance.
Across 46 games with AA/AAA, Effross was pitching very well, combining for a 3.62 ERA with 10 walks and 46 strikeouts. Armed with a bit of funk in his delivery, Effross can be an issue for right-handed hitters, but not for Robert, who took a hanging slider over the right-field fence for his second homer of the game and fifth for the Southsiders, pushing the lead to 12-1.
The White Sox were able to push another run across in the seventh after Rowan Wick loaded the bases using a Goodwin fielders' choice to make that happen and pad the lead to 13-1. Manny Rodriguez entered in the eighth to finish things off, but it wasn't enough in the one-sided defeat. After Cease's departure, the Cubs saw how good this White Sox pen can be as Ryan Tepera, Michael Koepech, and Liam Hendricks made quick work of a struggling lineup. If those three can consistently pitch well with Craig Kimbrel and Garrett Crochet looming, this White Sox team will be one of the favorites in the American League once the postseason arrives.
Another successful MLB debut
The Cubs have used plenty of rookies this season, with most of them making their major league debut. Rivas and Effross were next on that list, and the Cubs may not be done as September is right around the corner. While Effross didn't have the greatest of debut's Rivas showed tons of promise at the plate, and it will be interesting to see how the Cubs use him once the DH portion of their schedule is finished.
Drafted in the fourth round of the 2018 MLB draft by the Oakland Athletics, Rivas was traded to the Cubs before 2020 as part of the Tony Kemp deal. The once top 30 prospect in both the Cubs and A's system, Rivas has been known as a high contact hitter who has been great with runners in scoring position.
In 58 games in AAA this season, Rivas has put together an impressive .284 average to go with four homers and 32 RBIs. That lines up with his .288 career average, but that isn't what stands out the most. Rivas has walked 35 times to go with 48 strikeouts this season and has now walked 139 times to just 213 strikeouts in his career.
Add in his .278 average with runners in scoring position, and you can see why the Cubs wanted to give him a look. It took just one pitch in his first at-bat to record his first hit taking the Cease pitch back up the middle for a single. Rivas would later add a double before narrowly missing another one late in the game as he capped off his MLB debut, going 2-3. With September around the corner, a Schwindel and Rivas platoon could be something worth watching this season.
Hendricks nearing something he hasn't done in a decade
It is no secret that Hendricks continues to go about his business despite being overlooked by virtually everyone. His 14 wins continues to be tops in the majors, while he's now 4.43 ERA is not something Cubs fans are used to. Adding more fuel to the fire, not only would this ERA be the highest of his professional career, but he is on the verge of doing something he hasn't done in nearly a decade.
For those that don't know what I am talking about, the last time Hendricks finished a season with an ERA over 4.00 was his sophomore season with Dartmouth. That means during his entire minor league and MLB career, Hendricks has never done that before, which is impressive nonetheless. He has come close posting a 3.95 ERA in 2015, but outside of that, his ERA has been 3.46 or lower in every season.
Not only will he surpass that number this season, but there is a good chance he finishes north of 4.00 this season unless his September is near flawless. That is the kind of season the Cubs have endured this season and a run that Hendricks never thought would come to an end until now.
White Sox make history
The Cubs and White Sox have a long history that goes back to the 1906 World Series, but they never did what they accomplished in this series. Not only did the White Sox take two of three to finish 5-1 against the Cubs this season, but they pushed across 30 runs over the weekend, which is the most in any series all-time with the Cubs.
When you think about it, those 30 runs came in three games and, in reality, two games as they were shut out in game two. That means through all the times these teams met, the White Sox have never surpassed more than this many runs in a given series event, the ones that went seven games.
This was the potential the White Sox offense had all season long, but they were never able to play at full strength due to a rash of injuries earlier in the season. Now with everyone back, the White Sox offense looks to take that next step where more performances like this may happen the final month of the season.