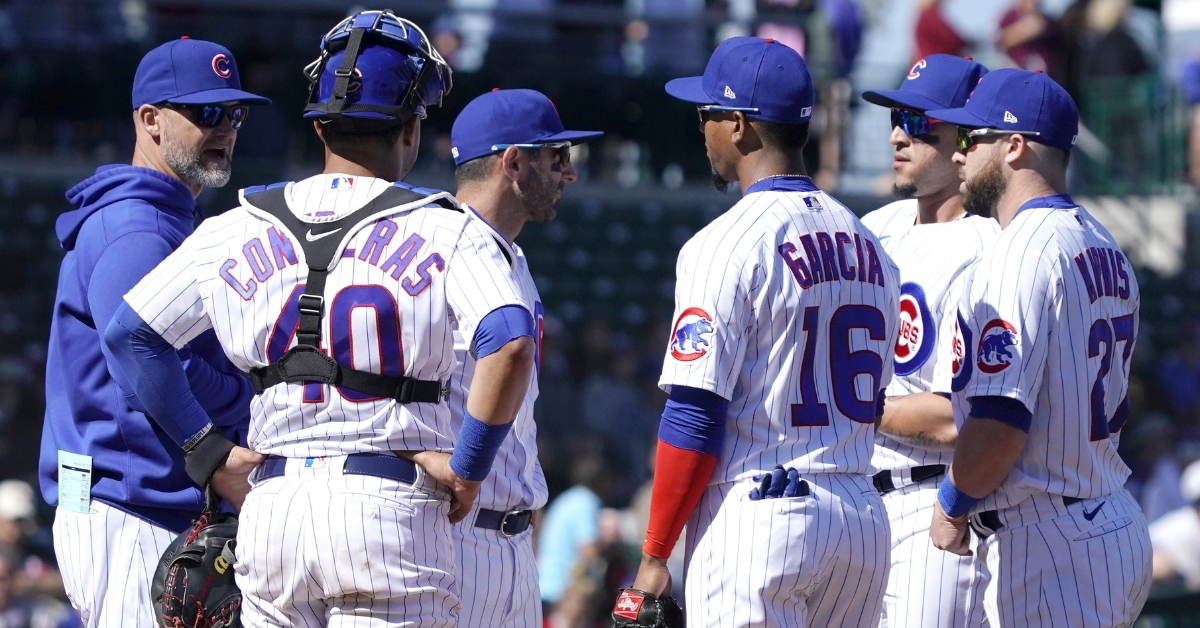 | | |
| --- | --- |
| Jon Lester struggles in Cubs' loss to Rockies | |
---
| | | |
| --- | --- | --- |
| Tuesday, February 25, 2020, 7:01 PM | | |
After trading punches with the Mariners yesterday to the tune of 28 runs combined, the Cubs returned to Sloan Park this afternoon to host the Colorado Rockies.
David Ross managed to get over the flu that had kept him out for the last three days, finally feeling well enough to put on his uniform and try this managing gig. Ross felt good enough to give a humorous pregame interview [see bottom of article], before heading to the dugout.
Cubs' Starting lineup: David Ross rested his regular infielders today, attempting to use a lineup that – well, honestly - looked like it came more from Joe Maddon's playbook. If the Cubs' new skipper is looking for ways to be creative, he nailed it on this attempt.
Understandably, Rossy is trying to field a team with a current roster of over 60 men, while looking for not only who'll be staying with Chicago, but for added depth as well. Although the outfield bore a very similar look, the infield was undeniably different.
Ian Happ (CF), Kyle Schwarber (LF), Willson Contreras (C), Jason Heyward (RF), David Bote (DH), Daniel Descalso (3B), Jason Kipnis (2B), Hernan Perez (SS), Robel Garcia (1B), and LHP Jon Lester on the mound, making his spring debut.
The Cubs' offense has done well this spring, managing to score 30 runs over the last three days, but they've also given up 18. That surplus would almost be erased today.
T-1 Lester would get off to a bad start, showing displeasure with himself, his teammates, and the home plate umpire. After a double, a throwing error (Descalso), and a walk to start the frame, Lester would allow three runs, only one of which was earned.
Jon Lester's Cactus League debut consisted of 21 pitches. Rockies scored three runs (only one earned thanks to an error behind the veteran pitcher). One walk, one hit, two flyouts and a groundout. pic.twitter.com/wbau3XDg86

— Jordan Bastian (@MLBastian) February 25, 2020
B-1 Nothing for the Cubs, despite a single and stolen base by Schwarbs and a walk by Heyward. Cubs down 3-0.
T-2 The second inning for Lester showed no improvement, as he started by walking the leadoff man, then gave up a single followed by a two-run which ended Lester's day. Scott Effross would replace Lester. Effross got a quick groundball out (runners to 3rd), then fanned a man, but walked the next, before fanning another to stop the bleeding. Cubs trail 5-0.
Lester: 1.0 IP, 3-H, 5-R, 3-ER, 2-BB, 0-K
Lester on 1st spring start pic.twitter.com/es6bKjoQga

— Mark Gonzales (@MDGonzales) February 25, 2020
B-2 Descalso walked, but Kipnis and Perez would each fly out deep to the right, and Garcia lined to second. Cubs down 5-0.
T-3 RHP Duane Underwood Jr. gave up four-straight singles to start the inning. A wild pitch advanced the runners, then a walk loaded the bases.
Contreras made a bad throw on a back-pick attempt at second, allowing another run to score. Underwood finally got a strikeout and fly out to end the misery. Cubs trail 8-0.
B-3 Cubs go in order: Happ (GO-4), Schwarber (K), Contreras (Go-6).
T-4 RHP James Norwood would get a quick out, then followed suit by giving up four straight singles, netting another pair. Norwood would finally fan one and get a popup to Descalso to end it. Cubs now trail 10-0.
B-4 Heyward started the frame with a double to right-center (Ian Miller in to pinch-run); Bote fanned. Descalso would reach on an error (FO-3; pinch-runner PJ Higgins ), sending Miller to third. Jason Kipnis would break the drought with a sac-fly to left, scoring Miller. Perez singed to left, Garcia walk to load the bases, then Ian Happ produced a two-out double to score all three baserunners. Schwarbs fanned to end the inning. Cubs trail 10-4.
A double to the gap scores three for Ian Happ. pic.twitter.com/TvQMrHKhCf

— Chicago Cubs (@Cubs) February 25, 2020
Cubs Substitutions: Trent Giambrone (LF), Donnie Dewees (RF), Miguel Amaya (C), Ian Miller (CF), Carlos Asuaje (2B), Zack Short (SS), Corban Joseph (1B), Noel Cuevas (DH)
T-5 RHP Rex Brothers: Brothers gave up a leadoff single but grabbed two quick Ks and a groundout to escape damage.
B-5 Cubs go in order: Joseph (K), Miller (K), Cuevas (GO-5). Cubs down 10-4.
T-6 RHP Jason Adam gave up a leadoff single, but then retired the next man on a fielder's choice. A strikeout would be followed by a double, putting the Rox up 11-4. GO-3 ends the inning.
B-6 Nothing doing for Chicago: Higgins (FO-9), Amaya (PO-6), Short (BB), Asuaje (BB), Giambrone (K).
T-7 RHP Tyson Miller works a 1-2-3 inning: GO-6, K, K. Rockies up 11-4.
B-7 Cubs can't score: Dewees (PO-6), Joseph (GO-4), Miller (infield single), Cuevas (K).
T-8 Lefty CD Pelham wouldn't get away clean either: Double, single, GO-6, walk, K, GO-3. Cubs trail 12-4.
B-8 Higgins led off the eighth with a single, then took second on a wild pitch. After Amaya flied out to center, Short walked, then Asuaje singled to the right. Giambrone fanned, but Dewees singled, scoring Higgins. Joseph grounds out to second. Cubs trail 12-5.
T-9 RHP Dakota Mekkes would get the nod to finish it. Mekkes got a quick strikeout, but gave up a single, then backed that up with a wild pitch and then a walk. A groundout to second, but then he issued another walk to load the bases, but Mekkes would get a groundball to end it.
B-9 Miller drew a leadoff walk, then promptly stole second. Cuevas fanned, but Higgins singled, scoring Miller. A pair of groundballs would end it.
Final Score: Rockies-12; Cubs- 6
Cubs Offense: 9 for 36 (.250), 4 for 14 (.286) with RISP.
Cubs Pitching: 9.0 IP, 17-H, 12-R, 10-ER, 8-BB, 11-K, 0-HR.
Next Game: Tomorrow; 2:05 PM Central: Royals (Split-squad) vs. Cubs from Sloan Park.
After a nasty bout of the flu, David Ross will make his managerial debut at 2pm on Marquee Sports Network. pic.twitter.com/jVOpymqVK8

— Marquee Sports Network (@WatchMarquee) February 25, 2020
Upcoming starters: Hendricks (Wed), Rea (Thu), Chatwood (Fri).

— Jordan Bastian (@MLBastian) February 25, 2020
Final: Rockies 12, Cubs 6. pic.twitter.com/4jaiBrmzpT

— Chicago Cubs (@Cubs) February 25, 2020
Ian Happ was just driving in runs and taking names today. pic.twitter.com/nKZgToAplx

— Cubs Talk (@NBCSCubs) February 25, 2020

Tags: Cubs Baseball
,
David Ross
,
,
Kyle Schwarber
,
Willson Contreras
,
Jason Heyward
,
David Bote
,
Daniel Descalso
,
Hernan Perez
,
Robel Garcia
,
Jon Lester
,
Scott Effross
,
Duane Underwood
,
James Norwood
,
Ian Miller
,
Trent Giambrone
,
Miguel Amaya
,
Carlos Asuaje
,
Corban Joseph
,
Noel Cuevas
,
Rex Brothers
,
Jason Adam
,
Tyson Miller
,
Dakota Mekkes
,
Joe Maddon