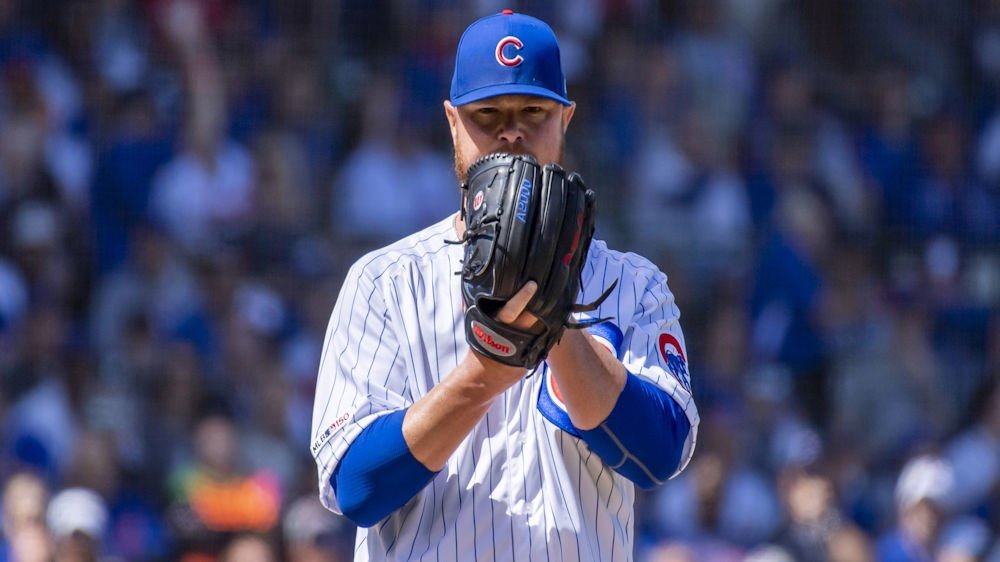 | | |
| --- | --- |
| Cubs News: Lester's rehab, Morrow's setback, Wrigley anniversary, standings, more | |
---
| | | |
| --- | --- | --- |
| Sunday, April 21, 2019, 8:15 AM | | |
Next Game: Today: 1:20 PM, D-Backs vs Cubs. Sunday: Robbie Ray (0-1, 3.52 ERA) vs RHP Tyler Chatwood (0.0, 6.00 ERA).
CUBS NEWS AND NOTES:
Saturday's Game Recap: The Cubs (9-9), now only 2.5 games out of first, looked to build on their recent momentum and four-game winning streak against the Snakes (10-10) again yesterday afternoon. Arizona sent righty, Zack Greinke to the hill, while Joe Maddon, keeping to his plan of feeding the Snakes nothing but right-handers, sent Yu Darvish (1-2) into battle for the Cubs. This was not the Cubs' day.
Darvish gave up a single on the second pitch of the game, a home run on his fifth pitch, another dinger on his seventh pitch, and another single before he ever got out of the first. He managed to last five frames, giving up a total of 5 hits, three earned runs, and three walks, while fanning seven. Allen Webster came on in relief of Darvish and didn't do much better, giving up six hits and three earned runs (one homer), while fanning a pair. With no offense (no runs on a total of four hits) and zero run support, the Snakes cruised past Chicago by a final of 6-0.
To add insult to injury, besides falling to a record of 9-10, the Pirates, Cardinals, and Brewers all won causing the Cubs to drop to 3.5 games back and losing a full game to everyone. Better luck today boys; yesterday was ugly.

Dodgers/Cubs Probable Pitchers: Monday- Off-day. Tuesday: RHP Kenta Maeda (3-1, 3.80 ERA) vs LHP Jose Quintana (2-1, 3.43 ERA). Wednesday: RHP Walker Buehler (2-0, 5.40ERA) vs LHP Cole Hamels (3-0, 2.77 ERA). Thursday: RHP Ross Stripling (1-1, 3.07 ERA) vs Kyle Hendricks (1-3, 3.54 ERA)
Happy anniversary Wrigley: Yesterday's game marked the 103rd anniversary of the first game ever played at Wrigley Field.
103 Years Ago Today: The Chicago #Cubs play their first game at Weeghman Park, later named Wrigley Field! (April 20, 1916) #MLB #History pic.twitter.com/wOyON6wL91

— Baseball by BSmile (@BSmile) April 20, 2019
Recovering nicely Jon Lester had a sim game yesterday morning at Wrigley, which was the next step for his return to the lineup. Big-Jon threw a total of 45 pitches. Maddon remarked, "It's pretty amazing where he's at already." He said it wasn't out of the question for Lester to rejoin the rotation next week. Until yesterday, the Cubs had been rockin'-n-rollin' since Lester got hurt, but hey, let's get the big guy back in the lineup and amp it up another notch. Even in his absence, Lester's 2.57 ERA is still the best in the rotation.
Jon Lester currently throwing a sim game at Wrigley. Almora and Zagunis standing in. Cubs having Lester to agility drills between "innings" to test legs. pic.twitter.com/zDKFFYRFbk

— Jordan Bastian (@MLBastian) April 20, 2019
Yu Darvish: Darvish set the out the year with one goal in mind: To show the Cubs and their fans that he was worth what he was being paid. After progressing a little at a time from start to start in his first three outings, Darvish back-peddled a little yesterday. Although the D-Backs aren't hitting righties well this year, they clobbered everything Darvish threw at them- even pitcher Zack Greinke cranked a double.
Yu Darvish, Disgusting 83mph Slider...and Sword. ?????? pic.twitter.com/2WFWAqqVPE

— Rob Friedman (@PitchingNinja) April 20, 2019
In the eyes of most, Yu Darvish is in desperate need of a string of good starts, but the thing that people keep forgetting is that just having available and not on the IL is a big plus to the team. He's probably not going to win any Cy-Young Awards, and he's not going to Cooperstown, but for $126M, the Cubs need to take everything that he can give them. I still have a renewed sense of faith that he'll level out and be a decent starter by year's end (if he can avoid injury), but in the meantime, all anyone can do is wait and see.
Brandon Morrow Bad news: Brandon Morrow has once again been shut down due to soreness in his throwing elbow. Morrow was expected to be back by the end of April or early May, but now it looks as if the Cubs may go even longer without their closer, as the newest timeline is still unknown. Morrow has only appeared in a total of 35 games for the Cubs, and he's already into the last year of a two-year deal ($21M). There's no question, the guy can pitch, but at the rate, this injury-recover-reinjury cycle is going, I'd have to say this deal is turning into quite the bust. Maybe the Cubs should cave and sign Kimbrel…
Is this the year the Giants trade away Madison Bumgarner? @Ken_Rosenthal breaks down how likely that is, and discusses possible landing spots for free agent reliever Craig Kimbrel. pic.twitter.com/O0AfEXl1v7

— FOX Sports: MLB (@MLBONFOX) April 20, 2019
Wrigley Field- a pitcher's dream? For as many long-balls that get hit out of Wrigley (literally), there is something for pitchers to look forward to. Going into yesterday's game, Wrigley Field had the lowest combined ERA (2.77) for 2019 (Cubs + visitors) in all of MLB. Rounding out the top five: #2- Oracle Park- San Francisco (2.84); #3- Tropicana Field- Tampa 2.89; #4- Oakland-Alameda (3.02); #5-Progressive Field- Cleveland (3.05).
Tickets to Iowa: With the impending return of Lester, Addison Russell, Mike Montgomery, and Victor Caratini over the next few weeks, the Cubs are headed for quite the roster shakeup. This will get further complicated if (when) Ian Happ, Brandon Morrow, and Carl Edwards Jr. return. Even if only five of them make it back to the Cubs any time soon, that's still an awful lot of players to be optioned back to the minors. So, who goes? Lots of possibilities and a ton of players with options remaining. This is bound to get interesting.
Yesterday's Cub Birthdays: Happy birthday to ex-Cubs Todd Hollandsworth (46), Mike O'Berry (65), Willie Prall (69), Milt Wilcox (69), and posthumously, Charlie Smith (139).
NL CENTRAL SCHEDULE (April 21 – April 27, 2019)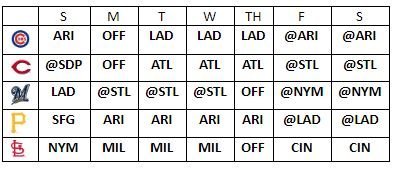 YESTERDAY'S NL CENTRAL SCOREBOARD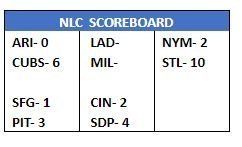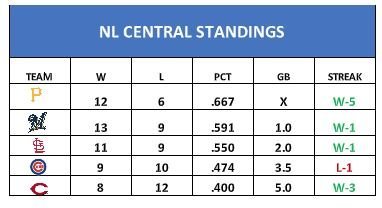 Tags: Cubs Baseball
,
Tyler Chatwood
,
Yu Darvish
,
Jose Quintana
,
Cole Hamels
,
Kyle Hendricks
,
,
Brandon Morrow
,
Addison Russell
,
Mike Montgomery
,
Victor Caratini
,
,
Joe Maddon