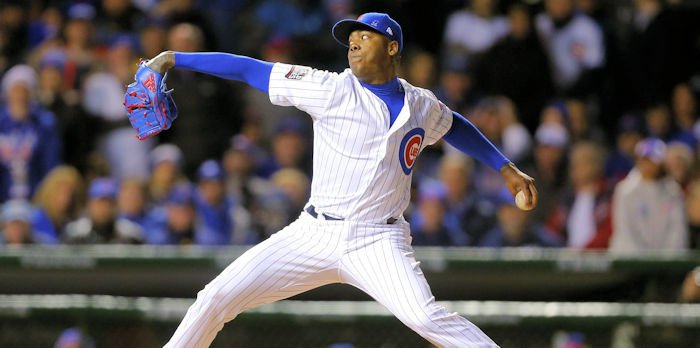 | | |
| --- | --- |
| Looking back at recent Chicago Cubs trades | |
---
| | | |
| --- | --- | --- |
| Monday, November 18, 2019, 2:25 PM | | |
The 2016 Cubs will be remembered for their regular-season dominance with a league-best 103 wins and their dramatic World Series Game 7 victory. Before the Cubs ended their 108-year World Series championship drought, they made a massive trade deadline deal to acquire star reliever Aroldis Chapman.
Chapman was one of the best relievers in the MLB before being traded from the New York Yankees. His career 2.09 ERA and 166 saves were evidence enough that Chapman was a lockdown option in the bullpen. While the Cubs bullpen at the time was good, it was clear they needed a bullpen ace.
On July 25, the Cubs traded top prospects Gleyber Torres, Billy McKinney, reliever Adam Warren, and minor leaguer Rashad Crawford. This was the second of two trades in 2016, where the Yankees received top prospects for top relievers. After the Chapman trade, the Yankees acquired Clint Frazier and Justus Sheffield for Andrew Miller.
Chapman was terrific for the Cubs in his short tenure. Through 28 games, Chapman had a 1.01 ERA, and 16 saves on the North Side. The postseason was more of the same as Chapman had a 2.51 ERA through 14.1 innings through Game 6 of the World Series. Throughout the postseason, Chapman proved to be more than a dominant closing pitcher, but an effective multiple inning reliever as well. Then, Game 7 happened.
Game 7 will be remembered for gut-wrenching and exciting moments like Ben Zobrist's 10th inning go-ahead RBI double or David Ross's home run off of the previously mentioned Andrew Miller. The most infamous of these moments was Rajai Davis's game-tying home run off of Chapman. Despite the home run, Chapman shut down the rest of the inning, and the Cubs ended up winning the World Series, minimizing the effect of the home run.
Rajai Davis hit a game-tying homer off Aroldis Chapman in Game 7 of the #WorldSeries. Yes, that really happened. pic.twitter.com/QGP93Quu8M

— A Foot In The Box (@afootinthebox) November 3, 2016
For the Yankees, they couldn't be happier with how this trade and the ensuing offseason worked out. While Warren, McKinney, and Crawford haven't brought much if anything to the Yankees, Torres has become one of baseball's bright young stars with two All-Star games, 62 home runs, and a .849 OPS through two full seasons. With Didi Gregorius set to hit free agency in 2019, the Cubs seem to have traded the next great Yankees shortstop to the Yankees.
Chapman became a free agent in the 2016 offseason and returned to the Yankees on a five-year deal. In the end, the Cubs got a dominant reliever who helped them break a 108-year curse and win the 2016 World Series. While they lost Torres, the Cubs winning the World Series was worth just about any cost.
Speaking of closers, the Cubs filled the hole left by Chapman with Wade Davis. The former All-Star closer was traded to the Cubs in exchange for Jorge Soler. A straight player for player trade where the Kansas City Royals decided to get youth to begin their rebuild and the Cubs gave its roster much needed help in the bullpen.
Since moving to the bullpen for the Royals, Davis had become a premier reliever who helped the Royals to a 2015 World Series championship. In three years as a Royals reliever, Davis posted a ridiculous 1.18 ERA to support 47 saves. He was even better in the postseason during this stretch, collecting a 0.36 ERA in 25 innings.
With the Cubs, Davis took a step back for his standards with a 2.30 ERA, 32 saves, and an All-Star game appearance in 2017. The one blemish on Davis's Cubs career was giving up runs in three straight postseason appearances that season. While he was only there for one season, Davis was an impactful reliever for a team that reached the NLCS.
The next offseason, Davis signed a three-year contract with the Colorado Rockies. He would return in the postseason to face the Cubs in the 2018 NL Wild Card game. Davis went on to pitch 1.1 scoreless innings in a 1-0 Rockies victory.
Soler struggled early with the Royals, being sent back and forth between the minor leagues in 2017. His .144 batting average and .503 OPS in 2017 seem like a long time ago compared to his breakout season in 2019. Despite a horrid start to his Royals career, Soler has continued to develop his raw power that culminated in an AL-best 48 home runs in 2019.
The Royals probably won't look fondly upon 2019 as they finished with 103 losses, the fourth-most losses in the MLB. Soler was a small bright spot as the raw power that made him a top prospect finally realized itself. To go along with the power increase, Soler's strikeouts increased as well to an Al leading 178.
While Soler still has a long way to go to become a "superstar," the Royals must be happy to have gotten a seemingly productive power hitter for a soon to be free-agent reliever. While the Cubs also got what they wanted, a one-year rental for a controllable power-hitting outfielder is objectively a bad deal, especially if you don't win the World Series after making that move.
A year after winning the World Series, the Cubs were looking for a starting pitcher to help them reach the championship again. After trading for Davis, the starting rotation was the organization's new focus. On the other side of Chicago, the White Sox were looking to jump start their rebuild by trading away their veterans. Both sides saw potential upside in a deal and agreed on a trade and the two MLB franchises in Chicago made a swap
The Cubs received starting pitcher Jose Quintana for top prospects Eloy Jimenez and Dylan Cease, and minor leaguers Bryant Flete and Matt Rose. Jimenez was a young pitcher who showed a lot of promise in his five previous seasons, posting a career 3.41 ERA and one All-Star appearance. Despite a 4.49 ERA for the White Sox in 2017, the Cubs believed the 28-year-old could turn it around.
Quintana would get his season turned around by posting a 3.71 ERA with a 7-3 record after being traded to the Cubs. While his presence did not lead to a World Series as Chapman's did, Quintana became a reliable and controllable starter in a Cubs rotation that would be losing former Cy Young winner Jake Arrieta.
Through his three years with the Cubs, Quintana has been solid, but nothing amazing. After his 7-3 3.71 ERA start, Quintana is 26-20 with a 4.35 ERA. This isn't what the Cubs expected in return for their top pitching and hitting prospect at the time of the trade. Still, his controllability and solid performance have been enough for a Cubs team that has struggled with consistency recently.
As for the White Sox, this trade allowed them to stack an already talented minor league system further. Both Cease and Jimenez have made their MLB debuts in 2019 to differing starts. Jimenez played 122 games, posting 31 home runs and a .828 OPS. Cease started 14 games, posting a 5.79 ERA in a disappointing start to his career. With a long-term contract already in place for Jimenez, he seems to be a corner piece for a young and developing White Sox team.
In the end, both teams got what they wanted. While the Cubs are still looking for Quintana to improve back to his White Sox form, his solid play and controllable team-friendly contract helped the Cubs be flexible with their roster. The prospects the White Sox got seem to be paying dividends immediately. While a trade between both Chicago teams is rare, this one seems to have worked out for both sides.