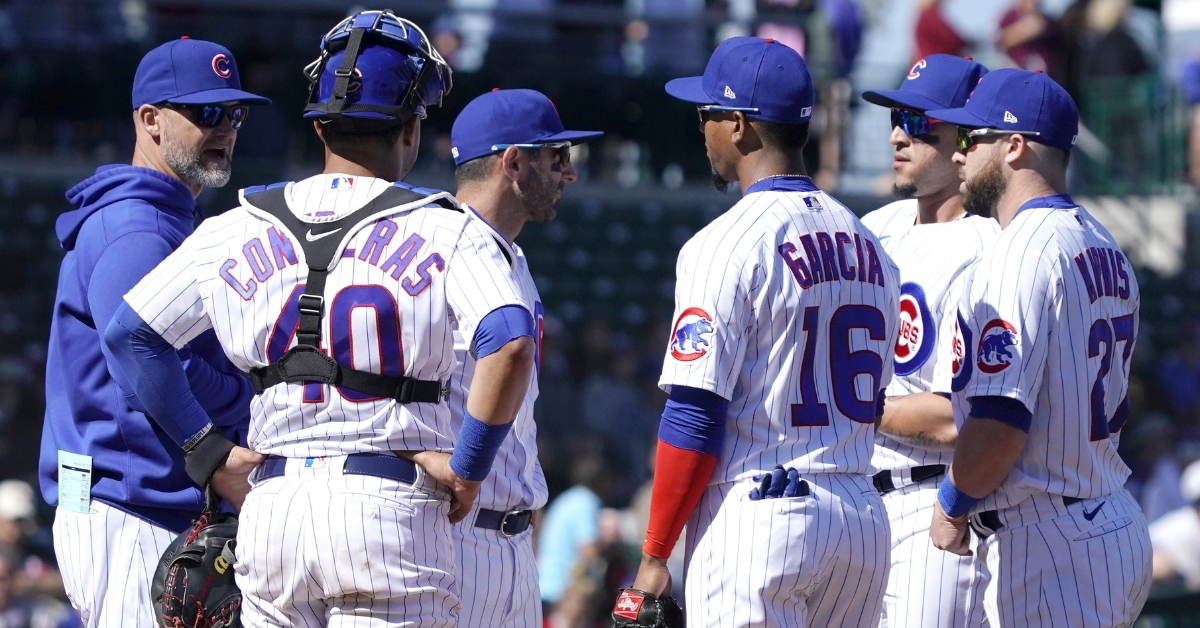 | | |
| --- | --- |
| Rangers put on a show against Cubs | |
---
| | | |
| --- | --- | --- |
| Thursday, February 27, 2020, 6:26 PM | | |
After beating the Royals by a final of 8-0 yesterday, the Cubs (3-2) in Cactus League play, traveled to Surprise, AZ to face the Rangers. The Cubs' offense has been impressive, tallying 44 runs in five games (average of 8.8 per game), but they've also given up 30 runs (average of 6 per game).
David Ross chose RHP Colin Rea for the start, flanked by a lineup which consisted of Ian Happ (CF), David Bote (2B), Kyle Schwarber (LF), Josh Phegley (C), Daniel Descalso (2B), Nico Hoerner (SS), Hernan Perez (1B), Ian Miller (RF) and PJ Higgins (DH).
The big pre-game news of the day. was that reliever, Brad Wieck underwent a cardiac procedure to fix a condition known as atrial flutter, a condition discovered during his preseason physical. David Ross commented:
Ross on Wieck's surgery pic.twitter.com/FtB7IRxCm3

— Mark Gonzales (@MDGonzales) February 27, 2020
T-1 Happ and Bote opened up the game with back-to-back knocks before Schwarbs fanned. Phegley (PO-6), then with Descalso walked. Hoerner would fly out to deep right to end it.
B-1 Rough start for Rea, as he gave up a leadoff single, then two straight walks to load the bases with nobody out. Rea next got a pop out to Descalso, but Rougned Odor would put the Rangers up 4-0 with one swing of the bat. A strikeout and flyball would end the frame—Cubs down 4-zip.
T-2 Perez ground out (GO-5), but Miller reaches on a single to the right, then Higgins walked. Happ reached on a groundball to first, when Greg Bird gave up the sure out, instead of throwing to second and earning himself an error; everybody safe. Bote fanned before Schwarber faced a relief pitcher, grounding out to first to end the frame.
B-2 Dan Winkler grabbed two quick outs (FO-8, K) before giving up a single to CF (Happ charged with a fielding error; runner advances to second). Winkler would retire the side on a comebacker to the mound. Cubs trail 4-0.
T-3 Nothing for the Cubs: Phegley (FO-8), Descalso (FO-7), Hoerner (BB), Perez (FO-7).
B-3 Casey Sadler fanned a man, then got a groundout to Hoerner, but then gave up a double to Odor and walked the next batter. He'd fan another to end the inning. Rangers up 4-0.
T-4 Ian Miller smacked a double to left to open the inning, then advanced to third on Higgins groundout. Of note, Happ lined out to short center, but Miller's speed allowed him to score. Bote grounded out to end the inning. Cubs trail 5-1.
B-4 Justin Steele works a 1-2-3 inning (GO-6, FO-8, GO-3.
Perfect 4th inning for lefty Justin Steele in his Cactus League debut. Relied primarily on fastball, which topped out at 95 mph. Looked smooth.

— Mark Gonzales (@MDGonzales) February 27, 2020
T-5 Schwarber hits a hardliner but caught by 1B. Phegley FO-7, Descalso flies out to right fielder to end it. Descalso isn't getting many hits so far but is drawing walks and has been making good contact.
CUBS Subs: Noel Cuevas (CF), Trent Giambrone (3B), Robel Garcia (LF), Carlos Asuaje (2B), Alfonso Rivas (1B), Charcer Burks (RF), Zack Short (SS), Jhonny Pereda (C).
B-5 Righty Manuel Rodriguez worked the fifth: FO-4, K, walk, single, K. Cubs trail 4-1.
T-6 Hoerner continued his 0'Fer (GO-6), but Perez singled, but Miller grounded into 6-3, double play to end it.
B-6 Lefty, Wyatt Short (not to be confused with SS Zack Short) grabbed a strikeout and K, GO-4, before giving up a single to center, then a two-run bomb to center. Strikeout ends the frame. Cubs trailing 6-1.
T-7 Cubs go in order: Amaya (K), Cuevas (FO-9), Giambrone (K).
B-7 RHP Caleb Simpson walked the leadoff man, but then after getting a flyout to the right, beaned the next guy in the head (no injury). A 6-4-3 (Shot-Asuaje-Rivas) ends the inning. Cubs still trail by five.
T-8 Inning opened with Garcia fanning, but Pereda doubled sharply to CF. Asuaje FO-8, Z. Short fans to end the threat.
B-8 Righty Craig Brooks would be called on to complete the pitching duties for the day, but he couldn't get it done. He'd begin by giving up a dinger on a 3-0 pitch, and then the next reached on an error by Giambrone. Next, Burks would make a great catch in right for an out, but the lead runner tagged, taking third. Cubs would get a second out on a 66-4 putout, but the run scores. The next walk would end his day.
RHP Craig Swarmer would give up a two-run blast on the first pitch he delivered, making it 11-1. He'd go on to give up a total of four straight hits (two for extra bases) before Ross pulled him.
Next up: Zach Hedges, who'd finally end it with a strikeout. Cubs trail 13-1.
T-9 Cubs go in order: Rivas (GO-4), Burks (FO-9, Amaya (Foul-out-8).
Final: Cubs-1; Rangers-13.
Cubs' Offense: 6 for 32 (Avg. .188); 0 for 9 with RISP (.000).
Next Game: Tomorrow, 7:40 PM: Cubs at Padres from Peoria Stadium (Tyler Chatwood to start), then it's Cubs/Brewers from Sloan Park on Saturday (Game Time: 2:05 PM).

Upgrade Your Account
Unlock premium boards and exclusive features (e.g. ad-free) by upgrading your account today.
Upgrade Now

Tags: Cubs Baseball
,
David Ross
,
Colin Rea
,
,
David Bote
,
Kyle Schwarber
,
Daniel Descalso
,
,
Hernan Perez
,
Ian Miller
,
Brad Wieck
,
Casey Sadler
,
Justin Steele
,
Noel Cuevas
,
Trent Giambrone
,
Robel Garcia
,
Carlos Asuaje
,
Alfonso Rivas
,
Charcer Burks
,
Jhonny Pereda
,
Manuel Rodriguez
,
Wyatt Short
,
Craig Brooks
,
Zach Hedges
,
Tyler Chatwood