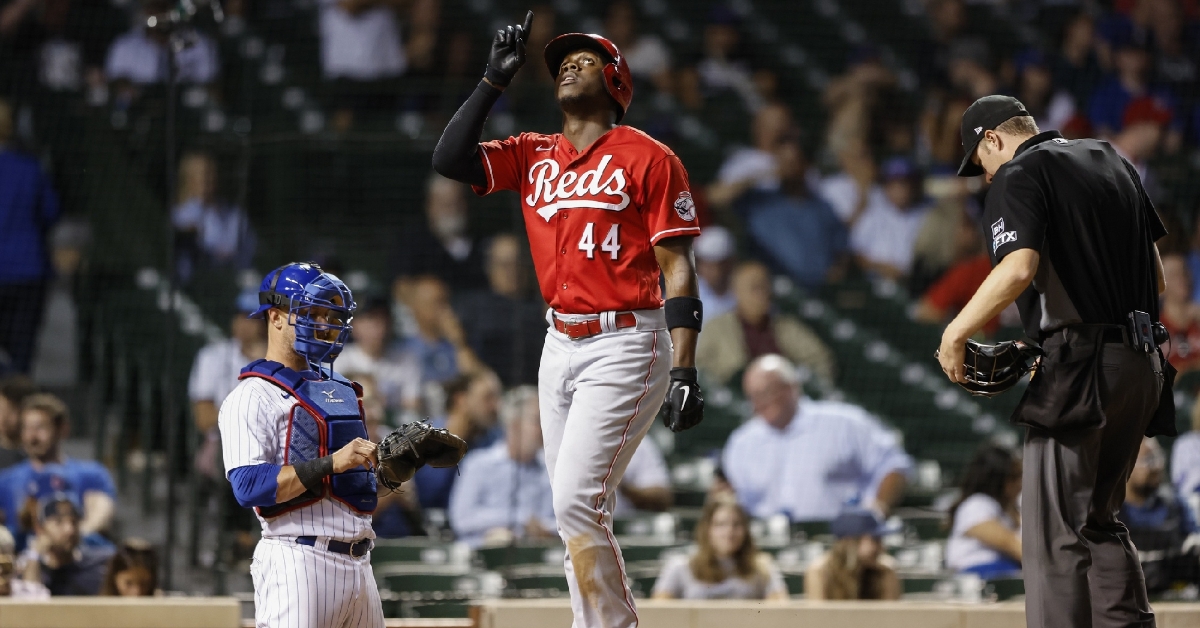 | | |
| --- | --- |
| Reds use four-run sixth to defeat Cubs | |
---
CHICAGO - No one wants to see anyone get hurt, but during the duration of a baseball season, players will get injured. The Chicago Cubs (57-79) are no strangers to injuries as they have dealt with plenty of injuries all season. Most recently, Keegan Thompson and Justin Steele hit the IL as all five of their opening day rotation staters have been on the IL at one point this season.
However, sometimes it takes an injury for someone to be given a chance; that is what happened with Javier Assad. After putting together a great season with AAA Iowa, Assad was added to the roster when Thompson went down and has looked good ever since. Although he was charged with four earned runs in 5 1/3 against the Cincinnati Reds (54-80) on Wednesday, a few of those runs were not his fault as the Reds eventually pulled away 7-1.
Getting back to Assad for a minute, you have a right-hander who has now started three games with the Cubs and posted a 2.93 ERA. He is another one of the long list of pitching talent the Cubs have in their minor league system, as the overall depth is a good problem to have as they focus on next season.
While Assad pitched well enough to win this game, Mike Minor was on the mound for the Reds as he had an interesting outing. Minor allowed one run in 5 2/3 while striking out three hitters. However, he did allow 10 hits meaning he struggled to get guys out consistently. How you can only score one run on 10 hits is mind-numbing, but that is where things sat Wednesday.
Command has been the only issue for Assad since his callup, but he has done an excellent job making adjustments, and those adjustments showed up in a big way on Wednesday. Four of the first six outs he recorded came via the groundout, with the other two strikeouts as he was on top of his game early.
Despite the Cubs picking up a pair of first-inning singles off of Minor, they could not cash in, but made sure they would in the second inning. Not only did Nelson Velazquez and Yan Gomes single to lead things off, but PJ Higgins made it three singles to begin the inning as he brought home Velazquez to make things 1-0. Sitting in a good place for the time being, that was the lone run the Cubs offense would score despite picking up more hits than the Reds.
While Assad was primarily good at limiting the soft contact, he did fall into a bit of a home run trap with Aristides Aquino tying things up in the third with a solo shot before Jake Fraley provided the game-winner in the fourth to make things 2-1. The bottom of the fourth summed up the Cubs evening as they picked up three singles in that inning, but couldn't score as a costly double play erased any potential at that.
Looking to get through the sixth for the first time in his career, Assad recorded the first out before allowing hits to Jonathan India and Kyle Farmer. That was enough for David Ross to see as Erich Uelmen was called on to pitch. Not only did he walk the first hitter he faced, but a series of singles from Spencer Steer, Donovan Solano, and Aquino brought home three more runs to help the Reds break things open 6-1.
The Cubs managed to put three baserunners on for the second time in three innings, only to have another double play ball kill that rally. With the score still 6-1 in the ninth, Jeremiah Estrada was in the game as he continues to use the month of September as an audition. Despite allowing two hits in the inning, with one being an Aquino homer and a TJ Friedl single, the Reds were in front 7-1 and went on to win by that score as the Cubs were retired in order to fall by that score with the Reds evening up the series.
Of the 12 hits the Cubs had, a large chunk came from the bottom of the order, with Yan Gomes leading the way with a perfect 4-4 night. Higgins and Franmil Reyes added two hits, with Higgins cashing in with the lone RBI in the loss. These teams better get used to each other as they will play a lot during the season's final month.