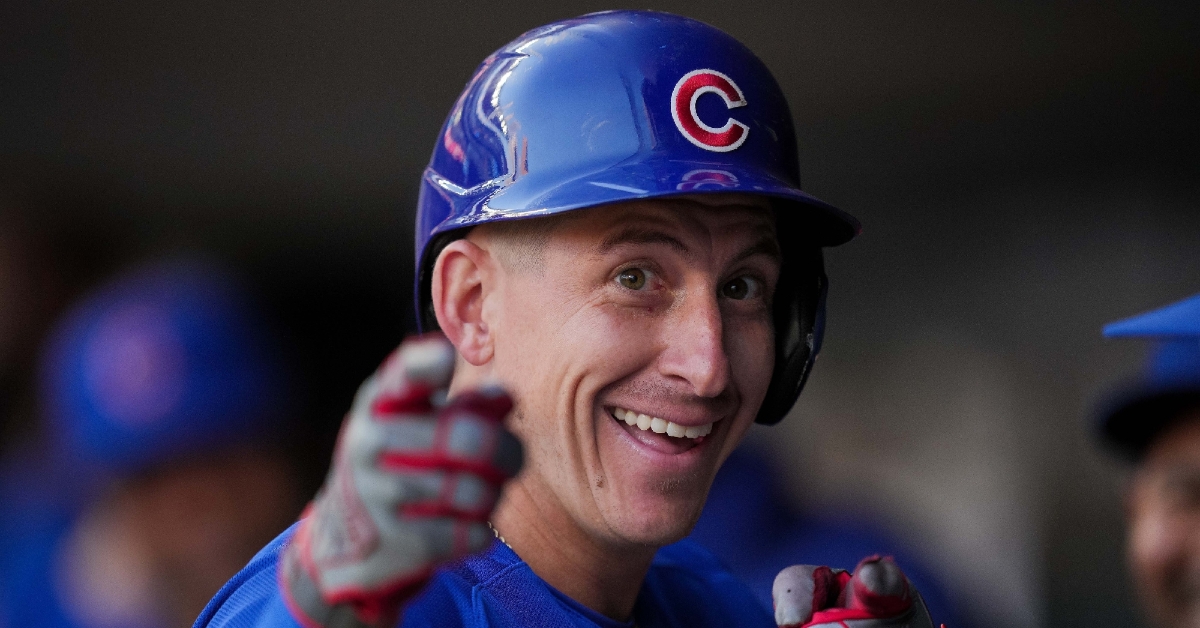 | | |
| --- | --- |
| Schwindel, Happ power Cubs to victory over Twins | |
---
| | | |
| --- | --- | --- |
| Wednesday, September 1, 2021, 9:30 AM | | |
MINNEAPOLIS – For the first time in six years, the Chicago Cubs (58-75) traveled to Target Field to take on the Minnesota Twins (58-74) in what will be their final interleague team of the season. In a matchup of Zach Davies and John Gant, most fans expected a walk fest as both of these right-handers rank near the top in overall walk percentage in the MLB.
Instead, both pitchers displayed better than usual command as neither of them surrendered a walk in their outing, but still only managed to pitch into the fifth. Gant got through five innings while Davies went just 4 1/3 as high pitch counts continue to be an issue for both starters. That has primarily been an issue for Davies, as once the lineup rolls over for the third time, you can practically guarantee he is coming out sooner rather than later.
It has been six years since the Cubs played a game at this park, but Frank Schwindel wasted little time putting the Cubs in front, taking a Gant fastball over the center-field fence for the 1-0 lead in the first. Hard contact was the theme for both pitchers in the first inning as Luis Arraez nearly hit one out in the bottom of the first and settled for a long double.
With Byron Buxton also reaching base, the Twins had two on with no outs only to see Robinson Chirinos nail Buxton trying to steal second. That play seemed to turn the tide in terms of momentum, but Jorge Polanco was still able to get the job done, pushing Arraez home with a sacrifice fly to tie things up 1-1. The second inning was much of the same for the Cubs, with Matt Duffy leading things off with a single.
After both Jason Heyward and Alfonso Rivas were retired, Duffy advanced to second on the wild pitch before trotting home on the Chirinos RBI triple to put the Cubs in front for good 2-1. Ironically, that would be the last run for quite a while as both pitchers began to settle in nicely on the mound. Even with Davies and Gant struggling to get deep into the game, they did what they needed to do, with Davies retiring nine straight at one point and Gant retiring the final 10 he faced in his outing.
With a pair of runners on base in the fifth and the top of the order coming up for the third time, David Ross did what everyone expected him to do: go to Manny Rodriguez and the bullpen. Rodriguez needed just a few pitches to get out of that jam, inducing a double play by Arraez to keep the Cubs in front.
Double plays were the theme the next several innings, with the Cubs hitting into a costly double play in the top of the sixth only to see Rodriguez get Josh Donaldson to ground out into another inning-ending double play in the bottom of the seventh. Looking to bust the game open in the seventh, the Cubs loaded the bases with nobody out as Patrick Wisdom led off with a double followed by an error and a Jason Heyward single.
One pitch into Tyler Duffey's outing, Rivas appeared to connect for a grand slam only to see the ball land foul in the end. He hoped to have that pitch back as Duffey recovered to strike out the side, keeping the game 2-1. Still leading by a run in the eighth, Ian Happ provided a massive insurance run as he unloaded for a solo shot into the upper deck to put the Cubs on top 3-1.
"I feel like he's in a really good place."

David Ross on Ian Happ building off his recent success. pic.twitter.com/HDNsjBEzPw

— Marquee Sports Network (@WatchMarquee) September 1, 2021
With Cody Heuer still pitching the eighth, the right-hander pitched himself into trouble, allowing a pair of singles and a walk to load the bases with one out and the Dangerous Max Kepler coming to hit. That forced another call to the bullpen, putting Adam Morgan in a tough spot. However, with just one pitch, Morgan got Kepler to fly out to right field, where Duffy made a tough running catch over the shoulder. To make things better, Arraez tried to score for third, and Duffy threw a perfect strike to Chirinos to nail him at home, ending the inning with another double play. Had that play not happened, who knows how this game turns out as Rowan Wick retired the Twins in order in the ninth to secure the save.
Duffy saves the day
There is always talk about Duffy and his approach at the plate as a difference-maker in this lineup. Early this season, when things were going well for this team, his bat was a difference-maker as the contact first approach seemed to get this offense rolling.
He then injured his back and missed two months before returning to the lineup in late July. However, Duffy hasn't been the same hitter he was earlier in the year as his timing was off for quite a while, and now, he is looking to string consistent at-bats together. With Wisdom continuing to do his thing at third, it has been hard to get Duffy inconsistently, but he was the hero last night.
With David Bote out with an ankle injury, look for Duffy to get a majority of his starts at second base at least until Bote and or Nico Hoerner return. He may not be the fleetest of defenders out there, but the play he made in the eighth inning was not easy for even the best of the second basemen.
Holding on to a two-run lead with the bases loaded, Kepler popped up a Morgan pitch between second base and right field. With Heyward nowhere close to getting the ball, Duffy needed to make a play and did so with a fantastic over-the-shoulder catch for the out. He could have been content with that, but instead fired home to complete the double play and end the threat.
Had that play not happened, who knows what the result would have been because the Twins would have had Miguel Sano up against Morgan. Looking at it like that, sending Arraez seems like a bad idea as you took the bat away from your best power hitter with the game on the line.
This double play by Matt Duffy ?? pic.twitter.com/FCtqb3WiLw

— Baseball Bros (@BaseballBros) September 1, 2021
Rodriguez proving his worth
Lost in the shuffle of what was a fabulously pitched game was the performance of Rodriguez out of the pen. Not only was he asked to enter the game in the fifth, but he gave the Cubs two scoreless innings of work while throwing under 25 pitches in the process. Armed with a fastball that can touch triple digits to go with a wipeout slider, Rodriguez has made hitters look silly this season, but saw his velocity a little bit down last night.
Along with that, his command wasn't as sharp as he walked two hitters and put himself into challenging situations. Fortunately for him, he is proving to the Cubs that he might be a significant piece to this team next season as he continues to figure out ways to pitch. Instead of trying to put people away, Rodriguez pitched to contact when he needed to the most and induced two inning-ending double plays.
That not only kept his pitch count down, but killed all the momentum the Twins had. It will be interesting to see how Ross uses him down the stretch as he continues to impress when called upon.
That's a really nice outing for Manny Rodriguez. Used the sinker really effectively and got two big double play balls. #Cubs

— Russell Dorsey (@Russ_Dorsey1) September 1, 2021
Can the Cubs make a bit of a run?
Saw what you want about the Cubs season this year, but they have an opportunity to put a little bit of a run together to finish with a more respectable showing. With 11 games against the Twins and Pirates in September, the Cubs have a chance to play some better baseball, even if that doesn't make some fans happy.
In fact, according to baseball reference, the Cubs have the second-easiest remaining schedule, only ahead of the Reds. Looking at the teams on their schedule, including the Reds, Giants, Phillies, and Brewers, along with the teams mentioned above, I have no idea where that is calculated.
That tells me that a lot of the league is playing games within their division, and when you look at the NL West, AL East, and AL West, you can see why teams may have a more challenging road. At least the Cubs have 11 winnable games, and although I don't expect them to win all 11 of those games, Chicago could focus on winnings 70 plus games this season when 100 losses seemed doable just two weeks ago.
Fly the flag, sing the song! @Cubs Win! #CubTogether #Cubs pic.twitter.com/am5iG2MDX7

— Dubs (@MikeDubsRadio) September 1, 2021