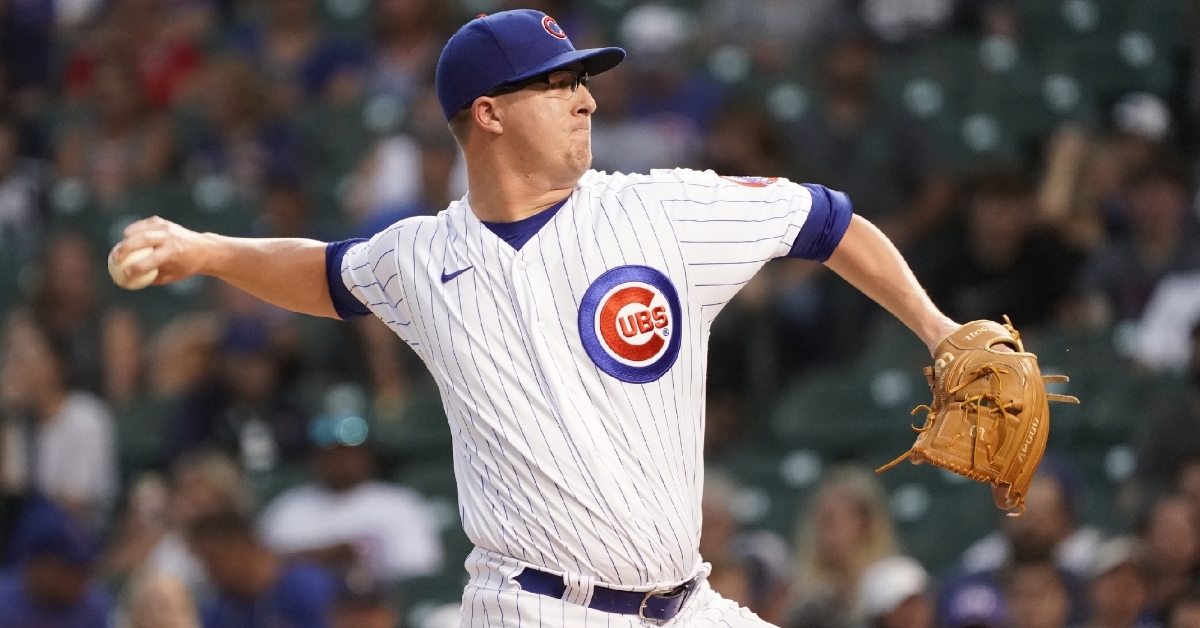 | | |
| --- | --- |
| Takeaways from Cubs loss to Brewers | |
---
| | | |
| --- | --- | --- |
| Wednesday, August 11, 2021, 10:06 AM | | |
Hoping for a split in their Tuesday double dip with Milwaukee, the Cubs sent Alec Mills to the hill against one of the Brewers top pitching prospects in Aaron Ashby. The last time Ashby faced the Cubs was back in June when he made his first MLB start, and things didn't go as planned. Ashby failed to make it out of the first inning and allowed four earned runs as the Cubs built a 6-0 lead. They would go on to lose that game 14-7.
Tuesday was a much different start for Ashby as he was able to keep the Cubs bats in check allowing just two hits in two innings while his counterpart in Mills put up three punchouts in 2 1/3. Their abbreviated starts were not planned, but another rough night in the sky forced the Cubs and Brewers into a lengthy rain delay that made no sense to bring the starters back out.
With this now a battle of the bullpens, it was the Cubs striking first when Patrick Wisdom took a John Curtiss pitch the other way for his 17th homer of the season and 1-0 lead. That lead was extremely short-lived as the Brewers bats came to life against Dan Winkler, Kyle Ryan, and Jake Jewell. A misplay by Johneshwy Fargas in right allowed for the Brewers to get on the board as Jackie Bradley Jr was credited with an RBI double to tie things up 1-1.
That was just the beginning as a Christian Yelich RBI ground output the Brewers in front for good before an Omar Narvaez single had them up 3-1. With runners still on base, Eduardo Escobar provided the game-winning hit before Rowdy Tellez, and Luis Urias padded that lead with RBI hits as the Brewers pushed across six runs in the fifth to take a 6-1 lead. The Cubs made things interesting in the sixth when Fargas picked up an RBI infield hit as the Cubs had the bases loaded and Willson Contreras up.
Unfortunately, the same issues that have haunted the Cubs all season showed up in his at-bat as he chased a ball out of the zone to end the inning.
Wisdom added an RBI double in the seventh, but it was not enough as the Brewers doubled up the Cubs for the second time on Tuesday 6-3.
It has been more than six months since Wick threw a pitch with the Chicago Cubs, but the right-hander returned last night to make his season debut. Sidelined since spring with an oblique injury, Wick was transferred to the 60-Day IL, keeping him inactive until late June.
Wick was inactive even longer than that as he didn't throw a competitive pitch until July, when he began his rehab stint with South Bend before heading to Iowa. Wick had several good showings in the minors and some rough ones, but the Cubs chose to call him up anyway. Wick made his first appearance of the season last night and tossed a scoreless inning needing just 10 pitches to get through it.
His command wasn't as crisp as he would like it to be, but expect that to get better with each outing. The situation with Wick is very intriguing as he was seen as a set-up type guy this year after filling that role last season. With Craig Kimbrel no longer in the closer mix, look for Wick to possibly take over the closer role and audition for next season to be their closer.
The Cubs' Wi(e)cks have not allowed a run in 18 innings this season.

Brad Wieck had 17 shutout IP and Rowan Wick with a scoreless inning of his own now.

— Tony Andracki (@TonyAndracki23) August 11, 2021
Time to see what Fargas can do
Take away his misplay in right that set the tone for the Brewers fifth, and Fargas had a good day. He collected two hits at the plate to go with an RBI as he continues to play well since getting called up. In fact, since joining the Cubs organization, Fargas has been better than advertised, which is a positive development for this team.
Given where the Cubs are in the standings, I think it is time for them to give Fargas more playing time and see what he can do. He may not have a ton of big-league at-bats, but when given a chance to play has performed well while offering a good OBP which is something this team needs.
Fargas also brings the element of speed to his game and can play all three outfield positions, so they do have that to keep in mind. While it looks like Rafael Ortega has found a home in center, the corner outfield spots are certainly up for grabs down the stretch, and Fargas should be considered in that mix.
Johneshwy Fargas full extension
pic.twitter.com/hKZOkUlGXo

— Bet The Bases (@betthebases) August 11, 2021
The Ian Happ experiment is not working currently
As if three strikeouts, including one with the bases loaded in game one, weren't enough, Happ was used as a pinch hitter in game two only to come away with another strikeout. That has been an all-too-common trend for him this season, as 2021 has been a complete loss.
Now four-plus months into the season, and Happ is hitting under .180 and he is the only player in this lineup hitting under .200 that sees playing time in 70% of the games. However, the numbers don't always tell the tale, as Happ has hit into plenty of bad luck earlier this season, which led him to get frustrated.
Instead of working through that frustration, Happ let it boil to the point of no return. The Cubs have reached that point with him this season where no matter what he does the rest of the way, I find it difficult to see him breaking the Mendoza line. Seen as a critical piece to the Cubs offense, especially after his 2020 season, Happ hasn't been the same hitter since fouling one off his eye in September. I don't want to use that as an excuse, but maybe there is something behind that.
With so many guys like Wisdom, Ortega, Fargas, and others producing since their call up, Happ may start seeing less and less playing time which doesn't bode well for his rhythm. Add in the possibility of Brennen Davis and other outfielders coming up in September, and I find it very hard to see Happ starting more than once a week.
The best way for any player to hit out of a slump is to play every day, and Happ doesn't deserve that right now. David Ross needs to have a hard conversation with him and send him down to AAA to sort things out. The Cubs did that to him in 2019 after a rough spring, and he came back a completely different hitter, which carried over to 2020. Maybe that is what he needs again.
Ian Happ will not wear the golden sombrero today! #GoCubsGo pic.twitter.com/ZWK42Lrm0e

— Nisei Lounge Chicago (@NiseiLounge) August 10, 2021

Tags: Cubs Baseball
,
Alec Mills
,
Patrick Wisdom
,
Kyle Ryan
,
Jake Jewell
,
Willson Contreras
,
Rowan Wick
,
Craig Kimbrel
,
Rafael Ortega
,
Ian Happ
,
Brennen Davis
,
David Ross