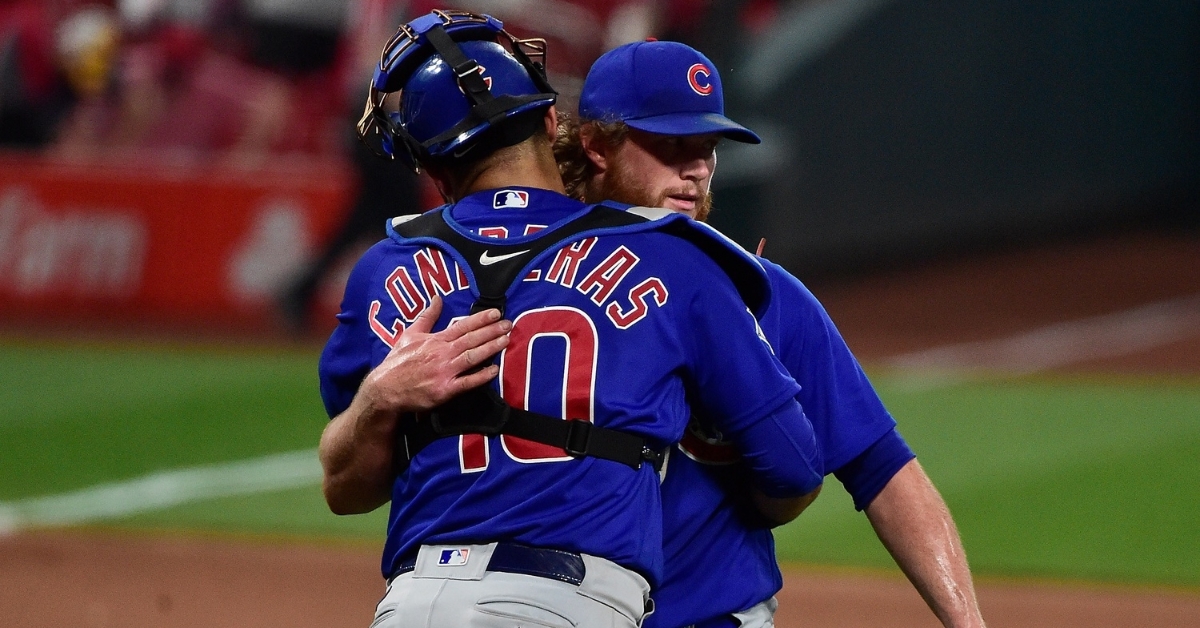 | | |
| --- | --- |
| Three takeaways from Cubs win over Cardinals | |
---
| | | |
| --- | --- | --- |
| Monday, May 24, 2021, 11:42 AM | | |
After falling to the Cardinals 2-1 on Saturday, it was time for the Cubs to return the favor Sunday as they looked for a series win. Instead, Zach Davies delivered a gutsy five-inning performance where he was able to pitch around several key jams to keep the Cardinals scoreless.
That was the biggest key to the game as Adam Wainwright was brilliant, going eight innings and allowing just one hit on a first-inning single to Kris Bryant. In fact, the Cubs tallied a total of two hits in nine innings, with both of those hits being credited to Bryant as the teams played to a 0-0 tie after nine innings.
Even with Davies failing to go deep in the game, the Cubs bullpen has been lights out in May, and they continued to do just that on Sunday. Javy Baez delivered the definitive blow in the top of the 10th as he took Cardinals closer Alex Reyes deep for his 11th homer of the season to give the Cubs a 2-0 lead. That homer proved to be the difference-maker as it was the first homer charged to Reyes on the season.
St. Louis was able to get one of those runs back in the bottom of the 10th when a Nolan Arenado sacrifice fly off Craig Kimbrel made it a 2-1 game. That was the first run the bullpen allowed in nearly 30 innings of work, but considering it goes down as an unearned run, that streak remains intact as the Cubs take the series finale 2-1 to claim the series 2-1.
The Cubs no longer have a leadoff issue
Ever since Dexter Fowler left five years ago, the Cubs have failed to address the leadoff position and have struggled with that role since. No matter what combination they have tried in recent seasons, no one has had a worst on base percentage from the leadoff role than Cubs from 2017-2020.
However, this is 2021, and that hasn't been the problem anymore as the Cubs no longer have a leadoff issue. You could even argue that going back to last season when Ian Happ was inserted, things began to change, but this season has been on full display. Whether it be Happ, Willson Contreras, Anthony Rizzo, or the newly inserted Joc Pederson as the leadoff hitter, the Cubs have had great luck with Pederson taking that role by the horns for now.
Through yesterday, and the Cubs own a 343 OBP from their leadoff men but leading off innings that ranks best in the National League. Going a bit further into that, you can see a trend where teams have scored 49% of the time when the leadoff man reaches base as opposed to 14% when they don't.
Everyone always says you only lead off a game once, which is true, but there is something to be said about leading off innings in a positive manner. The Cubs are doing a great job of getting on base to start an inning, and that has become more apparent with Pederson in the leadoff role. He is a natural and seems comfortable holding down that spot.
Time for umpires to be held accountable
I have never been for the electronic strike zone, but it does need to be considered after last night. Last night was one of the worst strike zones in a long time, and it was terrible for both sides. Not only was the Homeplate ump extra lenient on calls, but there were even some blown calls on the bases that could've altered the outcome of the game.
It is time for these umps to be held accountable for their performance, whether it is fines, suspensions, or worse. Strike zone calls will always be an issue unless a permanent electronic strike zone is put in play. Even with the calls seemingly getting worse, I am not yet at that point, but something needs to be done. There should be a way for coaches to call out umpires and argue the strike zone without getting tossed if their performance is worthy of it.
On the bases, now that is a different thing as calls have gotten worse out there too. MLB has implemented Instant Replay to eliminate some of those calls, but the problem is teams can only use that once if their challenge is upheld. What happens in a situation where the call is so apparent that it is amazing that the umpire missed it? Teams can't challenge if they are out of challenges, which is not good for the game.
MLB needs to develop a system to allow teams to challenge even they are out of challenges. Whether it comes from above like in the NFL or comes from the League itself, people need to figure out to help the game. Umpires are ruing baseball with these missed calls, and it is getting to the point where they need a complete overhaul on some of these long-term umps.
Javy is who Javy is
Javy Baez has been one of the more exciting players since his arrival but perhaps the most frustrating player at the same time. That is who he has always been and who he always will be. Not only does he seemingly swing at every pitching leading to tons of strikeouts, but he also refuses to walk, which leads to a low on-base percentage.
On the flip side, Baez may swing at everything, but he can get to pitchers most players can't and often does a lot of damage to those pitches. Last night was a typical game that often gets fans frustrated with him.
Baez was 0-3 with two punchouts through three plate appearances but looked terrible in both of those strikeouts. He then steps to the plate in the 10th, only to swing at a pitch that bounced in front of home plate. Those are the swings that people are irritated with him about, asking for him to reign it in.
That is just not in his nature as his swing first approach does pay off at times connecting on the very next pitch to put over the center field fence to give the Cubs a win. I know that the second slider was a spinner that hung a bit, but it still wasn't a terribly executed pitch. If I were a pitcher, I would never throw him a strike or at the least throw him something he can't get to.
Often, that is easier said than done because there have been times when a pitcher makes the perfect pitch, and then Baez someone does something with it. There are also times where a pitcher may try too hard to throw one out of the zone, and it ends up falling right into his wheelhouse. That is what makes him such a polarizing figure and such a hard one to value.
With him entering free agency this season, someone is going to pay him a ton of money. The question is what team will that be and how will they value his offensive performance. Do they bank on potential, history of what he has done, or pay him the market value of what most shortstops will be earning?