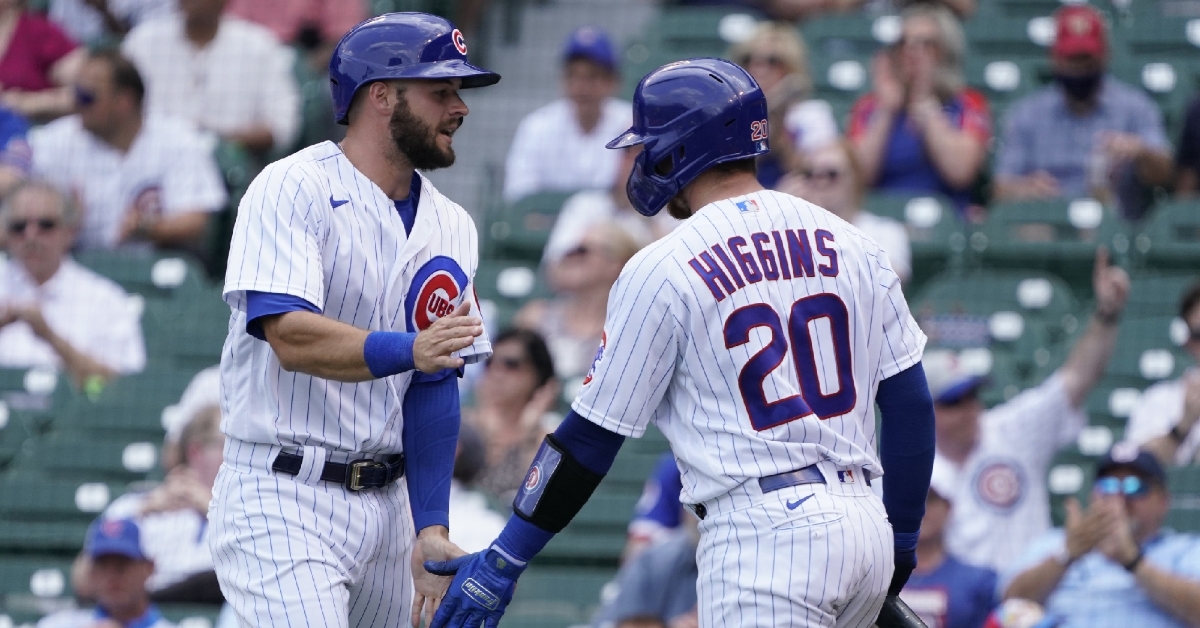 | | |
| --- | --- |
| Three takeaways from Cubs win over Nationals | |
---
| | | |
| --- | --- | --- |
| Friday, May 21, 2021, 8:44 AM | | |
Winning baseball games is fun, isn't it? Well, that is exactly what the Cubs have been doing since the Calendar flipped to May. After a dismal April that saw the team put up some of the worst offensive numbers in franchise history, the Cubs offense is starting to kick things into gear and have now won four of their last five series, taking three of four from Washington.
While the team may be just one game above .500, they continue to play well at home as they have posted one of the best home records in baseball. To be successful, they need to win as many home games as possible and hope that their luck can change on the road sometime soon. Facing off against Joe Ross was Trevor Williams as he is desperately looking to get things rolling.
After allowing homers to both Josh Bell and Kyle Schwarber in the first inning, Williams settled in nicely and went on to retire nine of 11 hitters at one point as he pitched into the fifth inning for the first time in a while. Unfortunately for him, he was not able to qualify for the win as David Ross pulled him with just 74 pitches in the fifth inning, preventing him from getting the win.
However, all is well that ends well, as the Cubs got all the offense they needed from Ian Happ as he connected for a pair of homers to drive in three runs, including the game-winning three-run shot to put the Cubs in front 3-2. A first-inning sacrifice fly from Nick Martini got the Cubs on the board, and Joc Pederson added another RBI as the Cubs remain hot with a 3-2 win.
Can we skip Williams' next start?
If I were Williams, I would be a little upset with Ross for not letting me finish that inning to qualify for the win. I get the middle of the order was coming up for the third time, but outside that first inning, he pitched well, and his pitch count wasn't too high. That is becoming a theme at Wrigley, where he has performed very well but has little to show for it.
Performing on the road, now that is another story as Williams has posted an MLB worst 13.45 ERA away from Wrigley. He has also struggled to get through three innings away from home, only reaching the fourth inning once in his four road starts. Given that his next start would be on the road in Pittsburgh, it may make sense for the Cubs to skip his next start and have him lined up for the Padres at home.
With the off-day on Monday, it isn't like the Cubs would be hurting as even if they skip his start, the Cubs rotation would still be pitching on regular rest. Williams needs to pick up a win on the road in the worst way, but that can't happen if Ross doesn't give him a chance. Clearly, Williams is lacking confidence right now, but it also appears that Ross doesn't trust him.
Ian Happ is heating up
Say what you want about Happ and his early-season struggles, but he is heating up and looking like the Happ of last season. After hitting just one homer and struggling to hit above 150 in his first 20 games, Happ has risen his average by nearly 65 points and has now connected for five homers in his last seven games.
That includes two on Thursday as his season total is now up to six. This is the Happ the Cubs expected to see and one they thought would be able to hold down the leadoff role once again. Ironically, his resurgence has come since he has moved down in the lineup and has also come after returning from the IL.
The same can be said about Pederson, who we will get to in a minute. Having a hot Happ bat is essential to this lineup because it makes the lineup that much deeper. This is a positive trend for the Cubs, and something they hope can continue the rest of the way.
Pederson the spark plug
When the Cubs signed Pederson, they expected him to provide the left-handed thunder that Schwarber brought to the table. Pederson certainly displayed that power throughout spring training as Cubs fans were anxious to see what he could do when the games meant something.
Once the season started, Pederson not only struggled to hit the ball out of the year but struggled to hit at all before landing on the IL. However, since his return, Pederson is hitting the cover off the baseball as his average is approaching .270 and nearly 140 points above where it once was. Pederson may only have one homer this season, but his 97.3 average exit velocity since the start of May is best in the MLB.
In other words, Pederson is not only seeing the ball well, but he is squaring it up and has been on a tear all month. Keep in mind this has all happened since Ross stuck him in the leadoff role, where he is suddenly looking like the first legitimate leadoff hitter since Dexter Fowler. I get that Pederson is getting paid to hit homers and drive in runs, but his Pederson I like.
It is getting to the point where the Cubs have their leadoff man for the moment as he is too hot to move from that spot. Even if the power isn't what fans expected it to be, a leadoff hitter consistently getting on base is exactly what this offense needs, and Pederson is certainly doing that. Pederson should forget about the power and everything that comes with it because if this is what he is capable of doing, he will be the spark plug this offense needs.