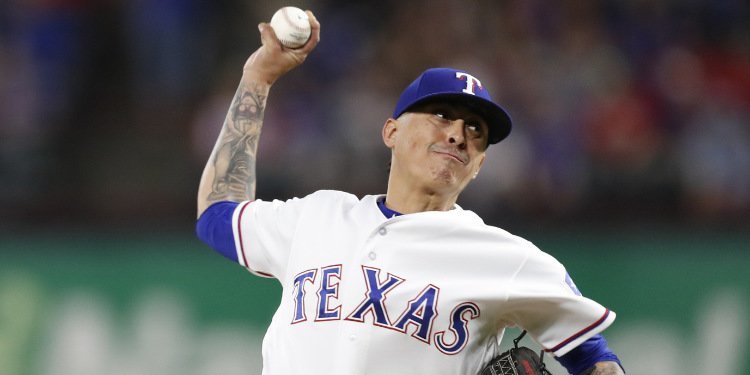 | | |
| --- | --- |
| Welcome to Chicago, Jesse | |
---
The Cubs still haven't made that one big statement (yet) in the trade market and the clock is now down to nine days. I'm still waiting for a quality starter to be dealt to the Cubs, and I've made no bones about it- I'm hoping (praying) that they can score either deGrom or Syndergaard.
In the meantime, almost under cover of darkness, the Cubs went out and quietly obtained Jesse Chavez, a veteran, right-handed reliever, from the Texas Rangers. The cost came reasonably cheap for the Cubs, as they dealt left-handed starting prospect, (Ricky) Tyler Thomas, from Single-A, South Bend in return.
Tyler's parting words (via Twitter) were, "I just want to say thank you to the [Cubs] for giving me a chance to live out my dream. Gonna cherish all the memories and miss all the friends I made the past year in this organization. Beyond excited to join the [Rangers] and get to work with them on this crazy journey!" Good luck, Tyler, your future looks bright. This year with South Bend, Thomas has gone 3-5 in 14 starts, with a 2.88 ERA.
So what did the Cubs receive in return? Chavez is a 34 (almost 35) year-old veteran, who has certainly toured the major-league in his 10-1/2 year career. The Cubs make the ninth team that Chavez has played for; the tenth if you count the two different times that he played for Toronto. For his career, Chavez has a 36-52 record with a 4.60 ERA. For 2018, Chavez had gone 3-1 with the Rangers, with a much improved 3.51 ERA.
Chavez made his inaugural debut Saturday for the Cubs, pitching the eighth and ninth innings in game one of the doubleheader. Although allowing one base runner, Chavez retired the six Cardinals that he faced, one by strikeout. He then assisted on a bizarre, 1-4-3 double-play, to take out the base-runner that he'd allowed. Chavez appears to have fit right in to the Cubs infrastructure, as every play seemed to be punctuated with reciprocal praise between the position players and himself.
Welcome to Chicago, Jesse- October is only a few months away.
Jesse Chavez approves! #Cubs pic.twitter.com/FtOsGXfJHT

— Aldo Soto (@AldoSoto21) July 21, 2018