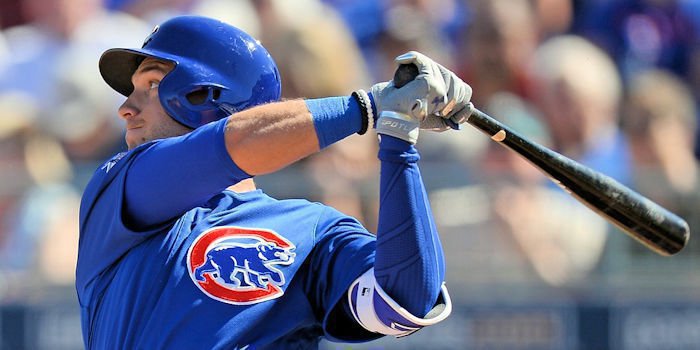 | | |
| --- | --- |
| What's next for Albert Almora Jr.? | |
---
| | | |
| --- | --- | --- |
| Wednesday, September 2, 2020, 12:10 PM | | |
Following the Cubs deadline moves, Chicago was faced with some tough decisions regarding what to do with their roster. You had Jose Martinez replacing Josh Phegley, Kris Bryant replacing Hernan Perez, Josh Osich replacing Tyler Chatwood, Andrew Chafin replacing Ian Miller, and Steven Souza Jr replacing Casey Sadler. What about Cameron Maybin, who was added to the Cubs roster late Monday afternoon as the trade deadline ended.
Well, the Cubs made the most challenging roster decision of them all as they sent Albert Almora to their South Bend Alternative site to make room for Maybin. It was not a decision that Jed Hoyer took lightly, but it needed to be done. Now that the move is official, it leads me to my next question: have we seen the last of Almora in a Cubs uniform?
When you look at his production this season and his production since Memorial Day last year, this move was long overdue. Ever since he struck that fan in the seats during their series in Houston last year, Almora just has not been mentally right offensively or defensively.
Signed as a first-round pick out of High school in 2012, Almora was always viewed as a gold glove center fielder who could flat out hit the baseball. Upon arriving in the Minors, Almora certainly proved he could hit, posting a .303 average across his four minor league seasons. He currently holds a .288 average in the minors with 24 homers and 193 RBI.
That production earned him a callup during the second half of the 2016 season in which Almora didn't play a ton, but managed to hit .277 with three homers and 14 RBI's. Almora was still serving in a platoon role one year later but began to see his plate appearances increase, hitting a career-high 298 with eight homers and a career-high 46 RBI.
Those numbers had many fans believing he was on the verge of becoming the team's everyday centerfield, and the first two months of 2018, he certainly proved he could become just that. Not only was he crushing lefties that season to a 357 average, but he started to hit righties better too, allowing him to start much of the first half of the season. As the season went on, Almora's production began to decrease as his lack of walks played a huge role in the decline. He still managed to finish with a ,286 average and five homers with 41 driven.
It was in 2019 when the wheels began to fall off for Almora. Despite posting a career-high in homers with 12, his 32 RBI and .236 average were career lows, and it looks much worse than that. Leading up to that series with Houston, Almora was the Almora of old, hitting a 295 and seemingly earning more confidence by the minute. During that series, a tragic accident sent Almora into a tailspin that he hasn't been able to recover from.
Upon hitting a two-year girl in the seats, Almora was emotionally shaken. You could see it in his eyes and knew something wasn't right. I genuinely feel that not only affected him last season but this season also as he is hitting just .167 this year following hitting just .182 over his final three months last year. Along with the declining offense, his defense began to suffer slightly, also taking what made him an asset and turning him into one of the most prominent question marks overall on the roster.
Now getting back to this year and his recent demotion, I feel we have seen the last of him this season, barring any injuries, but I don't think we have seen the last of him in Chicago. Not having a minor league season certainly hurts him now, but at the same time, it may have saved his fate in Chicago for at least one more season.
I look at the Almora situation, similar to what happened with Ian Happ last year. Happ burst on the scene in 2017, only to take strides back in 2018. Following a tough spring the next year, Chicago opted to send him to AAA Iowa to iron out where he spent the next four months. That proved to be the best decision that the Cubs could have made for Happ.
Since his return to the big club, in particular, since Sept. 1 of last season, Happ has not only been the best hitter on the Cubs but one of the best hitters in the National League. His improved eye at the plate has led to more walks and fewer strikeouts while increasing his overall contact. The adjustments Happ made to his game are evident, and it has shown on the field this season.
Maybe the Cubs take a similar approach with Almora next season with hopes of a similar result. When he was playing more, he saw better results. I think a trip to the minors where he can play every day will significantly help him. Not only will he get more plate appearances, but he will have a chance to work on the things that are holding him back right now.
Should he have an opportunity to return to Chicago and look like the old player, then the Cubs made the right choice to send him back for further development. However, should he not reach his potential, the Cubs can at least say they gave him all the chances in the world to make things happen, and it just didn't work out.
I have always liked Almora and loved what he brought to the table defensively. The bottom line is, he can't hit and needs to figure that out. Playing great defense will only get you so far in this league if you cannot produce with the bat. Now is the time to go back to the minors work on a few things, and play with a chip on your shoulder to come back stronger and better than ever.