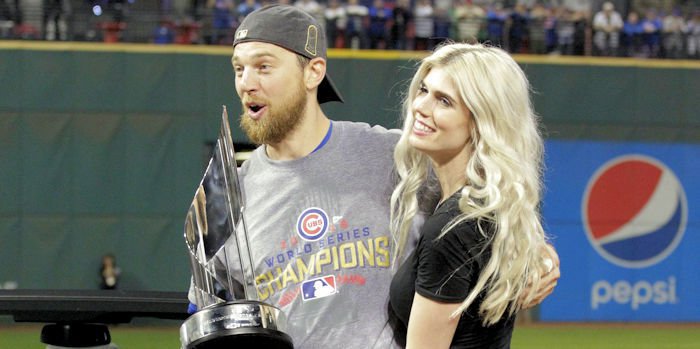 | | |
| --- | --- |
| Cubs News: Court documents from Zobrist divorce trial reveal bombshell allegations | |
---
| | | |
| --- | --- | --- |
| Monday, July 19, 2021, 9:52 PM | | |
NASHVILLE, Tenn. — The plot of the seemingly never-ending Zobrist family saga has thickened in the build-up to next month's divorce trial between former star Chicago Cubs utility player Ben Zobrist and his estranged wife, Julianna. Court documents pertaining to the trial were made public, resulting in several bombshell details coming to light via a detailed Chicago Tribune article.
The well-publicized divorce centers upon Julianna's alleged affair with former Zobrist family pastor Byron Yawn, who is also Ben's former business partner. Ben famously took a lengthy leave of absence from the Cubs in 2019, the final year of his playing career, in order to address family issues stemming from the split from his wife.
Ben eventually returned to play for the Cubs and accrued approximately two months of service time, which earned him a prorated $4.5 million of his $12.5 million salary. However, Ben alleged that Julianna "coaxed" him into returning to action late in the 2019 season, a claim that was made in response to Julianna asking for an extra $4 million due to a loss of income from the leave of absence.
Julianna is seeking to evenly split the Zobrist family's assets, which are estimated to be worth between $24 million and $31 million. Ben is asking to keep at least 60% of the assets and is hoping to avoid paying the extra $4 million. Julianna's reasoning for asking for the additional $4 million is that "[Ben] essentially went from the top of his game to basically giving up, which caused a massive loss in income."
Blaming her estranged husband, who "intentionally and voluntarily stopped working," for the loss of income caused by his leave of absence, Julianna and her attorney received a response from Ben's attorney referring to her claim as "utterly absurd." Julianna accused Ben of "failing to preserve marital assets," but Ben levied a substantial allegation of his own.
According to court documents, Julianna spent $30,000 on a retirement party for Yawn in December 2018, when Yawn was leaving the ministry. Ben also accused Julianna of getting intoxicated at the party, which was held at the Zobrists' farm in Nashville, Tennessee, and dancing lewdly with Yawn in front of family and friends.
Ben's court memo describes the scene at the party by stating, "In actuality, as Husband eventually discovered, Wife had already moved on from Husband and was 'in love' with Pastor Yawn."
The memo accuses Julianna of incurring at least $700,000 in "excessive and wasteful spending" and cites her lack of income as part of the rationale behind Ben asking for the majority of the family's assets. Conversely, Julianna's memo claims that Ben has "perfectionist tendencies" that resulted in him being an "overbearing" and "controlling" spouse.
"Throughout their marriage, Husband struggled with mental health issues that included manic tendencies, depression, anxiety, melancholy and thoughts of suicide," Julianna's memo states.
Ben essentially accused Julianna of being a spendthrift, alleging that she spent an average of $24,000 per month — primarily on travel, clothing and gifts — in 2018. However, the most significant allegation of all involves Ben's attorney blaming Julianna for causing Ben mental anguish by having an affair with Yawn.
"It is Mrs. Zobrist, by having the extramarital affair and confessing same to her husband, and not disclosing the true extent of her affair, that caused him such extreme mental distress and difficulty that resulted in an inability to finish his long and very successful career in the way that he had hoped for and planned for."
Ben retired following his shortened 2019 season, marking an inglorious ending to an otherwise highly successful Cubs tenure and MLB career. The Zobrists, who have three children together, initially filed for divorce from one another in May 2019, but the allegation of the affair was only recently made public. Acrimonious, to say the least, the divorce has played out in the public eye, and proceedings are likely to be rather caustic and filled with even more bombshell allegations.