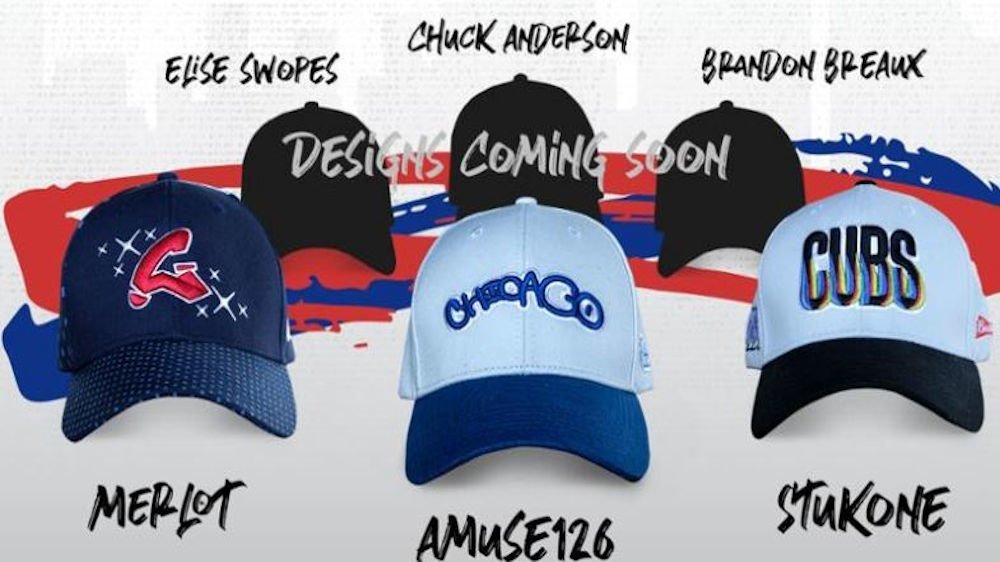 | | |
| --- | --- |
| Cubs announce 'Cubs Cap Artist Series' during Bud Friday games | |
---
CHICAGO – The Chicago Cubs are teaming up with six talented local artists, designers and illustrators to bring Cubs fans the Cubs Cap Artist Series presented by Budweiser. The Cubs Cap Artist Series is a collection of six limited-edition caps to be given away at select Friday home games during the 2019 season.
Each artist (Amuse126, Merlot, StukOne, Elise Swopes, Chuck Anderson and Brandon Breaux) incorporated the rich history of Wrigley Field and the Cubs with their own distinctive style into their cap to create a design uniquely authentic to the Cubs.
"Fusing our team's iconic identity with each artists' inventive expression and personal style was such a fun way to use creativity to connect with our fans," said Cubs Vice President of Marketing Lauren Fritts. "We are always looking to link the Cubs with the culture of the city, and the creators of Chicago are an amazingly talented community with whom we hope to collaborate even more as the season continues."
These limited-edition caps will be distributed to the first 5,000 early arriving Budweiser Bleacher adults age 21-and-older at select Friday home games as part of our 2019 Bud Fridays. Details are below on the artists, cap designs and game dates.
"My design is based on the standard gray and blue Chicago-style road uniform. The graffiti-influenced lettering is a nod to my roots and honors the classic bold Cubs iconic look," said Amuse126, artist. "My roots, passion, admiration and true pride as a Chicagoan and Cubs fan were put into this project and my hope was for a fan to feel the excitement I felt with this project to be the same feeling they get when given this hat."
In addition to the Cubs Cap Artist Series, the Cubs will launch more collaborations with local artists to be announced soon.
For more information about the Cubs Cap Artist Series, visit www.cubs.com/artistseries.
Six local artists. Six unique #Cubs caps, presented by @budweiserusa.

Snag these limited-edition caps on #BudFridays. ?? https://t.co/x0BWKf6YL4 pic.twitter.com/4W1cAdgmcf

— Chicago Cubs (@Cubs) April 29, 2019
Cubs Cap Artist Series dates and designs:
May 24 – Amuse126
Amuse126 is a Chicago-based artist who is among the top tier of his generation when it comes to modern aerosol artwork. His techniques, designs and aerosol-specific effects are pushing the envelope in the modern graffiti art world. Amuse126's organic and dynamic approach to traditional graffiti lettering also crosses the boundaries into abstract fine art.
June 7 – Merlot
Graffiti artist Merlot is a Seattle native currently based in Chicago. Merlot pushes boundaries with her bold, colorful and well-crafted style. Her diverse background in graphic design as well as a fascination with textures, patterns and fashion have instilled a fearlessness in her experimentation with color choices and flow of not just letter-forms but the entire approach and presentation. She gains inspiration from her travels as her work is heavily influenced by the exploration of new environments and ideas.
July 12 – StukOne
Originally from Rockford, Chicago-based painter StukOne has been a nationwide force in the graffiti scene for more than 15 years. He specializes in small- to large-scale murals, inked drawings, illustrations and typography. StukOne often pushes the limits of perception with his unique graffiti aesthetic. He is known for taking risks with bright color schemes and unique compositions combined with extremely clean lines and design elements.
August 23 – Elise Swopes
Elise Swopes is a self-taught photographer and graphic designer that has used her business savvy to spin influencer marketing on Instagram into a full-fledged career and meld art with a message that has an ability to reach millions. As she heads into the future, she continues to innovate in the increasingly multimedia landscape of digital communication, delving into video production that fits within the format of Instagram Stories to take followers on adventures with brands like Adidas and Pandora.
Swopes' cap design will be released at a later date.
September 13 – Chuck Anderson
Chuck Anderson is a graphic artist, photographer and creative director. In 2003, he began his studio NoPattern with no formal education or training. Throughout the past 16 years, Chuck's work has become synonymous with vibrant color and light, surreal photography and constant experimentation combining analog and digital mediums. He has worked with Nike, Microsoft, Chicago Bulls, ESPN, Vans and many more.
Chuck Anderson's cap design will be released at a later date.
September 20 – Brandon Breaux
Brandon Breaux is an American artist born in Chicago. His work focuses on identity, the subconscious mind and the fragility of the human psyche. His primary medium is oil paint, occasionally using video, digital illustration, animation and fashion in his works. With the overall goal to use his art to inspire and educate, Breaux uses symbolism to tell a larger story as a way to allow the audience to engage with the work.
Brandon Breaux's cap design will be released at a later date.