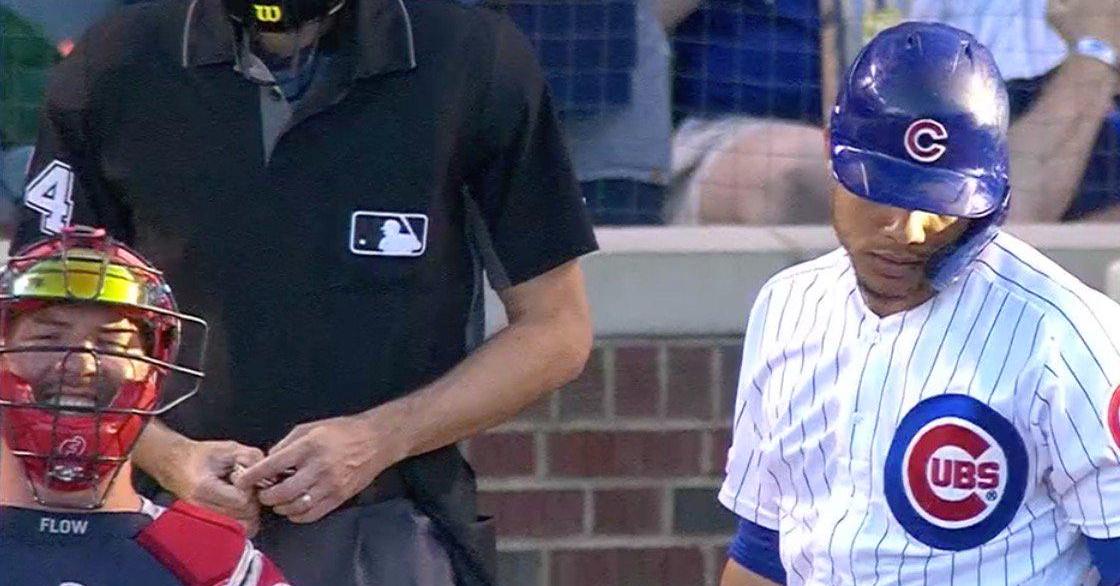 | | |
| --- | --- |
| LOOK: Tyler Flowers laughed at Willson Contreras during heated at-bat | |
---
CHICAGO — The smoking gun of the confrontation between opposing catchers Willson Contreras and Tyler Flowers was revealed on Tuesday afternoon, with evidence being provided via a couple of screenshots tweeted out by Bleacher Nation. During Monday's broadcast of the Atlanta Braves-Chicago Cubs matchup, replays showed Flowers interrupting Contreras during the infamous second-inning at-bat in order to interject his opinion on a borderline strike call that Contreras was arguing about with the home-plate umpire. However, the snapshots painted an even clearer picture of what incited the incident.
Evidently, Flowers laughed at Contreras during Contreras' conversation with the umpire, and Contreras was not at all pleased with being disrespected like that. More than likely, a snarky comment by Flowers accompanied his laugh, thereby irritating Contreras to the point that he had to let off some steam after capping off the heated plate appearance with a home run.
As if interrupting a batter's discussion with an umpire is not bad enough, laughing in the player's face over his opinion on a questionable call is quite audacious, and Flowers doing so understandably agitated Contreras. Regardless, Contreras was the one who was laughing in the end, as he recorded three RBI in the Cubs' 8-3 victory and caught the game-ending strike in the top of the ninth, which came with none other than Flowers at the plate.
The very start of the dustup last night was right here - Flowers steals a strike below the zone with a great frame job. Willson says something to the ump (normal catcher stuff!). Flowers inserts himself, and then laughs at Contreras. pic.twitter.com/mSYlQeCbih

— Bleacher Nation (@BleacherNation) June 25, 2019
Sharing his side of the story with reporters on Tuesday, Flowers said of Contreras, "He wasn't happy with the umpire on the second strike. For some reason, he felt inclined to say something to me after he hit the ball."
Flowers continued, telling the press, "(Contreras) started saying something well before he got to the plate. I don't know. I'm pretty sure he flexed or something as he left the box. Honestly, it wasn't about me. It was about him showing up the pitcher in that kind of situation. That was more my issue with it. I've got no problem with him saying anything to me, but when it starts to reflect on my pitcher on the mound and our team, that's more of an issue for me."