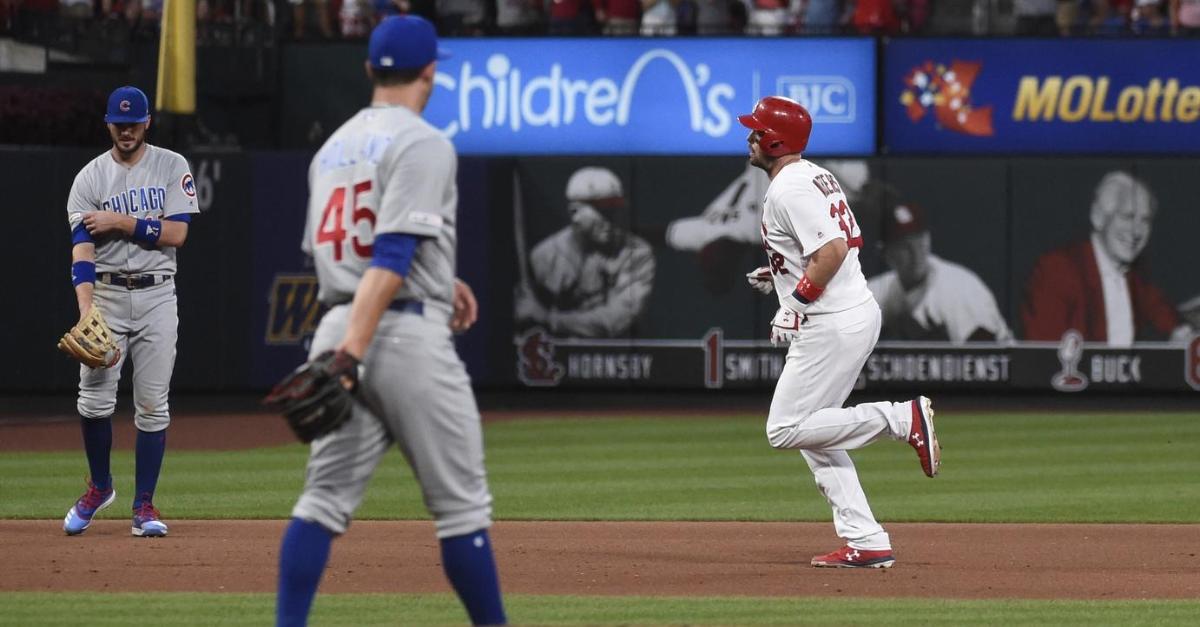 | | |
| --- | --- |
| REPORT: Cubs expected to play two doubleheaders versus Cardinals | |
---
ST. LOUIS — Another chapter of the COVID-19 drama surrounding the St. Louis Cardinals was written on Thursday, with a coach for the club testing positive, according to multiple reports. That resulted in the Cardinals' Friday game against the Chicago White Sox getting postponed. However, the Redbirds and the White Sox are expected to play a doubleheader at Guaranteed Rate Field on Saturday, as no one other member of the team is thought to have been exposed to the coach, who has been in isolation.
The Cardinals are currently 2-3 and have not played a game since July 29. No other team has been affected by COVID-19 as severely as the Redbirds, who are going to be forced to play an ungodly amount of games in a tight window if they are to complete a full schedule.
Last week's series at Busch Stadium between the Chicago Cubs and the Cardinals was postponed due to numerous positive tests within the St. Louis organization. As a result, according to the St. Louis Post-Dispatch, next week's Cards-Cubs series at Wrigley Field will likely feature two doubleheaders. The three-game set will now be a five-game set as a result. Per 2020 rules, all doubleheader tilts will be shortened to seven innings.
Friday Cards game looks like it will be postponed. Hear a STL coach tested positive. Saturday not ruled out yet. https://t.co/tJwjPDJQU4

— Jon Heyman (@JonHeyman) August 13, 2020
We will return to play this Saturday against the Chicago White Sox at Guaranteed Rate Field.

Friday's originally scheduled game vs. the White Sox will be made up as part of a doubleheader beginning at 1:10 PM CT. pic.twitter.com/6tQ3jDl5C6

— St. Louis Cardinals (@Cardinals) August 14, 2020
#stlcards will play three doubleheaders in Chicago -- Saturday, Monday and Wednesday. The latter two coming in Wrigley vs #Cubs.

— Derrick S. Goold (@dgoold) August 14, 2020
Mozeliak says this will be finalized Friday, from #MLB. This is what they're expecting. Lots and lots of baseball. https://t.co/cC4pTnhOPl

— Derrick S. Goold (@dgoold) August 14, 2020
Like Cardinals prez Mozeliak told Post-Dispatch, Cubs also anticipating as they await official word from league that upcoming three-game series at Wrigley will become a five-gamer with doubleheaders Monday and Wednesday.

— Gordon Wittenmyer (@GDubCub) August 14, 2020