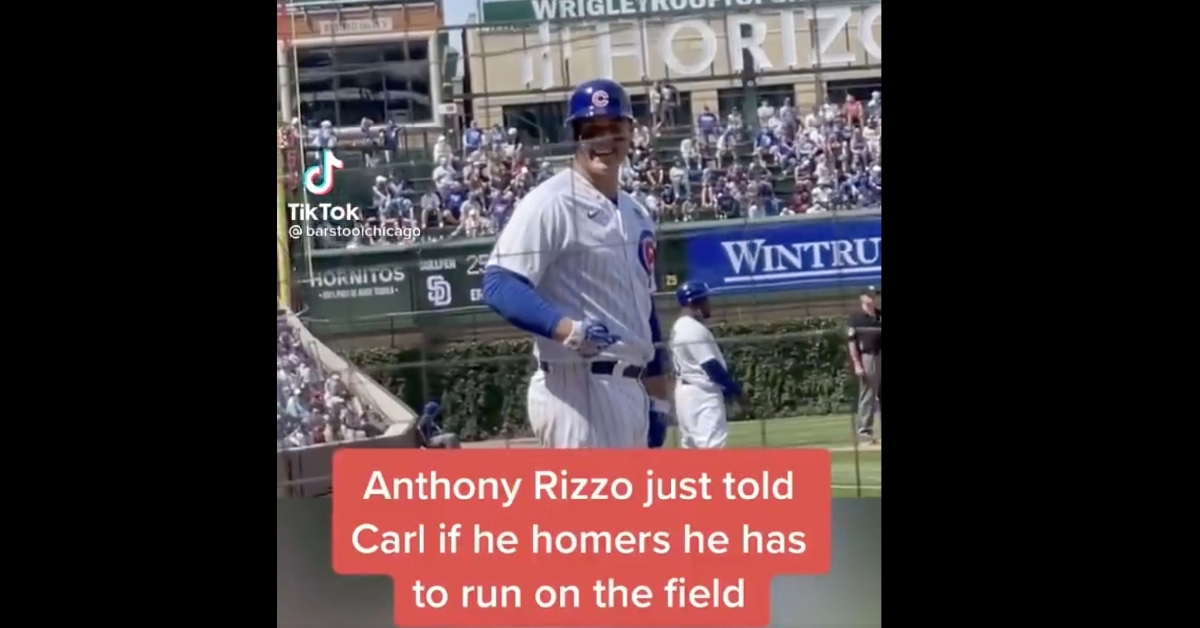 | | |
| --- | --- |
| WATCH: Anthony Rizzo tells fan he has to run onto field if he homers | |
---
CHICAGO — There may not be anyone in professional baseball who has more fun than Chicago Cubs first baseman Anthony Rizzo, and the idea of having too much fun is clearly a concept that never crosses the mind of "Big Rizz." Rizzo's latest hilarious moment featured him telling a fan that he had to run onto the field if he hit a home run.
While standing in the on-deck circle at Wrigley Field in Wednesday's 6-1 Cubs win over the San Diego Padres, Rizzo advised notable Chicago sports super-fan "Barstool Carl" of Barstool Sports to risk it all by leaving his seat behind plate field and trespassing onto the field. After jokingly informing Carl that he had to run around the field if he homered, Rizzo hit a go-ahead two-run double in the bottom of the seventh.
While Rizzo's two-bagger provided the Cubs with a lead that they did not relinquish, it was not enough to warrant Carl getting body-slammed by a security guard, so no reckless fan behavior ensued. Rizzo promised Carl that he would vouch for him should he run onto the field but likely assumed that Carl would do no such thing. Regardless, Carl's Faustian bargain with MLB's ultimate class clown went on hold until the next time Rizzo issues an on-deck dare.
Anthony Rizzo is literally the best. Find me another guy who is able to run the city like Rizzo. I'll wait. pic.twitter.com/XLv43TTKqW

— Barstool Carl (@barstoolcarl) June 3, 2021