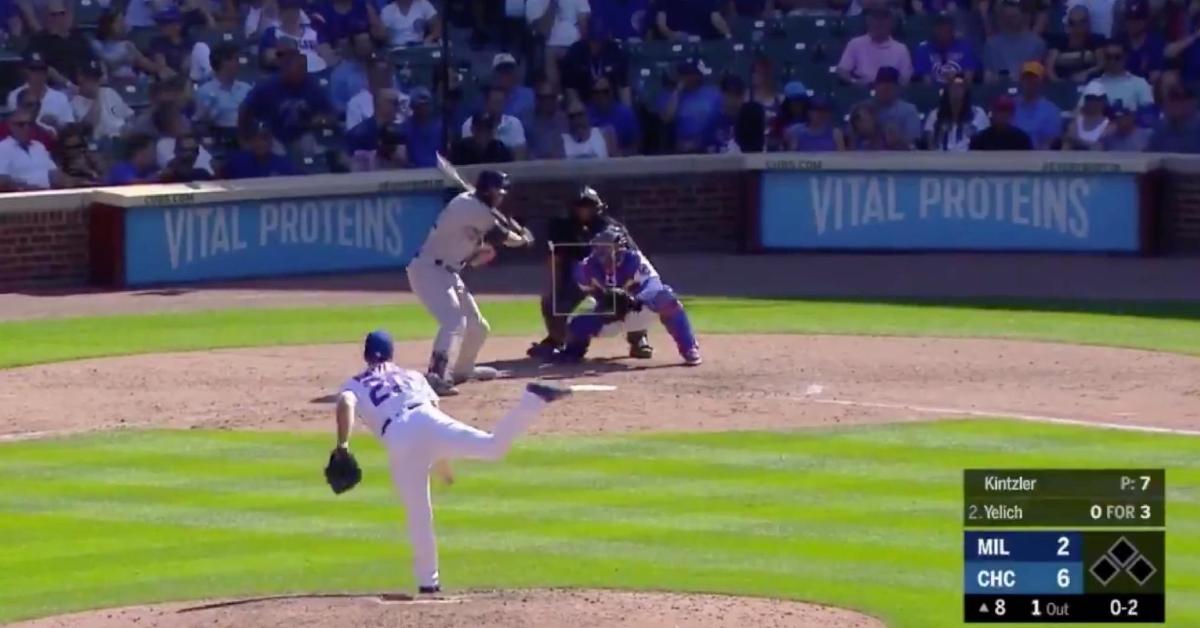 | | |
| --- | --- |
| WATCH: Brandon Kintzler strikes out Christian Yelich after being forced to change gloves | |
---
CHICAGO — A weird happening took place during the top of the eighth inning in the Chicago Cubs' matchup at Wrigley Field against the Milwaukee Brewers on Friday afternoon. With Cubs reliever Brandon Kintzler on the mound, the home-plate umpire took issue with part of Kintzler's attire.
Apparently, the umpire felt that Kintzler's gray glove was too light in coloration and therefore too much of a distraction for opposing batters. As a result, after Kintzler recorded a strikeout to start the inning, the umpire forced Kintzler to change gloves before play continued.
The odd umpiring move did not negatively affect Kintzler, though. In fact, it may have fired Kintzler up, as he proceeded to strike reigning National League MVP Christian Yelich out on three pitches. Kintzler's new black glove satisfied the umpire, who had a chat with Kintzler about it following the three up, three down inning.
The photo on the left is the old glove for Kintzler. Apparently, he was asked to switch as the light color was too distracting? Will find out more postgame: pic.twitter.com/UNGFeXAsQX

— Tony Andracki (@TonyAndracki23) August 2, 2019
Watch this pitch sequence from Brandon Kintzler striking out reigning MVP Christian Yelich. Nasty. pic.twitter.com/KjV2vmCpcK

— Cubs Live (@Cubs_Live) August 2, 2019