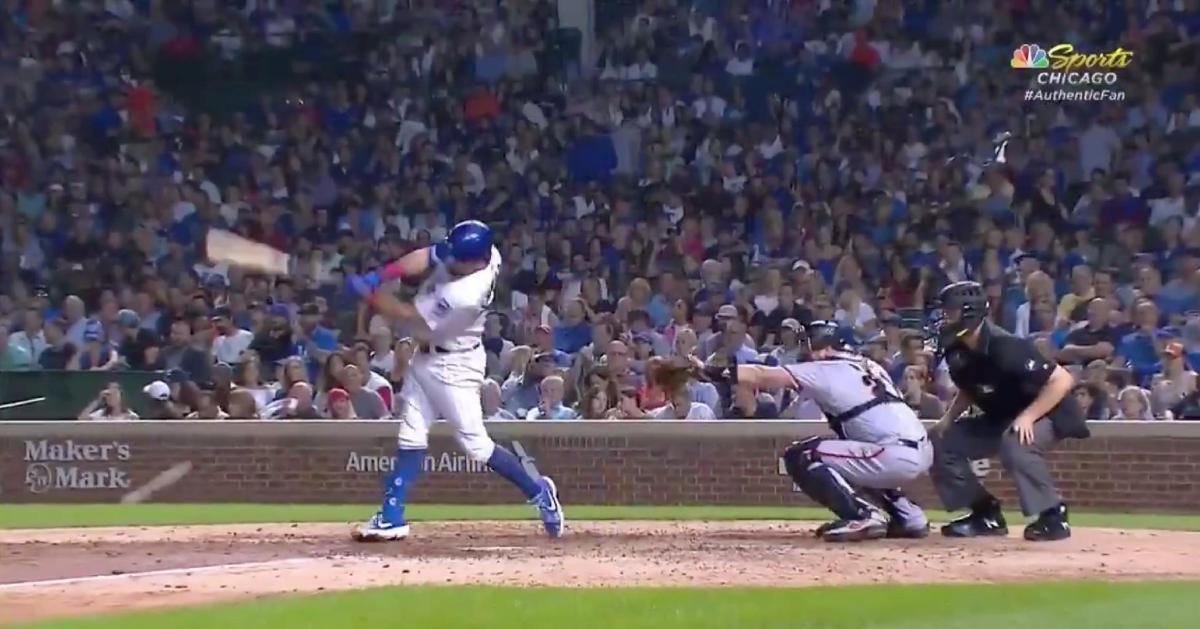 | | |
| --- | --- |
| WATCH: Cubs plate three runs on four hits in thrilling sixth inning | |
---
CHICAGO — As part of a slugfest between the Chicago Cubs and the San Francisco Giants at Wrigley Field on Wednesday night, the Cubs plated three runs on four hits in the bottom of the sixth. As a result, the Cubs took a 10-9 lead.
Jason Heyward led off the frame with a base hit and reached third base soon afterward on a single by Kris Bryant. Anthony Rizzo followed that up with a ground-rule double that got entrapped in the ivy on the wall in left-center. Heyward scored on the 2-bagger, and Bryant reached third base.
WTH!!! That's asinine when the ball is perfectly viewable and absolutely able to be picked up that was nowhere near being lost so because of that Bryant has to go back to third at least Hayward scores #Cubs Trail only buy one pic.twitter.com/bzQlT6tlyJ

— Brandon (@bampac29) August 22, 2019
The next at-bat saw Javier Baez hit a nubber onto the infield grass that he converted into an RBI infield single. That resulted in Giants reliever Trevor Gott being removed from the game in place of Tony Watson.
Screw with the #Cubs on a technicality with the ball that's perfectly viewable on the very edge of the vines? OK... they'll give u the Javy special and hit it a couple inches as a blooper right in front of Home Plate scoring KB SAFEEEE #Cubs tie it up 9-9 runners on corners 1 out pic.twitter.com/w97Fh8DSPt

— Brandon (@bampac29) August 22, 2019
Not long after entering the ballgame, Watson fielded a comebacker off the bat of Kyle Schwarber that Rizzo bolted for home on. Instead of attempting to throw out Rizzo, Watson tried for the inning-ending double play. While Watson was able to garner the out at second base, Schwarber beat out the throw at first base.
Schwarby says I'll give a blooper as well....no DP SAFFFFEEEEEE as Rizz scores #Cubs regain lead 10-9 phheewwwww.... I'm sure pretty much every Cubs fan is running on adrenaline on the edge of their seat about now pic.twitter.com/tQtHIN7R4c

— Brandon (@bampac29) August 22, 2019
WHEELS!#Cubs lead 10-9 after an emotional rollercoaster of an inning. STREAM for more at https://t.co/nTYJjJmDrg pic.twitter.com/nSHe4Dxpp7

— Cubs Talk (@NBCSCubs) August 22, 2019
Watson proceeded to strike out Ian Happ to end the inning, but plenty of damage had already been done. Relinquishing their 9-7 lead, the Giants gave up three runs in the sixth inning, two of which were scored on dribblers that did not travel past the pitcher's mound.