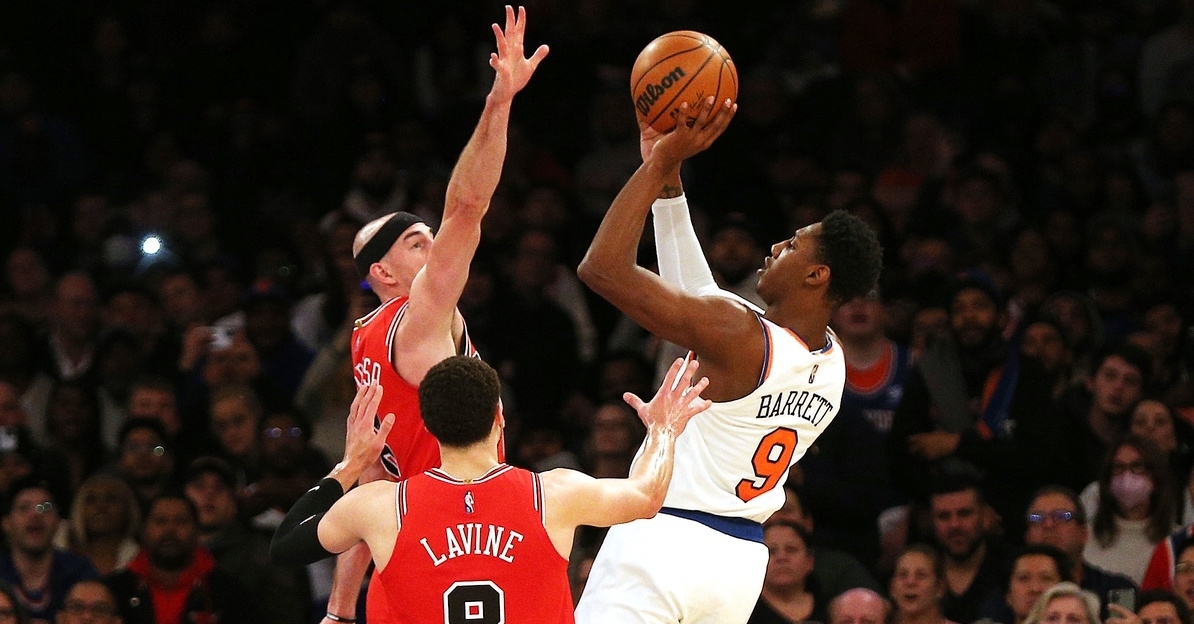 | | |
| --- | --- |
| Cubs News: Lack of bench proves costly in loss to Knicks | |
---
NEW YORK - At this point in the NBA season, I think it is safe to say the Bulls are not only not as good as they looked early in the season, but not a good road team at all. What looked like a winnable trip when things got started has turned into a nightmare as the Chicago Bulls (43-32) fell to 1-3 on their five-game swing.
At best, they can finish 2-3, but that will not cut it this time of year. Against a struggling New York Knicks (34-42) team, the Bulls once again failed to capitalize as the Knicks remain on the outside looking in, but still have a shot at making it to the postseason.
Madison Square Garden is where legendary performances happen, and DeMar DeRozan had a great night leading all scorers with 37 points, including a perfect 12-12 from the free-throw line. As good of a game as that was, the Bulls lack of a bench provided the team with just 11 points. That proved extremely costly as the Knicks kept their playoff hopes alive with a 109-104 win.
The Bulls got off to a hot start for the second straight game as Zach Lavine came out swinging to help Chicago grab a 28-24 lead after one-quarter of play. Much like DeRozan, Lavine also had an excellent game, finishing with 27 points despite a bit of a struggle from the field. Outside of that quarter, it was all New York as they outscored the Bulls in each of the next two quarters and held their own in the second.
A big reason for their surge was the presence of Alec Burks in the first half and R.J. Barrett in the second. Barrett led the way for New York with 28 points, while Burks finished with 27. Apart from them, New York had two more players landing in double figures, with one of those guys coming off the bench.
While the Bulls bench was downright awful on Monday, the Knicks wasn't much better, but they had at least one player ready to score. Obi Toppin was a man on a mission off the bench as he led all second unit scorers with 17 points. Add in the 16 points 12 rebound effort from Mitch Robinson, and New York had a balanced attack that proved to be up for a tough challenge on the court.
Although the Bulls defense played much better, they still were not great offensively, which is a concern this time of year. The offense has been carrying the team most of the year, and all of sudden, they are struggling to score while the defense has become a liability. However, you do have to give them some credit, as they managed to hold Julius Randle to just five points.
Getting back to the Bulls offense and you had Lavine and DeRozan scoring 64 of the team's 104 points. The 64 combined points are great, but you can't expect to win games consistently when no one else is helping their cause. Nikola Vucevic continues to provide valuable moments on the court as he dropped 16 points while adding 13 rebounds.
Take away his game, and Chicago had just one other player land in double figures, with Ayo Dosunmu tallying 10 points in the loss. The lack of bench production is most concerning about this loss, which Coby White and his six points led. After a strong stretch of play for the better part of a month, White has gone into a recent funk, and that is not good this time of year.
The bench was supposed to be the Bulls strong point this season, but after the rash of injuries took their toll on the team midseason, that production has become less and less, and they haven't recovered since.
Another thing to keep an eye on in the next few weeks is the situation regarding Lonzo Ball and his knee. Expected to make a return in April, Ball suffered a setback during his rehab, and now it is becoming a question as to whether he will return or not. Guys like Alex Caruso and Patrick Williams can pick up the slack for him, but both are coming back from injuries of their own and haven't looked great since returning.
With just seven games left, five at home and two on the road, the Bulls are still holding on to the fifth seed in the East, but things are getting much tighter. Chicago needs to rip off a few wins if they want to avoid the play-in round.