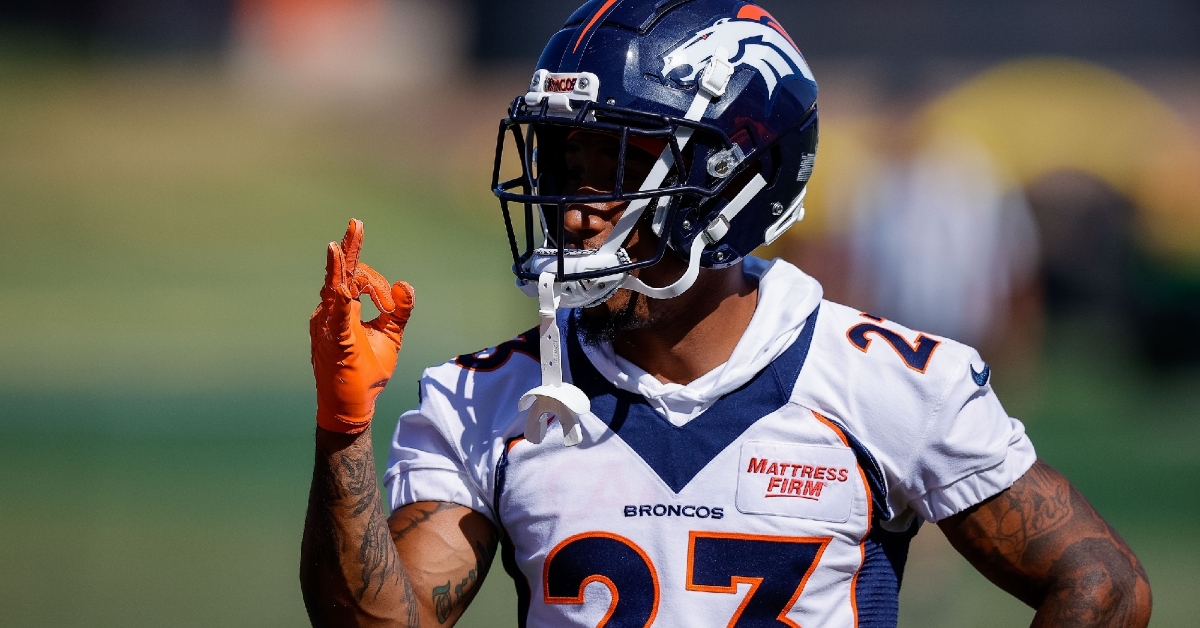 | | |
| --- | --- |
| Bears might be frontrunners to land All-Pro cornerback Ronald Darby | |
---
One thing that the Bears have done a great job with this offseason has been improving their roster, especially on the defensive side. Any way you look at it, this roster is vastly improved from last year, as they could be one of the most improved teams in football.
Improvements or not, there are some areas that this team still needs to address, and the biggest need is on defense, where they still need an elite EDGE rusher to get after the QB. You saw what happened last season when they sacked opposing QBs an NFL-worst 20 times. The rest of the defense struggled because they had too much pressure on them to make the plays the defensive line couldn't.
Even with all their struggles last season, the Bears have one unit that could be one of the best in football, which happens to be their secondary. Any time you are led by Jaylon Johnson, Eddie Jackson, Kyler Gordon, and Jaquon Brisker, you can see why that unit is so heavily regarded, as they are not only talented players but an extremely young unit that will only get better.
If this group performs to its potential, you are not only looking at one of the better secondary groups this season, but you could be one of the better secondaries for years to come. However, one question mark remains with this group, and the Bears hope to solve that issue once camp breaks.
Last season, Gordon and Johnson were the outside corners, with Kindle Vildor playing the nickel. According to reports, Matt Eberflus has said that Gordon will now be sliding to the inside to split time with Vildor, which leaves a void on the outside. Johnson can't play both sides of the field, so the Bears could be in trouble unless Chicago gets him another option to cover the other side.
That is why several NFL experts project the Bears to not only be in on an all-pro CB, but they are viewed as the favorites to land this 30-million dollar man as he will only make this good secondary that much better. We are talking about Denver Broncos CB Ronald Darby, who remains a free agent ahead of camp.
Drafted in the second round (50th overall) by the Buffalo Bills in 2015, Darby has been one of the better corners since he stepped on an NFL field and has only gotten better. He was a starter since day one and has started every game the past two seasons for one of the better defenses in the league, the Denver Broncos.
Darby was also part of the Philadelphia Eagles Superbowl team in 2017, so he has plenty of experience and knows a thing or two about playing with excellent defenses. Darby turns 30 next January, which is another reason why it remains a mystery why he is unsigned. Well, if you look at his injury history, that could be why several teams are unwilling to commit multiple years to a guy who has battled injuries throughout his career.
Darby was off to a great start last season after an incredible 2021, where he was graded as a top-five CB in coverage. Then came a torn ACL in October, which cut his season short and ended his tenure with the Broncos, who released him earlier this offseason to save nearly 10 million dollars in cap space. His injury makes him a risk to invest more than a one-year deal on him, but it also lowers the price to make him more affordable.
Darby makes a ton of sense for a team that could use one player to round out the secondary and lacks that veteran presence in the CB room, as Chicago still has 32 million dollars to work with. Darby signed a three-year, 30-million-dollar deal with the Broncos and managed to play half of that contract before getting released.
When healthy, Darby is a force on the defensive end that saw him deflect 16 passes in 16 starts while holding QBs to a completion percentage of 54.1% when they threw his way. Health has been an issue since he arrived in Denver, as he has played in 18 out of a possible 34 games in two years.
That is a concern for most teams looking to bring him aboard, but if you look at what he did when he was on the field, it should be enough to earn a chance. Darby was exceptional on the field last year before his injury, as he finished with 14 tackles, three pass breakups, and a forced fumble. He also held opposing quarterbacks to a combined completion percentage of 38.9% and a rating of 69.9 on 17 targets. Darby afforded opposing offenses just 73 yards gained through the air and one touchdown.
Those are mind-blowing numbers, and if you add that into the current Bears secondary room, it is hard to find another unit that would be better than Chicago's. Keep tabs on the Darby to Chicago rumors in the coming weeks, as it is only a matter of time until someone pulls the trigger on him.