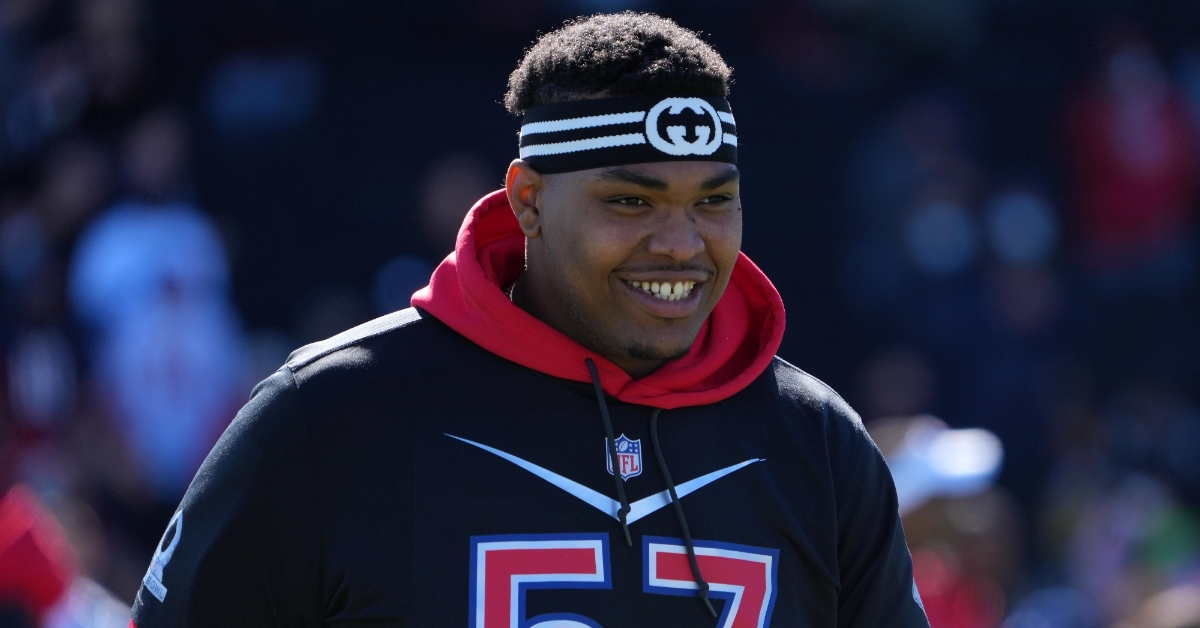 | | |
| --- | --- |
| Bears should make a run at four-time Pro Bowler | |
---
| | | |
| --- | --- | --- |
| Saturday, December 31, 2022, 11:00 AM | | |
With just two weeks to go in the 2022-23 NFL season, the Chicago Bears are finishing up what has been a difficult first year for Ryan Poles and Matt Eberflus. Sitting at 3-12 is not where anyone wanted to be, but there are some positives to take away from this season.
The biggest takeaway has been the emergence of Justin Fields, as he has proven to be a franchise QB. Sure, the passing numbers need to improve, but Fields is as electric as they come and has continued to make plays with his. Another positive from this season is that the Bears are guaranteed a top-five pick in next year's draft and most likely a top-three.
That will allow them to not only land one of the best playmakers in the draft, but they could also trade down to acquire multiple first-round picks to help them down the road. You also have to look at the financial status of this team, where they will have the most money to spend this offseason. That could be the key to their entire offseason, as the Bears have the funds to make significant changes to their roster.
One of the changes they must make is to bring in some offensive line talent capable of protecting Fields. Granted, the Bears offensive line has improved this season, but they still rank near the bottom in pass protection compared to a top-five unit against the run. What better way to improve your passing skills than by bringing in a pass-blocking specialist in Orlando Brown Jr.
Franchised tagged by the Kansas City Chiefs this season; Brown has been the savior for Patrick Mahomes on that offensive line as he has been named to four pro bowls with more to come. With the Bears expected to be big spenders this offseason, Brown is listed as one of the top targets for them, and that is great news if you are a Chicago fan.
The 26-year-old is the definition of a franchise offensive tackle, which is something the Bears haven't had in forever. Given his age and the level he has played at, Brown will have no trouble landing a long-term deal, but it won't come cheap. Some feel he will be the highest-paid OT in NFL history when all is said and done, but he has proven to be worth it. The Bears have the money to make that happen and need to get it done.
Not only is Brown a pro bowl tackle, but he has played at a pro bowl level at both the right and left tackle positions. That shows you his versatility, and it would allow the Beras to do some other things to add to their offensive line.
Since 2019, he's never posted a PFF grade lower than 72.0 and has given up four sacks or fewer in each game. Bringing in Brown on a long-term contract and kicking Braxton Jones over to the right side could give the Bears a young, competent tackle tandem for the foreseeable future. That will not only help the running game, which was one of the best in the league this season, but most importantly, keep Fields upright longer, which should help in the passing game.
When you start talking about the dollar figures for Brown, you need to look at the previous offer by the Chiefs and where to set the bar. Kansas City tried to lock Brown down the last offseason by offering him a six-year 139 million dollar contract. That translates to 23 million a season, but they have paused negotiations until the 2022 season is over.
That could mean that Brown is looking for even more money, and 25-30 million a year is not out of the question. Should Brown still not have a new deal in place before the start of the 2023 league year on March 15, though, the Bears would have more than enough money and motivation to make him a lucrative, top-of-the-market offer to bring his services to Chicago.
Currently, the Bears have 123 million in cap space, and that is before players leave for free agency. They currently have 43 million more than any other team and could top 140 million before the offseason begins. Brown is the perfect addition to this roster as he will protect the Bears investment in Fields, can tutor the younger guys, and, most importantly, can become the franchise tackle that this team has been searching for.