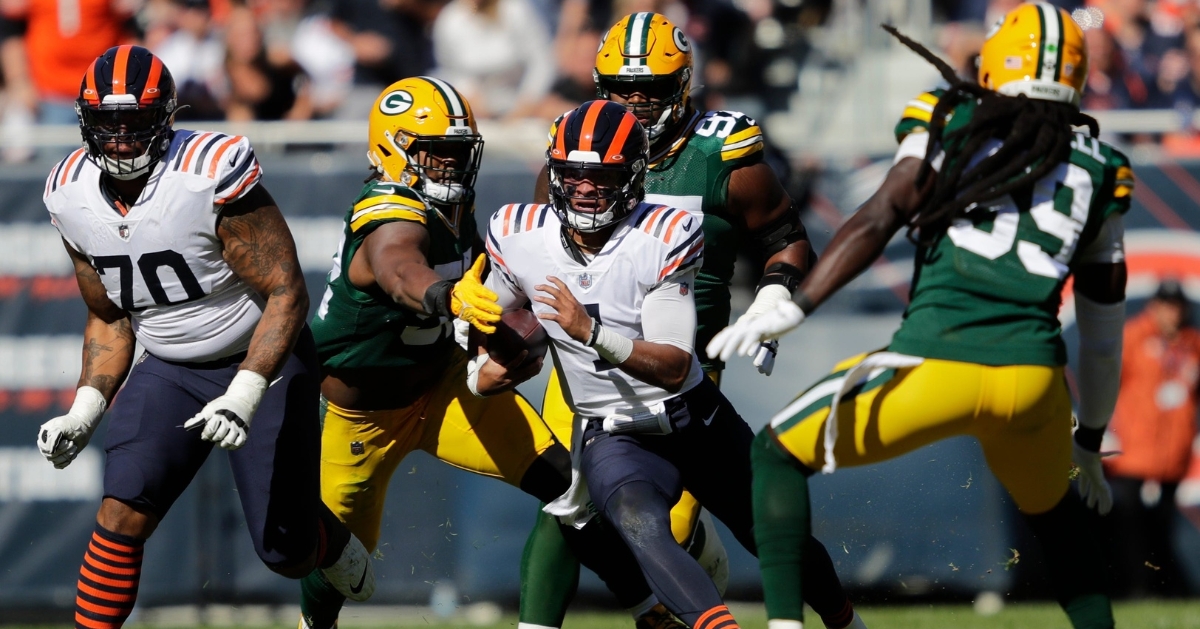 | | |
| --- | --- |
| Bears vs. Packers Prediction | |
---
The Chicago Bears return to the field Sunday fresh off another loss to the Arizona Cardinals. Not only do they return to the field, but they return to the field to play in primetime as the Bears will be part of the Sunday night game.
If they thought facing the Cardinals at home was difficult last week, things are not going to be any easier this weekend as the Bears head north to take on their hated rivals in the Green Bay Packers. The Packers seem destined to take the NFC North and have a very good shot at claiming the NFC North crown for the third straight season.
That usually happens when you have a quarterback in Aaron Rodgers who continues to go about his business no matter what type of offseason he puts fans through. On the other hand, Chicago is just looking for some positive momentum to close out the season as things haven't gone smoothly for them all year.
Injuries have played a role in the team's struggles, but the Packers have had injuries of their own and haven't missed a beat. At some point, you have to wonder what kind of coaching and preparation this team goes through, and it is clear the Packers have the better coach and are far more prepared than the Bears and most of the league at this point.
Here are some things to look for and the prediction for Sunday:
After missing two and a half games with bruised ribs, Fields returns to the Field Sunday night to take on the Packers for a second time. In his first go-around, the end result was another loss, but Fields did play well and showed plenty of potential against a very good Green Bay defense.
That was back in October when the weather was nice, and this will be an entirely different challenge for him. Not only will he be playing in one of the toughest environments in the NFL at Lambeau Field, but it will be extremely cold as Winter Storm Amelia is going to be crashing down on North Eastern Wisconsin Friday night into Saturday.
That could lead to less than ideal conditions, which could make an already challenging situation that more difficult. Given the injury Fields is coming off of, it will be interesting to see how those ribs hold up in the cold as one hard hit could lead to his departure.
I OWN YOU
In case Bears fans forgot about this, following the Rodgers touchdown run against Chicago the first time around, he looked at the fans and screamed, "I Own You." A slap in the face, yes, but the reality is he isn't wrong. Going back the last 30 years and the Green Bay Packers have owned the Bears with Brett Favre and Rodgers torching this team.
Rodgers especially has made life miserable on the Bears as he has posted a 22-3 mark against this team, with only one of those losses coming in Lambeau. He has also delivered some of the best games and moments of his career against this team, so things haven't gone according to this Bears team's plan.
Chicago is a big underdog in this one, and rightfully so, but if they want to send a message, they need to hit Rodgers hard and early. Let him know that you are not forgetting what he said to you back in October. This franchise needs to send a message that they will not be pushed around whether it is true or not.
Along with the many injuries that both teams are dealing with, the receiving core is the biggest question mark right now. Randall Cobb underwent surgery the other day and is out for possibly the rest of the season, leaving a massive void for the Packers. For the Bears, it is a much different story as Allen Robinson and his hamstring continue to be an issue.
Not only has Robinson missed the last several games, but his overall production this season is far from a No. 1. A big reason for that is the emergence of Darnell Mooney as the most trusted target, but Robinson hasn't done anything this season to ensure confidence in the QBs. When you look at the struggles of the offense, you have to point the blame on the coaching staff, but Robinson needs to take some accountability.
Had he put together another strong showing this season, much like his first three years, this offense would look more balanced and would have no issues scoring 20 points. That alone is why this team is where they are at. They can't score, can't stop opponents, and can't stay healthy when needed.
Prediction: BEARS LOSE
From a prediction side of things, I cannot shed much positive light on the situation as this game should be clear-cut and dry. The Packers are the far superior team from the top-down, and the record and results show it. Despite this being the best and longest-lasting NFL rivalry game, it has been one-sided for a while, and that should continue here.
Look for the Bears to keep things close for maybe a half, as they always seem to come out with tons of energy in this game. Outside of that, it could be a long cold night in Green Bay as Rodgers, and the Packers carve up this Chicago team 34-13.