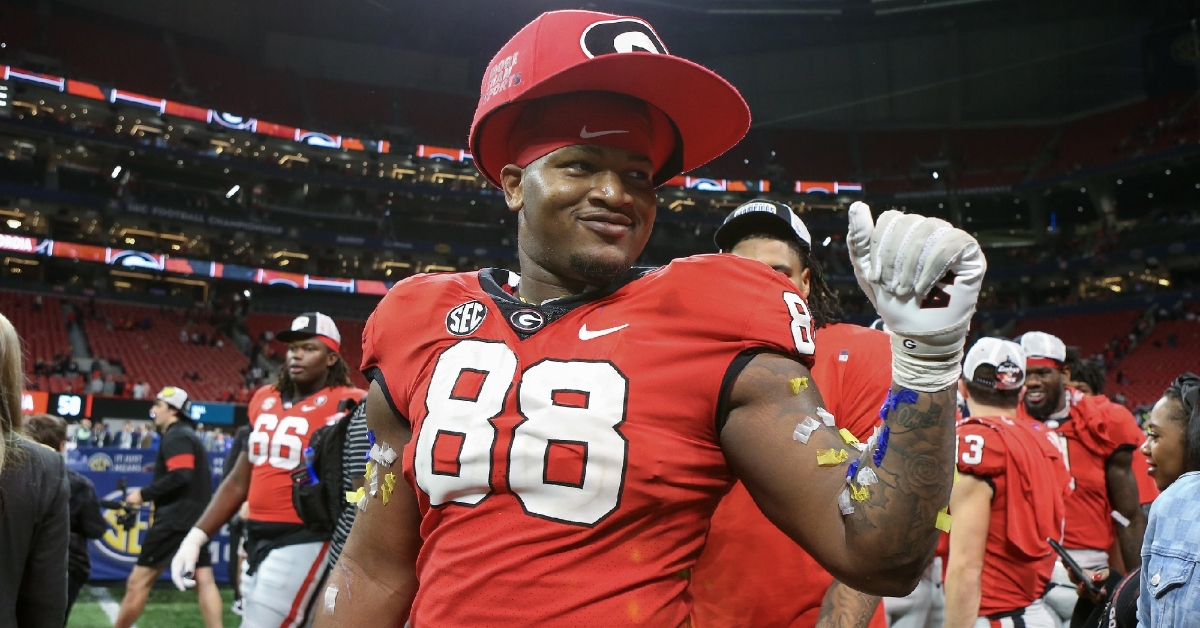 | | |
| --- | --- |
| Jalen Carter's warrants impact Bears' draft plans | |
---
| | | |
| --- | --- | --- |
| Thursday, March 2, 2023, 8:14 AM | | |
With the Bears holding the No. 1 overall pick in the NFL Draft, any developments regarding the top prospects can impact their strategy going into the draft, as well as affecting where they will want to end up in the draft order. Defensive lineman Jalen Carter had a shocking development at the NFL Combine - he is getting charged with reckless driving and racing.
Carter, seen as one of the top, if not the top, prospect in the upcoming 2023 NFL Draft, is facing two misdemeanor charges following the events of the fatal crash on January 15 that killed Georgia's recruiting analyst, Chandler LeCroy, and their offensive lineman Devin Willock.
Following the news being made public, Carter issued a statement on social media.
"This morning, I received a telephone call from the Athens, Georgia police department informing me that two misdemeanor warrants have been issued against me for reckless driving and racing." he said. "Numerous media reports also have circulated this morning containing inaccurate information concerning the tragic events of January 15, 2023. It is my intention to return to Athens to answer the misdemeanor charges against me and to make certain that the complete and accurate truth is presented. There is no question in my mind that when all of the facts are known that I will be fully exonerated of any criminal wrongdoing."
Under Georgia's statute for reckless driving (O.C.G.A. §40-6-350), if convicted, he could have to pay a fine up to $1,000 as well as up to 12 months in jail. The fine for racing under Georgia's statute (O.C.G.A. §40-6-186) is also up to $1,000, facing up to a year in jail. However, this can also be accompanied by a license suspension.
Going back to Chicago, this drastically affects their draft strategy in trading the No. 1 overall pick.
Prior to this news, it was highly stated that the Bears did not want to trade out of the top four picks in the draft so that they could acquire either Carter or Will Anderson out of Alabama. The Bears are looking to establish a particular culture on their team. Given the current situation with Carter, he does not seem to fit that identity. Further, even if Carter is "fully exonerated" as he believes, the legal system is not the most expedient. So, that exoneration may not happen until after the draft. Therefore, unless things change for Carter before the NFL Draft, other teams may not want to draft Carter, at least not as high in the draft, as they previously did.
For the Draft, this seems to put a higher demand on Anderson and changes the way NFL teams may choose to address the draft. Anderson will most likely be gone now at No. 4 (if the Bears traded with the Indianapolis Colts) and most certainly at No. 9 (trading with the Carolina Panthers). Perhaps, this makes the trade with the Houston Texans at No. 2 more appealing since the Bears could still get Anderson. Conversely, this trade would garner less draft capital than trading with the Colts or Panthers.
Going lower from a trade with Indianapolis or Carolina would probably mean that Chicago would be drafting an offensive lineman, such as Peter Skoronski out of Northwestern or Andrew Vorhees out of USC. Drafting an offensive lineman would certainly help them. Not only are the Bears desperately in need of elite talent at this position to prevent quarterback Justin Fields from getting sacked so frequently. In addition, it is harder to find offensive linemen in free agency than defensive linemen and wide receivers. This draft is also a bit deeper in defenders, so Chicago can find a talented player in the later rounds using the draft capital they acquire in a trade with the No. 1 pick.
No matter the decision, they will still be getting a high-quality prospect that will help the Bears improve as well as a lot of draft capital (given that they trade the pick, which they really should). But now, there is a bit more risk in losing out on a top defensive player because there is only one that could feasibly be drafted by the Bears.
Of course, one thing that should be noted about Jalen Carter is that he is innocent until proven guilty. This is not meant to argue his guilt or innocence. Football is a business, and there are business implications from this tragic development. All of the NFL teams need to consider the ramifications of this on the NFL Draft.

Upgrade Your Account
Unlock premium boards and exclusive features (e.g. ad-free) by upgrading your account today.
Upgrade Now