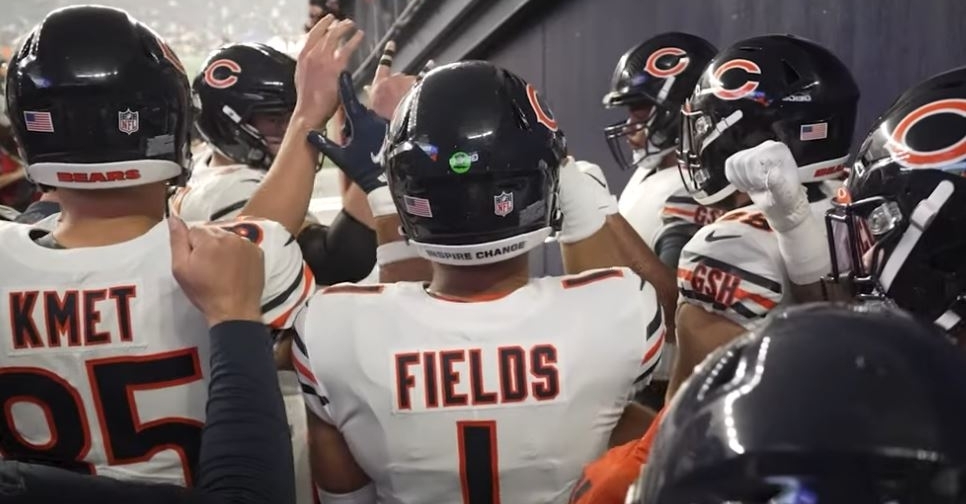 | | |
| --- | --- |
| Should the Bears be on Hard Knocks in 2023? | |
---
| | | |
| --- | --- | --- |
| Sunday, March 5, 2023, 8:29 AM | | |
The Bears are one of four teams who are eligible to be on HBO's Hard Knocks in 2023. A recent report from Windy City Gridiron stated that 76% of Chicago fans would like to see the Bears on the show. There are certainly positives and negatives to being on the show, both of which should be considered by Bears fans.
The Positive Side
Looking on the positive side of things, being featured on Hard Knocks would put a large spotlight on the Bears. Right now, they are generally disrespected, which was made even worse by their performance this season. Even when Chicago is doing well, they are sometimes not given the attention of other talented teams. Talented players on the Bears are generally not given the same recognition as other teams.
When the Detroit Lions were on Hard Knocks, their franchise got a lot more attention. Their receiver, Amon-Ra St. Brown, brother of Bears' receiver Equanimeous St. Brown, went to his first Pro Bowl this season after having 1,161 receiving yards. This total actually wasn't that much higher than his rookie season, although he was not selected to the Pro Bowl in his rookie year. Fantasy-wise, he gained more and more attention as a prominent wide receiver throughout the offseason. Per Fantasy SP, in May, his average draft position was projected to be around pick No. 100; by September, his average pick was No. 83.
This is something that could happen for wide receiver Darnell Mooney if the Bears were featured on Hard Knocks. Like St. Brown with Detroit, Mooney is the top receiver for the Bears, who has made some fantastic plays. In 2021, he had over 1,000 receiving yards. However, he suffered a fractured left ankle that sidelined him for a large portion of the 2022 season. Returning from injury, he would probably be highlighted in Hard Knocks.
Another player that could be highlighted is quarterback Justin Fields. It only makes sense for the quarterback to receive a lot of attention; they are generally considered to be the leader of the team. Fields had an amazing season running the ball, and if Chicago was on Hard Knocks, perhaps the league as a whole would take him more seriously as an elite quarterback and competitor in the NFL.
The Downside
Could the Bears use the positive press that would come from Hard Knocks? Absolutely. Could Mooney and Fields, and the rest of their teammates, use a boost in their publicity to gain respect for them as players? Without a doubt. Do they deserve that respect? Of course, they do. But, the downside needs to be taken into consideration.
Primarily, this downside consists of the fact that other NFL teams can use this as a scouting opportunity when preparing to play Chicago. In fact, this is something that head coaches are already doing. Nick Sirianni, the head coach of the Philadelphia Eagles, used Hard Knocks to scout the Lions ahead of their season opener.
"You use everything you can turn over to see if you can get an advantage," Sirianni said back in a press conference in September. "The margin of error is so small, of course, you try to take anything you can from anything. We'll watch Coach Campbell's press conference. We'll watch Jared Goff's press conferences, and sure, we'll watch Hard Knocks to figure out if we can get something out of it."
As a competitor, you do not want to give the opponents anything extra that can be used to gain knowledge about the team. You can control the content of press conferences; the coaches and players determine what they say and that is fully in their control. Hard Knocks doesn't cover just the content of press conferences; they will focus on practices, team meetings, etc. Having insider knowledge to those kinds of events gives other teams an advantage that could help them in preparing to play the Bears. While there are certainly a number of benefits, respect can also be gained on the field. The teams that win get a lot of coverage. So, Chicago and their players don't need to be on Hard Knocks to get the coverage and respect they deserve.

Upgrade Your Account
Unlock premium boards and exclusive features (e.g. ad-free) by upgrading your account today.
Upgrade Now