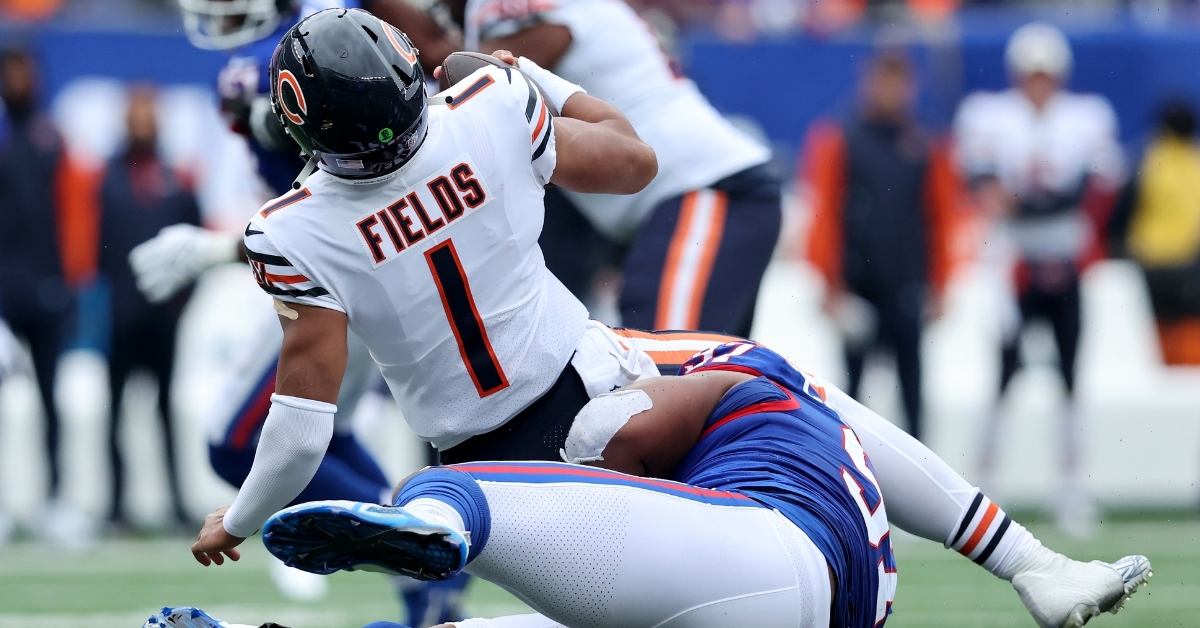 | | |
| --- | --- |
| Three Takeaways from Bears loss to Giants | |
---
| | | |
| --- | --- | --- |
| Monday, October 3, 2022, 1:00 PM | | |
Another week of the NFL season has come and gone, and for the Bears and their fans, it was another week of a lackluster offensive performance. It doesn't seem to matter who the coach is for whatever reason, as this team can't score points consistently.
Could that stem from the Bears going with a defensive-minded head coach in Matt Eberflus instead of an offensive-minded guy like Brian Daboll or Eric Bieniemy? Maybe, but this was a problem with Matt Nagy, who was also an offensive-minded guy. Regardless, something needs to change and change in a hurry because things will not get any easier for this team.
Yes, they are 2-2 and only one game out of first place, but the teams they are chasing can score points, which poses a massive problem for the Bears. Here are some takeaways from the game on Sunday.
Rush Defense issues
I do have to give defensive coordinator Alan Williams a ton of credit for what he has been able to do with this secondary. Take away the Green Bay Packers game, which they didn't play terribly in, and this has been one of the better secondaries in the NFL through four weeks.
Led by a cast of rookies and Eddie Jackson returning to his old form, things are looking up for this group as they should only get better as the season goes on. Their biggest issue right now is stopping the run, which was evident in letting the Giants rush for nearly 300 yards on Sunday. Fans knew the loss of Akiem Hicks and Eddie Goldman in the middle would be difficult, but I don't think anyone expected it to be this difficult.
As long as teams can run the ball well against this Chicago front, their secondary will see fewer passes in their direction. In return, guys like Robert Quinn will not be able to pressure the QB as much, and the defense will be on the field longer than they are now.
Fix the passing game
It is becoming comical how bad this Bears passing game has been this season as they are on pace for many NFL records. Those records are not good records either, as they may reach the fewest completions and fewest passing yards in a single season. With a guy like Justin Fields, that can't happen, and Luke Getsy needs to realize that.
This issue has been going on for years, although Mitch Trubisky showed much more consistency in the passing game than what fans have seen out of Fields. Keep in mind this was the QB that most experts thought could be the best in his class given his athletic ability, but through 21 weeks since his arrival, Fields is looking like the worst out of the group.
That is a telling sign, and there is a reason why the Bears are in the position they are in. A big reason for their passing game struggles are the weapons around Fields which are not great. However, you have to make do with what you have, and at some point, Getsy and this offense need to build the offense around Fields and his strengths.
Until then, they must stop holding him back and let him be him. Sure, he will make mistakes and look awful at times, but that is part of the learning experience in the NFL. Once he figures all that out, the Bears should have something special as long as Ryan Poles continues to invest in offensive talent around him.
Did the Bears pick the right head coach?
Don't get me wrong, Matt Eberflus is a great coach with a contagious personality that fits well in any organization. I am not one to judge a book by its cover, especially not four weeks into his head coaching tenure, but you have to wonder if the Bears made the right move by bringing him here.
I understand their hesitancy on wanting another offensive-minded guy as things with Nagy completely backfired. However, guys like Daboll and Bieniemy were available, and both have consistent track records of success and way more play-calling experience than Nagy ever had before landing his job in Chicago.
If the Bears could go back and do it all over again, I feel they would go with one of those two names, and Daboll, to me, was the perfect hire for this team. You are looking at a guy who worked with Tom Brady and Bill Belichick in New England while also calling plays for the lethal Alabama offense under Nick Saban during their 2018 NCAA title run.
After that, he goes off to Buffalo to be the offensive coordinator and turns Josh Allen into a top-five quarterback and MVP front runner in this league. Now with the Giants, he has them off to a 3-1 start for the first time since 2004, and they are playing exceptionally well with him at the helm.
Keep in mind they are doing this with Daniel Jones at QB, who is not nearly as talented as Fields. If Daboll were in Chicago and given a guy like Fields to work with, it would have been a match made in heaven. Sure there would have been growing pains like there always are, but he would have at least turned Fields loose to let him learn. No one is giving up on Eberflus just yet, but there will be questions surrounding this hire if the Giants keep winning and the Bears keep struggling.