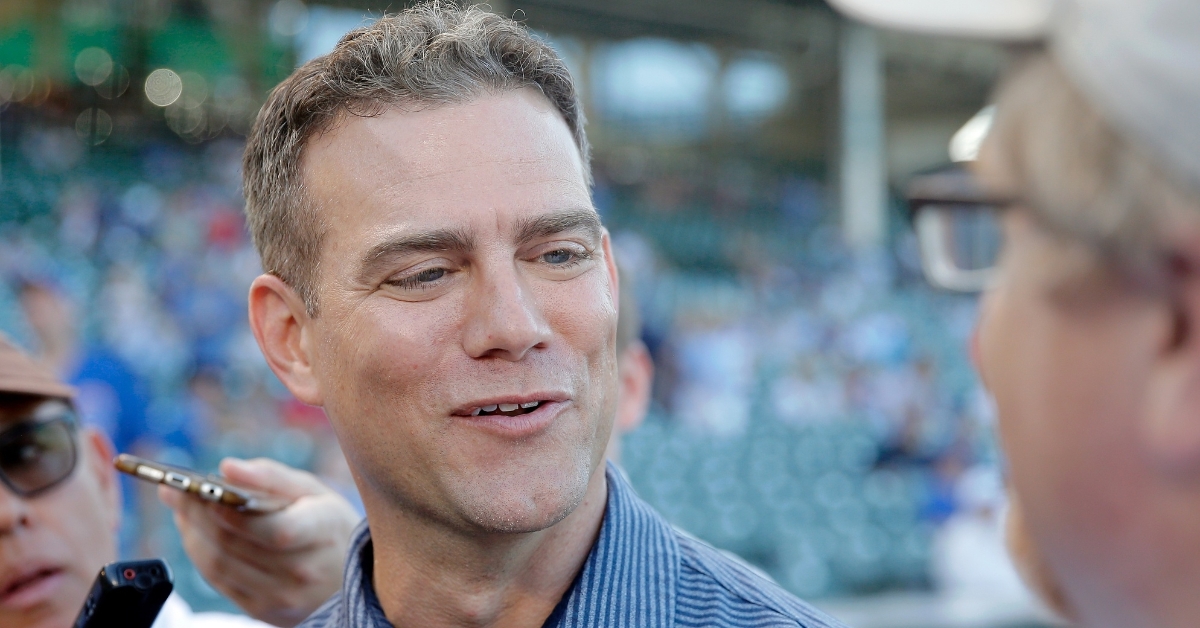 | | |
| --- | --- |
| Are the Phillies waiting for Theo Epstein? | |
---
The Yankees and Red Sox rivalry is one of the most polarizing rivalries in sports. Not only have their matchups been historical, but they tend to hate each other, bringing out the best in competition. Very seldom are the teams willing to help each other out as Jacoby Ellsbury left Boston to join the Bronx Bombers nearly a decade ago.
Switching away from this rivalry for a moment and finding two people were in the center of that rivalry for years. They may now be teaming up together. I'm talking about Cubs President and former Red Sox GM Theo Epstein and former Yankees now Phillies manager Joe Girardi. While these two never had a direct history before, it appears they may soon enough as the Phillies may be plotting a way to get Epstein.
During his entire tenure with the Cubs, Epstein has always said that 10 years with one team seems like the right amount of time. 2020 marked his ninth year with this team, meaning this upcoming season will be his final year under contract. That leads me to believe that the writing is on the wall for his exit as fans will wish him nothing but the best after what he has done for this team.
"My expectation is that I'll be here," Epstein said to the media about this upcoming season. "And my expectation is also that I'm going to do whatever is best for the Cubs every day. That means being thoughtful about a transition, whenever that may come. But I'm focused on the 2021 Cubs and how to position ourselves for long-term success."
Most fans have for him what challenges he will embark on next and how the exit will go. Will the Cubs let him play out his contract and transition someone into his role? Or will they figure out a way to let him go now before things get too dicey? I don't think Cubs fans should expect him just to leave and try to break another curse.
After all, there aren't too many curses left to break, and the ones that are have GM's who shouldn't be seeing the door yet. The Mets were looked at as a team that could pursue him, but I don't see that happening unless he is willing to work under Sandy Alderson. However, keep your eye on another NL East team, the Philadelphia Phillies, as someone who could make a run at Theo.
Phillies GM Matt Klentak has now stepped down from his post atop the Phillies baseball operations department following yet another September collapse. Technically, Klentak is still with the organization in some form, but assistant GM Ned Rice is stepping in until a permanent replacement is found. Say what you want about the Phillies, but Klentak was responsible for bringing in Girardi this season, Harper and Jean Segura last season, and trading for JT Realmuto, so he has done an excellent job giving this team pieces. Now they need someone to put the finishing touches on, and Epstein could be that guy.
Not only do the Phillies have a vacancy atop their organization, but they are also one of the few teams that can afford to hire him. In regular times, as the current pandemic is sure to affect everyone's spending for the foreseeable future. Another reason why Epstein to the Phillies is making more sense is the current contract situation regarding their current President Andy McPhail.
While McPhail isn't as involved with the roster as he once was, he has done a great job constructing this roster, even if the results don't always show. His days of being the primary architect are over, and by all accounts, it doesn't seem like he will be re-signing once his deal ends following the 2021 season. It looks familiar, doesn't it?
McPhail is the President of the Phillies, and Epstein is the President of the Cubs. Both have expiring contracts after the 2021 season, and it seems like this could eventually be a fit. Not only do the Phillies not have a long-term GM, but they appear to have an opening in the President position also. Given where both teams are, I don't expect either one to be out the door this season even though Tom Ricketts would like to avoid paying Epstein that 10 million if possible.
It appears Phillies owner John Middleton is happy to keep Rice in the GM position for the duration of this season. Once the season is over, McPhail's contract will also be over, so the Phillies could begin to look at an organizational restructure. What better way to do that than bringing in a guy who is currently a President for another organization and has done nothing but win everywhere he goes.
After winning multiple World Series with Boston and one with the Cubs, Epstein is already a lock for the Hall of Fame, and he is undoubtedly someone worth waiting for. There has also been things thrown out that not only would a President title and hefty salary be Epstein's to have, but a partial ownership stake in the team may be enough to get him to Philly.
Epstein has nothing left to prove in Chicago, and should he choose to embark on another chapter, fans won't hold it against him. After everything he has done for this organization, fans should wish him the best of luck. This franchise will be left with good hands and Epstein will make sure of that before he goes.