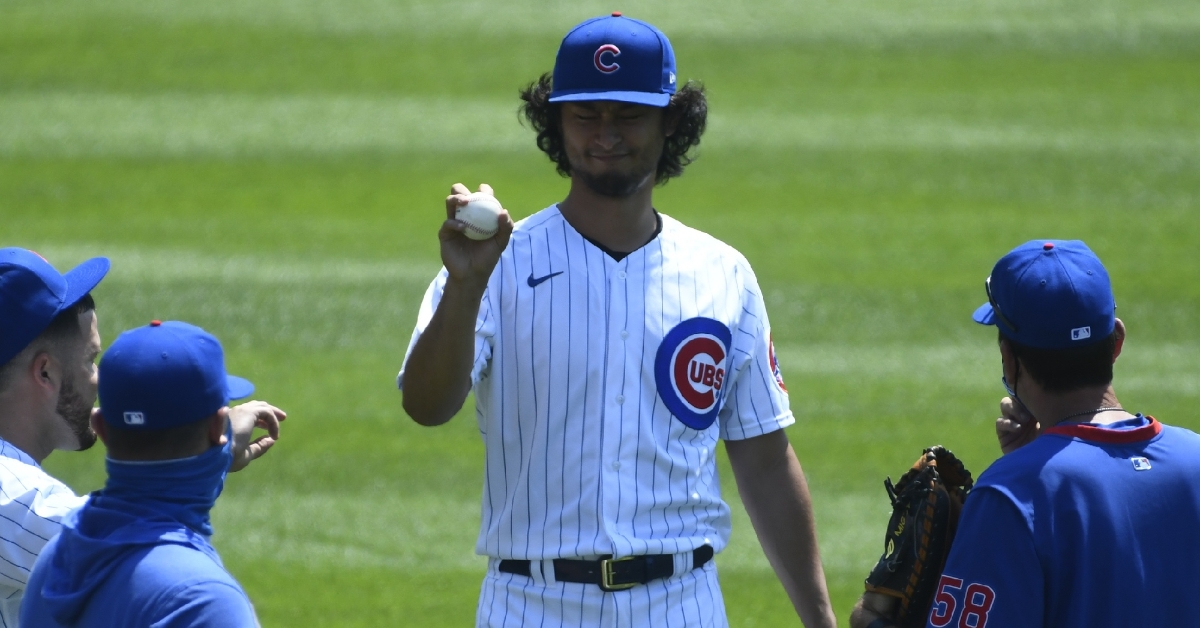 | | |
| --- | --- |
| Breakdown and Analysis: Four Padres prospects traded for Yu Darvish | |
---
| | | |
| --- | --- | --- |
| Tuesday, December 29, 2020, 10:48 AM | | |
We knew this offseason would be an interesting one for the Cubs as they have come to a crossroads as a franchise. With so many of their start players approaching free agency and a team desperate to get under the luxury tax, moves had to be made.
What those moves were at the time remained a mystery, but a Kris Bryant trade was imminent as the Cubs had visions of still competing. Well, a Bryant trade no longer seems to be on the table, especially when you consider that both Albert Almora and Kyle Schwarber were non-tendered this offseason. Instead of competing, it looked as if the Cubs were content with starting a rebuild to some degree.
Well, now we know the Cubs are content with rebuilding possibly a year earlier than they planned as news broke last night that the Cubs and Padres agreed to a trade that would send Yu Darvish and Victor Caratini to SD in exchange for Zach Davies and four prospects. From a money side of things, the trade makes a ton of sense for a team looking to trim payroll, but I don't quite understand the deal from a team side of things.
Darvish was this team's best pitcher a season ago and is coming at a bargain price tag when you look at other races around the league. Kyle Hendricks and he would have anchored down the rotation the next three years allowing the Cubs to fill the rest of it out. With Darvish's departure, the Cubs only have Hendricks and Davies as sure things with three more spots left to fill. Things could be very rough for the team this summer.
Of all the names rumored to be on the Cubs' trade block, I was shocked even to hear Darvish being considered. When I heard his name, I thought it was more about just seeing the type of return he could get and analyzing the market. I never expected the team to move on from him and move on from him for less than what he is worth. If Darvish would go anywhere, Caratini had to follow as he has become the personal catcher.
The Cubs needed some high-quality prospects for him, and granted they got four in return, none of them crack the top 10 in the Padres system.
Ian Happ on if he was surprised on how young the prospects the #Cubs got back were:

"You got to trust the process on that. Prospects, young players are so valuable these days ... That's currency in baseball."

— 670 The Score (@670TheScore) December 29, 2020
Pitching is also an issue for the Cubs starting wise as their rotation has many holes to be filled. Getting Davies in the deal was somewhat positive as he gives the Cubs a reliable middle of the rotation arm. Much like Hendricks, Davies pitches to tons of contact and works the corners. He has a 50-36 career mark and a respectable 3.79 ERA.
The rest of the package is all about the prospects. The current top prospect list for both teams is about to change. Not only did SD give up four prospects to the Cubs, but they gave the Tampa Bay Rays some also when they acquired Blake Snell. The Padres are in it to win it right now and don't care about this pandemic financial stuff.
Here is a breakdown of who the Cubs are getting prospect wise:
Reginald Preciado (SS): Ranked as the Padres 11th best prospect right now, Preciado will be a top 15 prospect in the Cubs system with the potential to be in the top 5. Signed as an international free agent in 2019, Preciado is just 17 years old and is a long way away from the bigs. The Panama born kid is a lean and athletic shortstop with the tools to impact a team both offensively and defensively.
Not only that, he is a switch hitter who can drive the ball to all fields with hard contact but is better from the left side. Despite his age, Preciado has an excellent feel for hitting, and his bat speed could help translate into power. He needs considerable time to grow in the minors, and there is a possibility he could change positions.
2. Owen Caissie (OF): The 13th ranked prospect in the San Diego system, Caissie will fit nicely in the Cubs prospect list and should land in a similar spot there. A second-round pick in this past summer's draft, the Canadian-born kid was set to play rookie ball this summer, but with no season is still waiting to showcase his tools.
This could ultimately be the best player out of this package as Caissie is a highly projectable outfielder with excellent power potential. He has some tremendous raw power, and his tools could have him land in right field long term. A lefty, Caissie has pop from that side of the plate and can drive the ball to all fields despite a questionable swing path.
Caissie is athletic enough to show good range in the outfield but will be limited to one of the two corner spots. He may not be a gold glover defensively, but teams will think twice when it comes to running on him as he not only possesses an accurate arm but can throw the ball upwards of 93 MPH from the outfield.
3. Ismael Mena (OF): Another outfielder, Mena kicks in at No. 15 on the Padres list. One thing I want to urge some fans is that the Padres farm system was much more prosperous than the Cubs, so theoretically, these players could be closer to the top 10 on the Cubs list or higher. At just 18, Mena was also an international free agent signing in 2019 and has yet to play a professional game. Look for him to start in the Dominican League this summer.
At 6-3 and 185 pounds, Mena is big for his age, athletic, and extremely loaded with potential. He has drawn some comparisons to Pirates OF Gregory Polanco and could have a similar body type. The combination of his raw tools and high ceiling earned him a healthy payday during the signing period, and now the Cubs have the pleasure to develop him as they wish.
Mena is a young prospect, and scouts only project what he can be, but the consensus has been that Mena could become an exceptional player. Not only does he cover the strike zone well, but he hits everything hard. Although the power doesn't show up now, he has an instinct to barrel up a baseball, which will lead to more power.
While some think he could be a leadoff hitter in this league, Mena will most likely sit in the number two or three spots. He has 20 plus homer potentially to go with the ability to steal some bases. Defensively, Mena is already viewed as a plus defender and has excellent instincts off the bat. He gets good jumps on balls and has the arm strength to be a dual-threat for years to come.
4. Yeison Santana (SS): The two positions the Cubs are now loaded within their system are catcher and shortstop. Adding Santana as part of this trade is just another athlete to work with. Listed as the Padres 16th best prospect, Santana is the only one with professional experience after signing in 2017.
Across 77 career games with San Diego's rookie squads, Santana has hit for a 306 average, three homers, and 55 RBIs. His 56BB/68K ratio shows he has a good feel for the plate and consistently hit for high averages.
Santana was one of 15 international players signed by San Diego during the 2017-18 signing period and has quickly emerged as the most promising prospect from that group. A natural shortstop by trade, Santana does have the athletic makeup to move across the infield should the Cubs see fit.
Santana is an aggressive hitter, but not overly aggressive as he is more selective. He knows what he wants at the plate and is aggressive when he sees what he likes. He is an advanced hitter for his age, and his bat speed helps him do a lot of damage with pitches in the zone. He has proven to be a difficult hitter to strikeout, and that is a plus for a team looking for a contact-first mindset.
Defensively, Santana has all the tools to become a big-league starting shortstop. Not only is he athletic, but very smooth with great range and a plus arm. Those tools alone make it very likely he will stick at the shortstop position long term, making things interesting in the Cubs system.
This is one of those trades that the Cubs will lose right away, but we could look back and say this deal was decent in four or five years.
Once the Yu Darvish trade becomes official, I'll jump on @WatchMarquee & "Cubs Live" with @ColeWright to break down the four prospects the @Cubs are getting. pic.twitter.com/RoTrWuWsGf

— Jim Callis (@jimcallisMLB) December 29, 2020