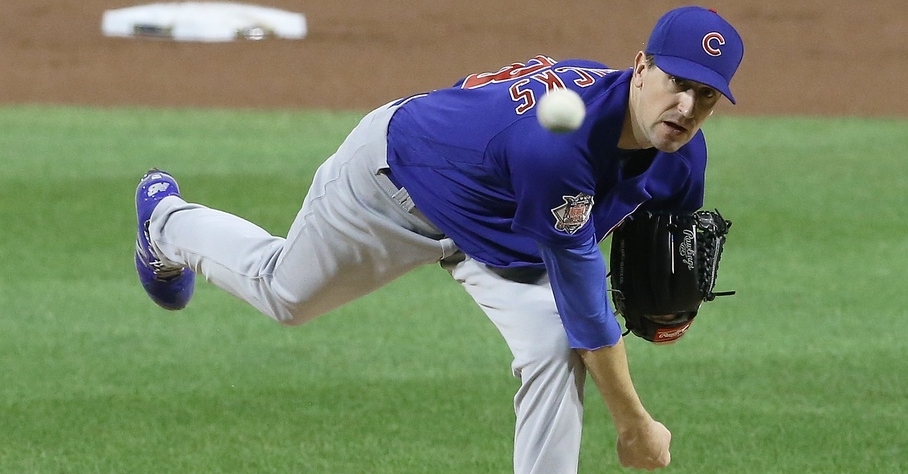 | | |
| --- | --- |
| Commentary: Can Cubs succeed with their current rotation? | |
---
| | | |
| --- | --- | --- |
| Saturday, January 16, 2021, 9:33 AM | | |
Along with several questions the Cubs need to answer before spring training, there is one question that fans are still hoping to be resolved. That question is what the Cubs are plans for the starting rotation. As it sits now, the Cubs will be going with Kyle Hendricks, Zach Davies, Alec Mills, and Adbert Alzolay as their primary four, with the fifth spot in the rotation up for grabs.
Chicago does have several prospects insides the system who could battle for that final spot, but none of them have big-league experience that would lead fans to trust they can deliver all season. Free agency is still an option, but considering the lack of money the Cubs have spent, what would be too much in terms of bringing in a free agency?
We have already seen the Cubs trade Yu Darvish to San Diego, and more moves could be on the way. Ultimately, the Cubs could still trade for more pitching help depending on the team and package sent their way. For the sake of this column, let's say the Cubs don't make any more significant moves, and the rotation stays the way it is. Can the Cubs succeed and win with what they have?
It may not be easy, but if you look at how things played out last year, the Cubs could have a strong enough rotation to get it done. Guys like Hendricks and Davies continue to post stellar seasons despite a lack in overall velocity. Mills is coming off a promising season in which he threw a no-hitter and had several other strong outings last into the sixth inning. Alzolay got sent back down to South Bend, learned how to throw a slider, and then came back to dominate with that pitch. Chicago may not be in that bad of position when you think about it.
What the Cubs do better than many teams in baseball is pitch to contact, and they have been blessed with a strong defense behind them. When you lost your only two pitchers who could throw 95 plus on the gun, pitching to contact will be crucial as the defense needs to be ready. Not only will the Cubs be forced to do that this season, but they have three starters known for their sinkers in Hendricks, Davies, and Mills.
All three of them possess sinking fastballs in the 87-90 range and limit overall hard contact to their opponents. Davies uses his sinker 40% of the time, while Hendricks and Mills come in around 33%. Their usage of the sinker and changing speeds with the changeup has allowed them to induce lots of ground balls and tons of weak contact, with a strong defense behind them that works in their favor.
Another thing that works in their favor is that the rotation itself knows how to throw strikes and get ahead of hitters. Unlike High-Velocity throwers whose sole goal in mind is to strike you out, the Cubs rotation is finesse based as they must think how to pitch. Hard throwers tend to throw more balls per outing as they can get by with a lack of command.
For the Cubs, the command is crucial, and they have three of the best starters when it comes to locating their pitches. They know they don't have the pure stuff to make hitters pay, but they also know that they can get hitters out by pitching to contact and locating. Fans have seen it for many seasons when Hendricks locates, and he is nearly impossible to beat. Should that location falter even if an inch, he tends to get hit hard.
That can be said about the rest of the rotation. Also, their top three guys all pitch to a similar style. That leaves us with Alzolay and how he can make this rotation successful. For starters, Alzolay was the former top prospect in the Cubs system until injuries set him back a few years. Now healthy, he is finally showing the Cubs what he can do.
Alzolay has always had the stuff to be a solid starter but never could seem to figure it out long term. Now that he has developed a slider, it could be the final piece to the puzzle. Once he began using that pitch, Alzolay became an impressive weapon for the Cubs as that quickly became his out pitch. If he can continue to make strides with that pitch, he will easily be someone the Cubs can count on this season.
The final reason why I think this rotation could thrive is that no one is giving them a chance to do anything. Outside of Hendricks and maybe Davies, most feel the Cubs rotation is in trouble. Given what everyone has seen in Hendricks, especially during the playoffs, would it be smart to bet against him? The more people that doubt this rotation, the better it could be for the Cubs.
They could fly under the radar and put together a quietly good season that essentially could remind some of us of the 2007 and 2008 staff. If you remember those years, the Cubs didn't have a breakout starter outside of Carlos Zambrano. They made some minor tweaks to bring people in, and it worked out.
Ryan Dempster went from former closer to ace of the rotation, Ted Lilly went from an average back of the rotation starter to win 17 plus games three times, and the Cubs traded for Rich Harden to stabilize the middle. Much like this season, the Cubs didn't have a true No. 5 and mixed and matched pieces to make it work.
No one is saying that this rotation will be anything like that, and the team itself will win 97 games as they did that season, but the similarities are close. They had an unproven rotation then that put things together in a big way. Maybe that happens again this season, and things turn out better than most expect, especially when you look at the division's state.