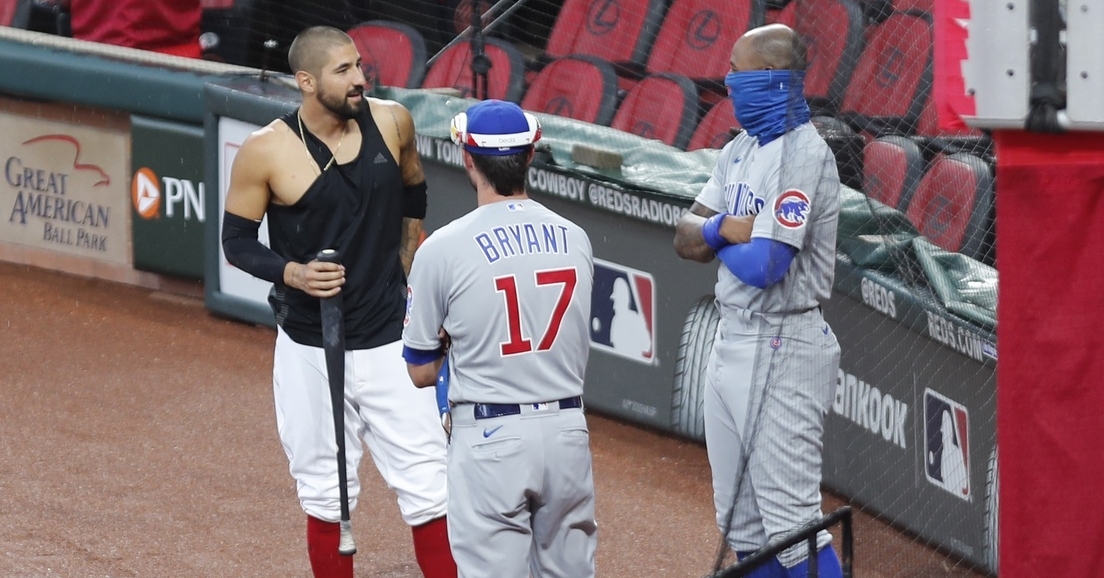 | | |
| --- | --- |
| Cubs Odds and Ends: Dreaming of Nick Castellanos' reunion with Cubs, Nick Martini's role | |
---
| | | |
| --- | --- | --- |
| Tuesday, January 12, 2021, 7:02 PM | | |
Reds reportedly open to trading Nick Castellanos
My, how the times have changed in Cincinnati. A year after taking the MLB offseason by storm, it appears the Reds are ready not necessarily to tear it down but retool their roster. Trevor Bauer is a Free Agent, and the Reds most likely will not be able to retain him, and now it looks like they are fielding offers on some of those players. One of those players is Nicholas Castellanos, who Cubs fans fell in love with in 2019.
2020 was not a great season at the plate for Castellanos average wise, but he did manage to showcase his power-hitting 14 bombs to go with 34 RBIs. That trend in power is something Cubs fans saw during his two-plus months at Wrigley, which made him one of the most popular players that season. Not only did Castellanos show what he could do with the bat, but he also played the game the way it was supposed to be played and brought certain energy that was lacking that season.
His glove has always been an enormous question, but with an opening in left field right now, the Cubs could get creative and move him to left should they be enticed in bringing him back. Given the contract he signed last season, I find it very unlikely to see him back in Chicago. However, I wouldn't rule it out entirely, especially when you look at the love that not only the team has for him, but the love he has for Chicago.
When you look at the numbers he put up in those two months, you have to wonder what he would do in a full season. Granted, his average may never be north of 300 again like it was, but he will always give you a 275 average and quality at-bats. Should he be able to do that with an increase in power, the Cubs would have him for multiple seasons.
Reds are open to listening on Mike Moustakas and Nick Castellanos but there doesn't seem to much traction there. Eugenio Suarez has drawn more interest; if they do move Suarez, Moustakas could move to his natural 3B.

— Jon Heyman (@JonHeyman) January 11, 2021
Like I said, this trade most likely will not happen, but it would be something fans would love to see.
Nick Martini's role with Cubs?
Slowly but surely, the MLB is gearing up for spring training as that is roughly a month away. With MLB announcing yesterday that not only will spring training start on time, barring some drastic health changes, but baseball will also push for a 162-game season. With expect free agency and the trade market to pick up in the next few weeks, teams will want their rosters filled out.
For the Cubs, filling out this season's roster will be challenging as they have lots of holes to fill. Not only that, but they don't have many players to fill those holes, so something needs to be done. One thing the Cubs continue to do better than anyone is signing players to minor league deals for depth purposes. Granted, many of those signings may not pan out; some will, which could help the team going forward.
The most recent of their minor league signings could suddenly play a significant role with the Cubs this season in outfielder Nick Martini. The former St. Louis Cardinals prospect is set to enter his age 30 season on a minor league deal with an invite to spring training. With current Iowa LF Donnie Dewees down with a torn ACL, Martini suddenly becomes the most likely replacement, but could he offer more.
Martini shouldn't be a surprise to see in Cubs camp this season, especially when you look at his relationship with VP of Scouting Dan Kantrovitz. He was the one who scouted him in St. Louis as a member of the Cardinals and then requested him in a trade while in Oakland working with him there also. Martini eventually saw some big-league action with both the Padres and A's in 2019 but bounced around last year and didn't play in 2020.
Now with a new team and a new year on the horizon, Martini is hoping to be more than a bench bat this season, and with the Cubs still looking for a left fielder, he very much could be given a chance. Not only is Martini and outfielder, but he is a left-handed bat that provides the Cubs with something they lack. He may not be the power hitter the Cubs are accustomed to, but Martini draws a ton of walks and doesn't strike out much. Both are something this lineup desperately needs.
Not only that, but Martini is also a line drive hitter who uses the entire field and can play all three outfield positions. Add that he is an above-average baserunner, and there is some value for him to be on the team and given a chance to start. With guys like Ian Miller, Phillip Ervin, Patrick Wisdom, Rafael Ortega, and Michael Hermosillo all on minor league deals, the competition will be fierce.
However, Martini not only has the best chance to crack the opening day roster but could wind up the starting left fielder if no moves are made. His approach at the plate makes him valuable enough to be given a chance, and the Cubs lineup could benefit from it.