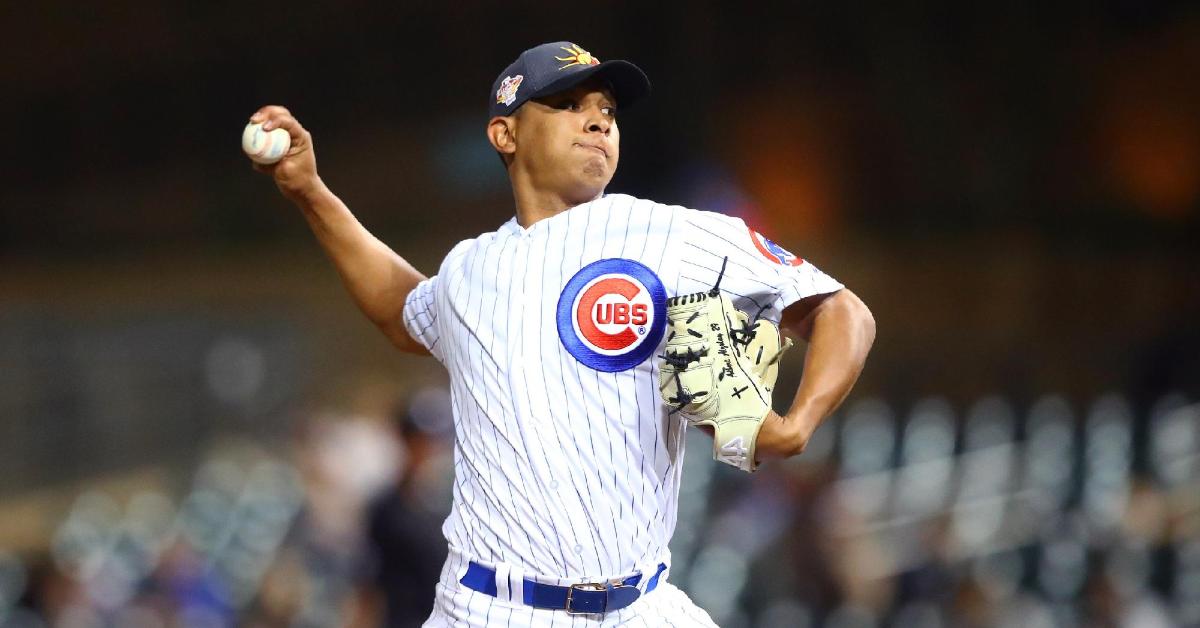 | | |
| --- | --- |
| 2020 Season Projections: Cubs minor league aces | |
---
We are getting to the end of our projection series as we have only a few left. Today we continue with our starting pitchers as we shift our focus to the Minor League. This is one of the big storylines this season as we know the Cubs rotation will be very thin following this season.
That means the Cubs are going to need help from within to rebuild their staff next season, and if all goes well, we will see some of that depth this year. However, if the development process of some of these continue to struggle, expect some big-league talent to be sold off this summer with hopes of getting some Major league ready arms next year. Here are five Minor League arms to watch this season.
Adbert Alzolay: After sitting as the team's top pitching prospect for three seasons, Alzolay has now dropped to NO. 2 as injuries and inconsistencies have hurt his development. Most likely entering the season as Iowa's No. 2 behind last year's PCL pitcher of the year Colin Rea, Alzolay needs to have a breakout season this year.
Both him and Rea were given chances at the No. 5 spot in the rotation this spring at the very worst with a shot at the pen. However, both struggled mightily in Arizona and now find themselves as the top two arms in the Iowa rotation. Alzolay started to find a groove last season, but once again, injuries shortened his season in July, and he was never able to recover.
Projection (11 starts 6-4 3.97 ERA, 32BB 80K.)
The numbers are good, but that is not what I am looking at from Alzolay this season. I am looking for him to be healthy for the first time in a long time and finally show us he deserves to be considered for the rotation long-term. No one is going to argue the stuff he brings to the table as he does have ace ability. The problem has always been health. If he stays healthy, he will be a very valuable piece for the Cubs moving forward. If not, the best he may do is a back of the bullpen arm.
CORY ABBOTT (Tennessee Smokies):
This will be an interesting season for Abbott as he looks to build on an incredible 2019 campaign. As of now, Abbott is penciled in as the Ace for the Smokies, but given what he did last year, AAA is certainly not out of the question.
He may have gone just 8-8 last season, but his 3.01 ERA was certainly promising. His 52bb/161K rate was also significant as he became the first Cubs Minor League pitcher to pass 150K since 2013, which is an encouraging development for an organization searching for arms. Abbott continues to go about his business as he has gone 16-14 with an impressive 2.84 ERA in his minor league career making him someone the Cubs are starting to sense is close to MLB ready.
Projection (12 starts, 6-6 3.76 ERA, 40BB. 94K).
If you look at these numbers, you may cringe and say that it is a step back from last season. Although kind of right, but I look for him to dominate in AA early, but potentially hit some rough stretches in Iowa as he will get to AAA this season. That is extremely important, however, as he could use that as a learning experience to possibly crack the majors next year. Abbott is an under the radar arm that could be as good as a No. 2 starter or fit the No. 5 spot.
BRAILYN MARQUEZ (Myrtle Beach Pelicans): Unless you have been living under a rock this past year, you would know all about Marquez and just how fast he is rising the prospect rankings. Fast, is undoubtedly fitting when you talk about the big lefty, as Marquez is now regarded as the Cubs top pitching prospect and wowed scouts across the Country with his triple-digit heater last season. At just 21, the 6-4 Marquez is only going to get better as the sky is the limit as to what he can do for this organization long term.
Last season, Marquez came into his own going 9-5 with a 3.13 ERA between A South Bend and High A Myrtle Beach, where he finished the season. His 50BB and 128K is a little deceiving as he went completely bonkers over his final seven starts, including a 0BB 14 K performance in his last start with South Bend. Marquez will only be as good as his command can take him, but with how hard he does throw, that shouldn't be a problem right now. Give him two more years, and then we can start to peg how good he will be.
Projection (12 starts, 5-4 3.25 ERA 35BB/107K).
Marquez certainly made an impression for Myrtle Beach last season going 4-1 with a 1.71 ERA in his five starts. Now, entering 2020 as the team's new ace, Marquez is looking to build off that performance while living up to new expectations. Not only is he a lefty, but a hard-throwing lefty none the less, which makes him highly coveted by any organization.
As good as he has been as a starter, I have a gut feeling that his long-term outlook may be in the pen. When you are hitting triple digits this young, you are going to draw comparisons to Aroldis Chapman, especially if those high-velocity numbers continue. I would love to see him in the rotation, but the Cubs would have a fantastic weapon should they use him in the pen long term. If that is the choice they make, you could be looking at the Cubs version of Josh Hader with another starter who could be the closer the road.
Ryan Jensen (Eugene Emeralds): Last year's first-round pick, Ryan Jensen took awhile to get to Eugene but flashed his potential once he did. In his six starts for the Emeralds, Jensen failed to record a decision but did manage to pitch to a 2.25 ERA in 12 innings. His 14BB/19K was certainly a little concerning, but it was only a small sample size last year.
Known to have the best fastball in his draft class, Jensen has all the makeup to be a long-term starter for this organization, and a front of the line starter for that matter. That will only happen if his command gets better. With a full offseason to prepare and hopes of taking the mound sometime in 2020, look for not only better numbers, but longer outings in the process this season.
Projection (8 starts 2-1 3.00 ERA 28BB/62K).
Jensen will be better this season than he was last year as he will go much deeper into games this season. However, the command will still be an issue as it is with a lot of young hard throwers. Jensen will have no trouble blowing hitters away with his high 90's heater, but lack of command can sometimes affect his secondary stuff. Once, he consistently commands that heater look out.
Michael McAvene (Eugene Emeralds): Taken in the third round last year, Michael McAvene is another hard-throwing pitching prospect that the Cubs are hoping to have in their rotation long term. Yes, the former Louisville Cardinal is known for a high 90's heater with a wipeout slurve. Still, he will also be remembered for getting tossed in the NCAA Regionals for yelling, "That's Terrible into his glove."
Much like Jensen, McAvene didn't arrive in Eugene until August but flashed a bright future in his limited time on the mound. He, too, made six starts and was even better than Jensen Posting a 1.42 ERA. The thing that stood out the most was his command as he walked four hitters compared to 20 strikeouts in just 12 2/3 innings, which is absolute domination. It will be interesting to see how he follows that up in 2020.
Projection (6 starts 3-0 1.78 ERA 11BB/37K, 8 saves)
I hate to say it, but McAvene, I don't think he will be a starter much longer. Originally a starter for Louisville, McAvene underwent Tommy John and came back as one of the best closers in the game, although he wasn't technically a closer. If you look at how much he dominated last season, all his outings were roughly two innings, which is perfect for a reliever.
Does McAvene have the stuff to be a starter? Of course, but he is known as a two-pitch type of guy, which translates better as a long-term reliever. His fastball is elite, and his breaking ball makes hitters look foolish. With Craig Kimbrel as the Closer for the next few years, look for the Cubs to promote McAvene to South Bend this season and begin to mold him as the team's future ninth-inning guy. Image this back end of the bullpen in a few years—Marquez in the eighth handing the ball to McAvene in the ninth. I could get used to that.