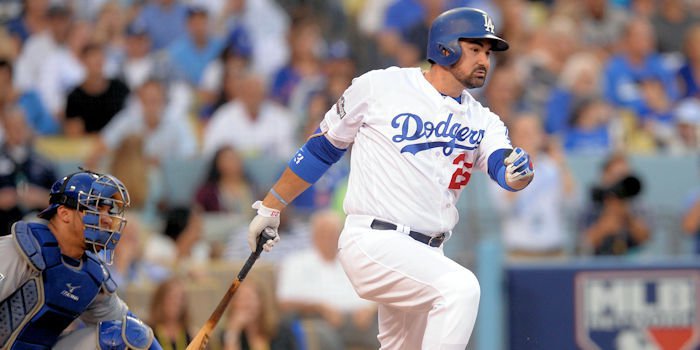 | | |
| --- | --- |
| Adrian Gonzalez issues a challenge to Cubs fans | |
---
Los Angeles Dodgers first baseman Adrian Gonzalez has had an interesting NLCS with a homer to win a game single-handedly 1-0 against the Cubs in game two and also has been whining on Twitter about "Us against the World" when the replay officials did not overturn a call for the Dodgers when he was out at home plate in game four. Gonzalez is batting .211 with two homers and six RBIs in the 2016 postseason.
Now, Gonzalez is trying to fire up the loyal Cubs fanbase saying that the Cubs fans won't be louder than Game 1 or Game 2 at Wrigley Field.
"The same (atmosphere) we had in Game 1 and 2," Gonzalez said to reporters on Thursday night. "They can't put any more people in the stands. They can only put in so many people. They can't cheer any louder. It's not like it's a loud stadium to begin with. They're going to try their best, and we're going to tune them out like we always do."
I think he doesn't realize the fans in attendance might have the opportunity to see the Cubs clinch a World Series berth for the first time since 1945. This means that they will be extremely into it for the long haul on Saturday night.
Mr. Gonzalez, I am not sure you realize how loud it will be at Wrigley Field. Cubs fans will be watching from the stands, from the rooftops, from the trees, the streets, and anywhere else they can get a glimpse of the game.
This will not be a crowd that shows us late like Game five in Los Angeles. Good Luck because I think you will need it.