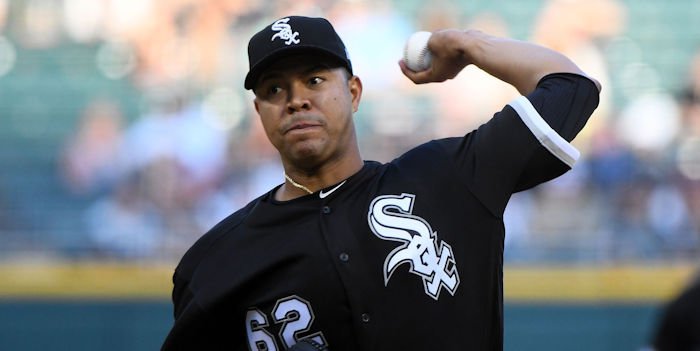 | | |
| --- | --- |
| Analysis of the Cubs blockbuster trade for Quintana | |
---
| | | |
| --- | --- | --- |
| Thursday, July 13, 2017, 2:14 PM | | |
The Cubs have stunned baseball today with the acquisition of left-handed pitcher Jose Quintana from the Chicago White Sox. While it has been highly reported the Cubs have desired pitching, Quintana was a dark horse in surrounding trade rumors. The Cubs had been engaged in talks last winter about Quintana, but negotiations were reported to have died down once the season started. Recently it had appeared the Cubs had turned their focus to Detroit pitchers Michael Fulmer and Derrick Norris, even offering Kyle Schwarber in return. Shockingly, today Cubs president Theo Epstein dispelled any rumors of trading Schwarber by pulling the trigger on a blockbuster deal to bring Quintana into the rotation.
The addition of the White Sox lefty comes with the subtractions of prospects Eloy Jimenez, Dylan Cease, Matt Rose, and Bryant Flete. The biggest surprise of this trade absolutely falls in the Cubs parting ways with their top prospect, outfielder Eloy Jimenez. Jimenez has shown off his talents in the MLB Futures game, and at only 20 years old has played 253 minor league games in the Cubs organization where he hit .293 with 32 home runs. Jimenez is ranked as the 8th best prospect in baseball and was thought by many to be untouchable in trade scenarios. The decision to move him probably stemmed from the logjam of corner outfielders on the current Cubs roster. Along with Jimenez, Dylan Cease was thought to be a player the Cubs would not consider trading. Cease, 21, was considered their highest rated pitching prospect. In 120 inning pitched in the minors, Cease had gone 4-4 with a 2.54 ERA.
Bringing in Jose Quintana cost the Cubs a high price but should help a struggling rotation return to its championship form. Quintana is now 28 years old and will be under Cubs control through the 2020 season. Quintana has gone 4-8 this season with a 4.49 ERA on the south side. In his six-year career, Quintana has gone 50-54 with a 3.51 ERA. Quintana routinely sits around 91-93 mph with his fastball with a strong slider and cutter. When Quintana is going well, he finds success in the upper third of the strike zone and gets hitters to regularly chase breaking pitches out of the strike zone. He will get a lot of swings and misses with not much hard contact. When Quintana has some rough outings it usually comes from him not being able to get hitters to swing at his breaking balls leading to an overuse of his less than an overpowering fastball. Overall, Quintana has had a strong young career with the White Sox and has been victimized at times by his team's struggles to score runs. Despite his pitching best season in 2015, Quintana set an MLB record 17 no decisions due mainly to his lack of run support. In Quintana's 2014 and 2015 seasons, he made 32 starts with an ERA under 3.40 in both seasons but couldn't manage to win 9 games. A pitcher not receiving 9 wins despite starting at least 30 games and posting under a 3.40 ERA has only happened 20 other times in MLB history. Hopefully the Cubs will get him a few more runs and he can rack some more wins when he goes up to the north side.
The Cubs have coveted controllable starting pitching for a while and Quintana gives them another asset. He should help jolt an aging rotation which has struggled all season. If the rotation can find itself in the second half, Quintana will likely be a reason why and will fit in nicely. There is clearly an upside to this trade, however, the Cubs gave up a lot. A positive for the Cubs was they were able to hang on to all their major league players including Schwarber, Javier Baez and Ian Happ who had all been in trade rumors. However, acquiring Quintana cost the Cubs their best prospect and their best pitching prospect. If they were going to make such a blockbuster deal and give up as much as they did, many Cubs fans would have preferred them to get a pitcher like Michael Fulmer or Chris Archer back. We can only hope now the Cubs have a plan to win now and continue winning in the future.