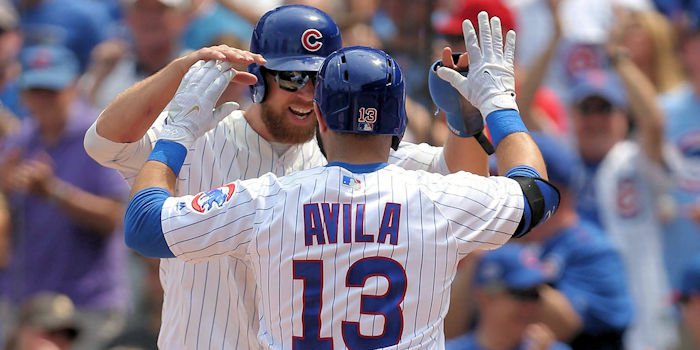 | | |
| --- | --- |
| Avila's triple propels Cubs to victory | |
---
PITTSBURGH – In a long, hard fought battle of wills the Cubs finally pulled ahead of the Pirates late in the game. The 1-0 contest was won on an Alex Avila triple, his first since 2013, to score recently acquired Leonys Martin from second base. Martin was substituted as a pinch runner for Anthony Rizzo after he walked with one out.  
Jose Quintana (9-11, 4.03 ERA) started for the Cubs and pitched notably well considering his recently poor performance. Theo Epstein gave up top prospects Eloy Jimenez and Dylan Cease for the ex-White Sox ace and "Q" hasn't held up his end of the bargain since his Cubs debut when he struck out 12 against the Orioles. Tonight, he was able to strike out six despite his curve ball still being used less in those situations. The ground balls were timely getting him out of tough jams.  
The sixth inning was particularly dicey as Quintana put runners on first and second base with nobody out. He was nearly at 100 pitches, and quickly running out of gas. Jose Osuna came up to bat for the Pirates and fouled off pitch after pitch. Quintana had to get a double play to finish the inning and get a double play he did.  
Osuna lined a ball to shortstop Javier Baez, who smartly let the ball bounce before playing it, and started a 6-5-4 double play. Quintana left the game after inducing another ground ball out having given up six hits and surrendering no runs. 
The opposing pitcher, Gerrit Cole (11-9, 3.93 ERA), pitched equally well for his own team lasting until the end of the eighth inning without giving up a run. It was a tough luck loss for the former UCLA Bruin as Daniel Hudson (4.61 ERA), the only Pittsburgh relief pitcher, gave up the run.  
Interestingly, the Cubs managed only two hits in the first eight innings, and both of them came on broken bat singles. Baez had his in the second inning and Jon Jay picked one up in the eighth inning.  
Tomorrow's series finale in Pittsburgh will be pitched by Jon Lester (9-7, 4.46 ERA) and Jameson Taillon (7-5, 4.50 ERA) starting at 6:05 PM CDT.