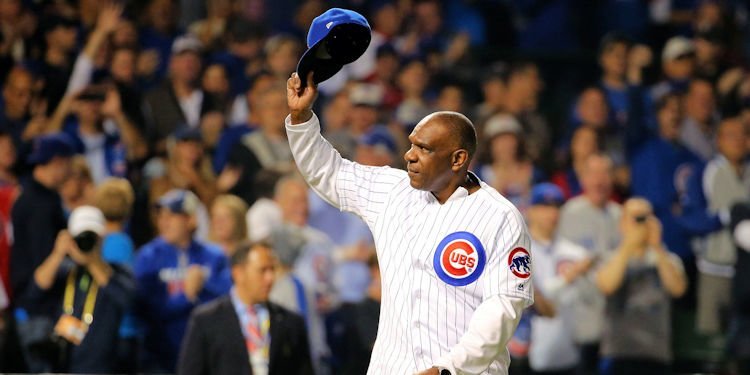 | | |
| --- | --- |
| Better all-time greats: Cubs or White Sox? (Part 2) | |
---
| | | |
| --- | --- | --- |
| Friday, May 8, 2020, 1:08 PM | | |
Welcome back to our all-time Cubs vs. all-time Sox break down.
As you recall, here is how each roster looks.
CHICAGO CUBS:
Starters:
C: Gabby Hartnett
1B: Anthony Rizzo
2B: Ryne Sandberg
3B: Ron Santo
SS: Ernie Banks
LF: Billy Williams
CF: Hack Wilson
RF: Sammy Sosa
DH: Andre Dawson
Bench: Kris Bryant, Javier Báez, Mark Grace, Aramis Ramirez, Frank Chance, Jody Davis
Pitchers: Fergie Jenkins, Mordecai Brown, Greg Maddux, Jon Lester, Kerry Wood, Jake Arrieta, Hippo Vaughn, Lee Smith, Bruce Sutter, Pedro Strop, Carlos Marmol
CHICAGO WHITE SOX:
Starters:
C: Carlton Fisk
1B: Frank Thomas
2B: Nellie Fox
3B: Robin Ventura
SS: Luke Appling
LF: Magglio Ordonez
CF: Minnie Minoso
RF: Harold Baines
DH: Paul Konerko
Bench: José Abreu, Luis Aparicio, Eddie Collins, Jermaine Dye, Shoeless Joe Jackson, A.J. Pierzynski
Pitchers: Mark Buehrle, Chris Sale, Billy Pierce, Ted Lyons, Ed Walsh, Red Faber, Wilbur Wood, Bobby Jenks, Bobby Thigpen, Hoyt Wilhelm, Roberto Hernandez
PART 1 SUMMARY : So far, the Cubs have the edge at second base, shortstop and third base while the Sox have the edge behind the plate and at first base.
LEFT FIELD
Here is another category that the Cubs appear to have a considerable advantage in. Arguably the best-left fielder in White Sox history is the great 'Shoeless' Joe Jackson.
Still, his participation (or lack thereof) in the scandal of the 1919 black sox keeps him out of the starting lineup, leaving a spot for Magglio Ordonez. Ordonez had a standout career, with six all-star appearances, three silver sluggers, and a batting title in 2007 with the Tigers.
His opponent in this battle is Hall of Famer, sweet-swinging Billy Williams. Williams has over 420 homers, a .290 plus average in addition to six all-star appearances, a Rookie of the Year, and a batting title of his own — really no question for this one.
CENTER FIELD
This is a battle between the Cubs' Hack Wilson and the White Sox' Minnie Minoso. The numbers don't jump off the page for Minoso, but he was always relied upon for a good at-bat or to steal a base. He finished his career as a nine-time all-star and three-time silver slugger winner. Wilson had the best season in run-producing history, as he drove in 191 runs in 1930, still an MLB record. Wilson has a career average over .300 and was inducted into the Hall of Fame in 1979 — giving him the edge over Minoso.
RIGHT FIELD
For the Sox, it is new Hall of Famer Harold Baines, who was never spectacular, but above average for almost two decades. Baines had nearly 2,900 hits and finished his career with a .289 average — he also made six all-star games.
For the Cubs, it's one of the most controversial players in history, Sammy Sosa. Sosa dominated the late 90s and early 2000s but was also a main culprit of the PED era and the stigma that comes with it. Sosa won an MVP, had three seasons with over 60 homers, was a seven-time all-star, and six-time silver slugger award winner. Despite the corked bat, Sosa has never admitted to nor has he been proven to have taken steroids, however — and the excitement he, Mark McGwire, and Barry Bonds brought to the game could be attributed to saving baseball. That mixed with the electricity bought on a day to day basis gives Sosa a slight edge over the Hall of Famer Baines.
Designated Hitter
The Cubs' lineup is designed to have Hall of Famer Andre Dawson as the D.H., while the Sox offer Paul Konerko. Konerko was a very clutch player for the Sox, and he had his fair share of eye-popping stats. Konerko hit over 430 home runs and also drove in almost 1500. He is a six-time all-star as well.
On the other side of town, Hawk was purely dominant. He made eight all-star games, including six straight in his six years in Chicago. Dawson won an MVP on a last-place team, and eight gold gloves in his career. He was a five-tool player, and even if we're just using the three/four tools needed offensively, Dawson gets the edge.
PITCHERS
The Cubs have one of the best pure pitchers of all-time in Hall of Famer Greg Maddux, one of the most durable of all-time in Hall of Famer Fergie Jenkins, the man who pitched possibly the best season ever in Jake Arietta, one of the best postseason pitchers of all-time in Jon Lester and two of the game's best closers of all time in Bruce Sutter and Lee Smith. Not to mention a combination of consistency and firepower from relievers Pedro Strop, Kerry Wood, Mordecai Brown, Carlos Marmol, and Hippo Vaughn.
That to me, is more than enough to outlast the Sox pitching staff of Mark Buehrle, Chris Sale, Billy Pierce, Ted Lyons, Ed Walsh, Red Faber, Wilbur Wood, Bobby Jenks, Bobby Thigpen, Hoyt Wilhelm, and Roberto Hernandez.
BENCH
The Cubs have the versatility and power of Kris Bryant, the excitement and electricity of Javier Baez, the consistency from Mark Grace as well as the contribution from Aramis Ramirez, Frank Chance, and Jody Davis. The Sox bench has current all-star Jose Abreu, as well as arguably their best player in Shoeless Joe Jackson. On top of that, Luis Aparicio was a phenomenal middle infielder, as was Eddie Collins. They also carry a second catcher in Cubs arch-nemesis (victim of Michael Barrett's fist) A.J. Pierzynski. But I would have to give an ever so slight edge to the Cubs here.
So to recap, the Cubs get the edge at second base, third base, shortstop, left field, center field, right field, designated hitter, pitching staff and bench — however, if the lineup was tweaked a bit it could look a little different. That gives the Cubs nine advantages to the White Sox' two.
So, it looks like the Cubs can FLY THE W once again.