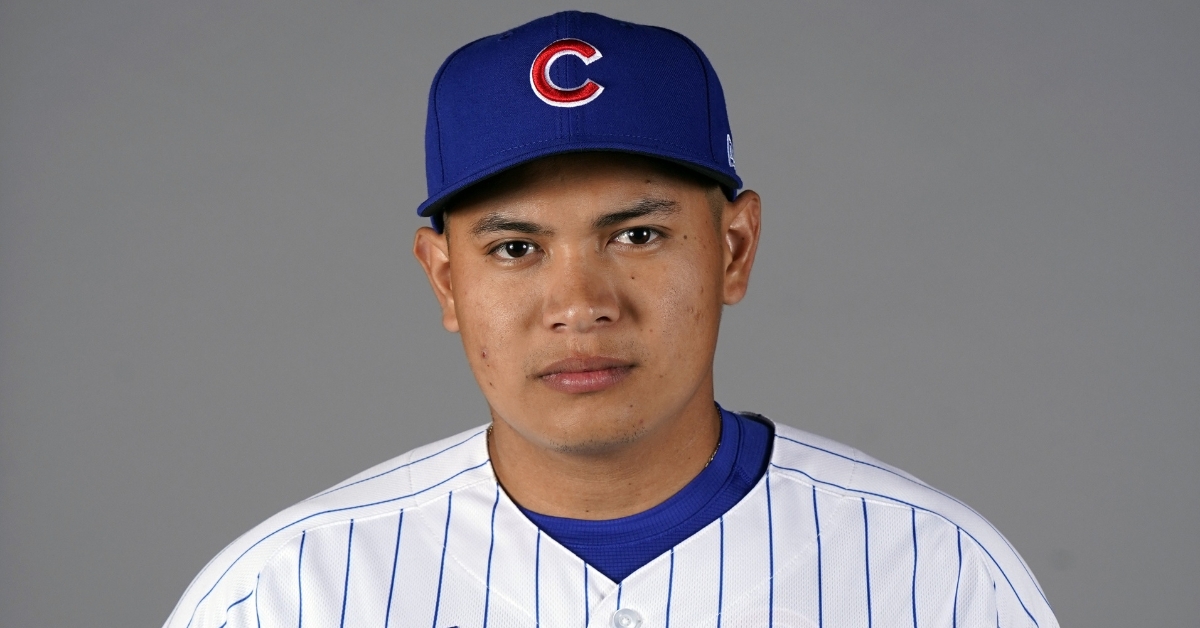 | | |
| --- | --- |
| Breaking down MLB Pipeline's Top 30 Cubs prospects (Part 4) | |
---
We are at the midway point of the top prospect list, and this is where things get fun. We are at the point on this list where most of these players have established themselves in the Cubs organization with clear paths to where they will be heading long term. Some of them have been a part of the spring training roster recently, so Cubs fans have already seen what the future of this franchise could look like.
Honorable Mention: Manuel Rodriguez (RHP Myrtle Beach): To my surprise, Rodriguez was not found anywhere on this prospect list despite being invited to spring training this season. I have no idea why he is not on this list, but I decided to add him in as an honorable mention here because he is a top 15 prospect, in my opinion.
The 23-year-old reliever is not only a flame thrower who touches 99-100 quite often, but he is trying to make MLB history by becoming the first Yucatan born Mexican player to crack an MLB roster. Before signing with the Cubs in 2017, Rodriguez spent three years in the Mexican League, where he pitched in 72 games going 5-1 with a 3.56 ERA 37BB/62K. All that was done as a teenager so the Cubs elected to bring him to their system and see what he could do.
Since joining the Cubs, Rodriguez has continued to show promise, going 5-8 with a 4.24 ERA in over 70 relief appearances. Don't look at those numbers and judge his progress, most of that comes from 2018 when he posted a 7.59 ERA before dropping it to 3.45 this past year. What stood out for Rodriguez this year was his 17BB/65K performance out of the pen. Given the stuff he possesses, that leads me to believe he could be a future closer for the Cubs once healthy again.
#15 Ronnier Quintero (C DSL 1): We officially have a new position on the prospect list as Quintero comes in as the team's first catcher at No. 15. Not only is Quintero just 17 years old, but he was the top international catching prospect during the 2019 international signing period, and the Cubs pounced on him for 2.9 million. That surpassed the previous team record of 2.8 million given to Eloy Jimenez, so the Cubs must see something in him.
When you look at what he projects to do offensively, there is no secret that he has a very high ceiling. His bat speed and above-average strength give him plus power from the left side of the plate as he has already shown the ability to take the ball deep. He is not just a slugger, however, as he has a good feel for hitting and could develop into both a high average high-power type of guy. Quintero has yet to play a professional game in the Cubs system, but he will be in the DSL league once play resumes and will be the future behind what the Cubs have now.
#14 Ethan Hearn (C AZL 2): After not having a catcher until No. 15, we have two in a row as Ethan Hearn is next on the list. Not only did the Cubs nab the top international catcher in 2019, but Hearn was regarded as the top high school catcher that same year, so the Cubs took him in the sixth round of last June's draft.
If you go based on talent, Hearn was supposed to go no later than the third round. However, concerns about strength and a college commitment to Ole Miss caused him to fall to the sixth round, which worked out for the Cubs to sign him for only $950,000. Even with the drop, he was still the first prep catcher taken in the draft. The contract was more than sixth-round money, but the potential is certainly there.
Hearn is a left-handed hitter that offers plenty of bat speed and strength from that side. However, instead of just letting his raw power translate to success, Hearn got way too aggressive in his pro debut and struck out 36 times in 80 at-bats while batting just .163. While concerning, that is to be expected from a high schooler making the jump to pro ball as he became too pull oriented last season. Once he settles down, expect nothing less than 17-20 homers a season.
Like most catchers, Hearn is not a burner on the bases but does move well behind the dish. While lacking concentration in high school at times, Hearn seemed more focused at the pro level, which leads me to believe he will be an above-average receiver when it is all said and done. He has a plus arm and a quick release of 1.9 second pop times to second base, which makes it tough as a base runner.
#13 Pedro Martinez (Infielder Eugene): One of the most famous names is that of Hall of Famer Pedro Martinez. While obviously not the same person with no relation, Martinez is a name Cubs fans will know very quickly. Martinez is 19 years old and was the last addition to the Cubs 2018 international class signing for 300,000 out of Venezuela. While a SS by trade, Martinez has seen significant time at 2B, also giving him a middle infield title for now.
At just the age of 18, not only did Martinez debut but did so with a bang leading all Dominican Summer League rookies with a slash line of (.310/.398/.406). He came to the US last year and needed only five weeks to make another jump in the Cubs system, where he finished the year with the Emeralds. Make no mistake about it, the switch-hitting Martinez can flat out rake, and he is showing no signs of stopping any time soon.
He is a line-drive hitter and does so with tremendous success equally from both sides of the plate. He has shown decent discipline at the dish, but like most young hitters is also overly aggressive at times. While mostly a line drive and ground ball hitter right now, the Cubs feel he will add much more power in that swing given his bat speed and ability to barrel up the baseball.
If the bat isn't good enough for you, Martinez is also a solid base runner who uses his speed to his advantage. On defense, not only does he possess great instincts, but he has quick feet, soft hands, and a strong arm, which are all ideal for the SS position. Through 108 career games, Martinez is a 310 hitter with 4 HRs and 49 RBIs. Add in his 50 stolen bases, and you can see why the Cubs remain so high on him.
#12 Riley Thompson (RHP SOUTH BEND): Finally another pitcher, I was getting a little concerned that the pitchers were not going to show up. A little older than most in the A level systems, the 23-year-old Thompson was taken by the Cubs in the 11th round of 2018, and he hasn't looked back.
Thompson was also seen as a high-level prospect, going back to his high school days when he was touching 96 mph with his heater. That was before he blew out his elbow that forced him to have Tommy John two weeks before the draft, which ultimately led him to redshirt in college. Now, Thompson has reinvented himself by thrown 92-94 mph but did hit 100 mph in his pro debut. Another promising thing was the fact that not only did Thompson reach 103 innings last season, but he did so hitting 97 mph consistently in most starts.
To go along with his heater, Thompson has some of the best spin rates on his curveball and uses a power downward breaking ball to offset the hitter's timing that sits around 82-86. Sometimes it breaks a little too much that he can't command it, so he needs to continue to develop his changeup.
After struggling to find the strike zone in college, Thompson has shown he has the makings of a middle of the rotation arm after just 29 pro starts under his belt. He has gone 8-8 with a 3.02 ERA over two seasons and has walked 40 men as opposed to 112 punchouts. His innings total increased by 75 last season, so now the next step is to remain healthy and continue to develop his stuff.
#11 Cory Abbott (TENNESSEE SMOKIES): For some reason, Abbott is listed to be on Myrtle Beach now after pitching for Tennessee last year. That must be a misprint as firmly believe he will be in Iowa to open the next season.
Abbott certainly made strides last season as the ace of the Smokies staff, which was evident in the season he had. The former second-round pick back in 2017, put together an 8-8 season for the Smokies in which he posted a 3.01 ERA. His 52BB was a little up from previous seasons, but his 166K led the entire system becoming the first Cubs pitcher since 2009 to top 150 K's in a minor league season. He is now 16-14 with a 2.84 ERA in his pro career.
Not known as a guy who throws hard, Abbott still has a ton of success with a fastball that sits 90-93 mph but can hit 95 mph when he gets his body into it. That is not the pitch that has made him so successful, however, as the breaking stuff is what sets him apart in the Cubs system. Not only does he have an 87 MPH cutter to complement his heater, but he changed his grip on his slider, which now sits at 84 mph. His curveball has been his best pitch as a pro as it consistently sits around 79 mph as those three pitches continue to make hitters look silly.
Not only does he have an effortless delivery, but he isn't afraid to attack hitters despite not being able to overpower them. Sound familiar? That is the same scouting report you could say about Kyle Hendricks with a bit more velocity to his game. Of the Starters not named Adbert Alzolay or Brailyn Marquez, I would say Abbott is the closest to being MLB ready and would have gotten the call this season had we had a full year of minor league ball.