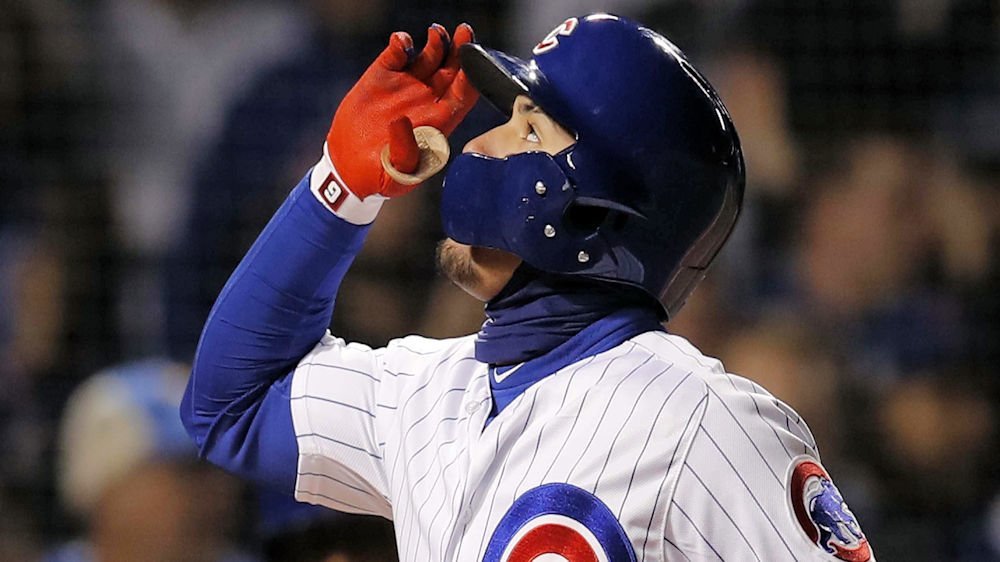 | | |
| --- | --- |
| Cubs News: Breaking down the NL MVP race | |
---
| | | |
| --- | --- | --- |
| Saturday, September 8, 2018, 9:22 AM | | |
Without looking it up, name the last five NL players to win the MVP.
That is the point. No one is going to remember who wins this year by spring training next year. Baseball is a team game played by individuals who get rewarded based on their performances. Crazy isn't it?
Ernie Banks won many individual awards and was elected to the HOF. How fast would he have traded all those awards, except the HOF, for one world series trip, forget about winning it. In a heartbeat I assure you. But people in cities all across America are right now trumpeting their guy to win the 2018 MVP like it means something in the scheme of things.
Be that as it may, I have taken it upon myself to handicap the NL MVP for 2018 for the fans of this website to be as up to date as they can be when talking or bragging to friends everywhere. I should say up front that I have no vote in the actual balloting, so this would be listed in your glossary as "unofficial."
To be as impartial as possible, but not so much that I was keeping it open to all of baseball, I started with the top 10 players named on various platforms. I also eliminated all pitchers because I don't think a guy that plays every five days, no matter how great he is, holds the same weight as the team as position players. Sue me if you disagree.
They were in no particular order:
Nolan Arenado, Christian Yelich, Lorenzo Cain, Freddie Freeman, David Peralta, Paul Goldschmidt, Matt Carpenter, Eugenio Suarez, Scooter Gennett, and Javier Baez.
These ten players keep coming up on various lists as the top five or top ten right now in the MVP race. You may have other guys, I know I do, but this is the list I am going with. You don't like the list then make up your own it's fun to do, and just as many people will care.
I then used the following categories to rank the ten players listed above. These categories are what many people use to evaluate who should win this award.
Total War, On-base + Slugging, On-base %, HR, RBI, BA, and Adjusted OPS+.
Please don't ask me what some of these mean. I've already written about my complete lack of understanding of the new metrics and what value they bring, you can find it on our web page, it's a great read. For this purpose, I didn't have to know what they meant, I just had to rank them, and even with my tiny brain, I can make a list.
I will say as a fan, and because I live in a market where we get multiple teams to watch, and because I watch a lot of MLB Network and ESPN Baseball Tonight, I was expecting some very different results.
Listening to the experts on national TV you hear a ton of support for Freddie Freeman for example, and rightly so, I mean can you imagine the Braves in first place without him this year? Nolan Arenado and Paul Goldschmidt are two others who get a lot of talk on TV but not so much from writers because most of them live out East and go to bed at 7:00 apparently.
Because I write for the fastest growing website related to Chicago Cubs baseball in America, I hear plenty regarding Javier Baez who the fans have already crowned and bronzed. Just like the Brewer fans have done with Lorenzo Cain and Christian Yelich. That's what fans do, and they should.
So, back to the results. Once I compiled all the stats for each category and noted first thru fifth place, I then made a note of how many each of the players had in all categories. For example, if you had one first place, no second place, two thirds, a fourth and no fifth, I then assigned points for each place. First = 5, second =4, etc down to fifth =1. In the example above you would have received 13 points for your rankings.
When all were completed, I had my staff, and by staff, I mean my wife, check my math, which was miraculously correct. As she walked away exclaiming this is what you are wasting a Friday night on? I was as usual shamed but went on anyway for you our fans.
As of action thru September 6th, the national league MVP race looks like this.
5th place – Lorenzo Cain and Eugenio Suarez tied. (10 points)
4th place – Christian Yelich (12 points)
3rd place – Javier Baez (13 points)
2nd place – Matt Carpenter (16 points)
1st place – Paul Goldschmidt (17 points)
For all you Baez fans out there, hope is still alive. There are three weeks to go in the season, and the two areas he needs to pick it up in are home runs where he is currently 9th and on-base % where he is unbelievably 5th from the bottom in the NL.
Goldschmidt and Carpenter look to be in a real battle right now as both have had incredible second halves which have coincided with their team's resurgence in the standings. This is getting a ton of chatter on TV and voters pay attention to that stuff.
Yelich is also being talked about but having Cain in the mix is going to hurt them both. Baez is usually referred to as the most exciting player in baseball, but that is not translating to MVP talk. Many ex-players say that he needs to show them more yet to get their vote. We'll see.
Please don't shoot the messenger. I only did the math here, and was not doing any evaluating. For me, I hope the Cubs win the World Series and everybody on the team wins an individual award.
Oh, the last five winners. Stanton, Bryant, Harper, Kershaw, and McCutchen.