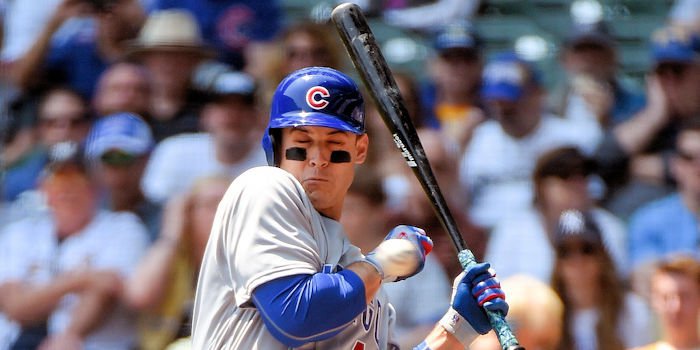 | | |
| --- | --- |
| Commentary: Cubs should be sellers at trade deadline | |
---
| | | |
| --- | --- | --- |
| Friday, July 7, 2017, 12:43 PM | | |
CHICAGO -- Cubs fans won't want to hear this, but maybe looking towards next year isn't a bad idea. After Thursday's blowout loss in a makeup game against the Milwaukee Brewers—now 4 ½" games up on the Chicago Cubs in the NL Central—the Cubs have some serious questions to face as they head into the break.
The main one, obviously, is whether or not to try and make a big splash and hope for a much, much, much better second-half, and the less-talked about idea—perhaps an idea only people will whisper in fear of being scolded or called out for giving in too early—is selling off some extra pieces that the Cubs will not be able to retain next season. Right off the bat, Jake Arrieta's name comes to the frontline. The chances of the Cubs working out a deal with Arrieta, despite his mediocre showing most of 2017 thus far, are still slim. Scott Boras working as his agent does not help. It only takes one team in all of baseball to overpay, and Jake may even yet find himself with that 200 million deal he had once spoken about expecting to seek.
There are others, too, but obviously, Arrieta could be a major rental for any team in baseball who wants to make a run and is one pitcher away. He may be even more valuable to teams who may have the money and interest in retaining him, assuming he is willing to resign with a potential trading partner (note that, obviously, all of this is speaking theoretically).
There are others on the Cubs who carry value, as well.
Wade Davis is having a huge season (and is a perfect 16/16 in SV chances, on top of just stellar numbers as a whole) after some injuries woes last year that had some concerned. He could and would most certainly and bring back some nice assets to any team who needs a closer badly (Nationals, anyone?), especially considering the best name who is 'officially' on the market is David Robertson.
Hector Rondon should be able to get you something. Koji could as well, I would think, but I don't know how much he has left in the tank. Carl Edwards could get his trial run at closing for the rest of the season if Davis (and Koji) were moved, in that instance. Koji, on his age, still says he wants to pitch until he is 50. There is a big difference in output from last year and this year, despite what he may want anyone else to think. Let's see a big second-half if he stays aboard and then we'll see if he's going to play at 43 sometime over the off-season...
I like the rest of the bullpen and would keep Pedro Strop (besides, he was just re-signed). I'm one of the few Strop fans out there who have come to trust him more than usual. Which is funny, because he kept me on my seat before and for a long time. I truly think Edwards has closer stuff—but mentality? We will need to find out, and it would be nice to have time for him to 'audition' instead of thrusting him into the role. My point is pretty simple if I haven't made it already: maybe this isn't the year. Sometimes teams don't have it, and I just haven't had that feeling about the 2017 Cubs all season. I feel that some teams in the American League could mop the floor with them if they as much as even made it to a repeat World Series appearance, and the National League has also improved heavily and is still getting better as the season goes along. (Watch out, the Cards are hot….)
If the Cubs traded off some of the assets that most people expect them to hold and take the draft picks for 2018, it could help tremendously with the future. At the same time, dealing an Arrieta and Davis (or both) wouldn't cripple their chances at winning the division. Hendricks will be healthy for the second-half, hopefully. Lackey doesn't seem to have a lot left in him, and trade value isn't there, but if he could give them a solid second-half and pitch to a 3.50 ERA even and keep them in the game, the lineup will mash and give him a chance to add some wins to his scorecard despite his high ERA and home run tendencies (a la Adam Wainwright).
Lester is here to stay, and we all know this. He has been hot and cold this year, but I think a lot of it has to do with the ebb and flow (or lack thereof) of the team so far. If they were to ever get in a groove, I think he would stay in one as well. Butler may not be the answer, but I have been impressed to see his improvements. He still seems to spike the ball a bit on a lot of his pitches, and almost seems to pitch to feel when I wish he would just reach back, and let it rip, but I'm happy with how he has performed so far given he is a fill-in.
I don't know what to make of Montgomery, but he is probably better off in the pen once Hendricks is healthy.
The assumption would, of course, be that the Cubs pick up a starter in some trade, whether it be moving Arrieta or somebody else on the last year of their deal. A rotation of Lester-Hendricks-?-Lackey-Butler—or?—could still lead the Cubs to the NL Central crown, and once you get to the playoffs, you never know what may happen. It would also be extremely helpful in restocking the farm system.
I feel like the offense will soon wake-up and start hitting, but right now, I am of the belief you try to trade some of the players who will not be back. Cleaning house of Miggy was nice to begin with and long-overdue. Jake is coming off of a fantastic outing having given up just one hit in his performance, but his value hasn't been any lower for a LONG time now. If he can string one more nice start together, and the Cubs truly don't think they can win it all, or simply don't intend on re-signing him, depending on their W-L over the next week or so and where they stand mid-July, now (or pretty darn soon) may be the time to make some phone calls. There are a lot of teams chock full of prospects who could help refill the farm system, and I am sure the Cubs would be able to bring back a starter to slide into the three or four spot. With Lester and a healthy Hendricks, and potentially some other moves that could come after moving Arrieta, the Cubs could even find themselves in a better position to make a run with more vigorous youth on their side.
I end this with a simple "just food for thought"—as well as, "Why not?", because we all know the Cubs are more likely than not to let Arrieta walk as a free agent. If you could get something to help for now and the future, perhaps a reclamation project, as well as future talent to put on the farm, why don't you make a move? Jake is getting older, and it wouldn't be like they would be waving the white flag high. They could still very much compete with the Brewers, but the main concern if any Cubs fan is watching the standings should still be St. Louis. And I admit: it may not be the Cubs year, anyhow.
I'd rather head into 2018 stronger for the future than hang in there by a thread until mid-September, if even. One thing is for sure, and that's if the Cubs want to hang and be a post-season threat again, they may need both a bat and a pitcher. Do the Cubs want to give up that many pieces from their farm system for both another 2/3 of the rotation and hitter for their lineup? Like everyone else, I keep waiting for the lineup to turn it on, but what if it hasn't by July 20th? What if Schwarber isn't going to start hitting this year? What if it is just a lost year, as some players sometimes have? Often after injury.
The Cubs may just want to make some calls—just in case. It's not quite the time, but it may be getting close to putting a few names out there if nothing else to see what teams may offer. No go ahead, scold away. I have my fireproof Cubs gear on. Being a realist, and as much as this guy would love a repeat, I'd rather see them stock the farm even more if it meant missing out on the division if they can't get it going soon. There is a point where panic should start to set in for the players, manager, and the entire organization. The sooner they realize this, maybe the better. I would love to know what you guys think—comment below and tell me if I'm the only one who is crazy for thinking about potentially selling off sometime later on this month.
(I would still give 'em a week or so to see what can happen, but they need to start to pile up some wins and fast, or the Brewers lead could grow to 7, 8 games... and, well, fast!)
Hopefully, they will contend to the end and go on a run, but I am admittedly worried. It has begun after today. Can't watch the Brewers destroy them like that while their bats remain silent as they've been. And the farm is already lower than before, so I'm not sure who the bait would be to get a potential impact arm or bat. Maybe they should try to sell a bit and get a little younger... Regardless, the second-half is bound to be very interesting to watch, and a lot closer as a whole than I would have guessed heading into this season!