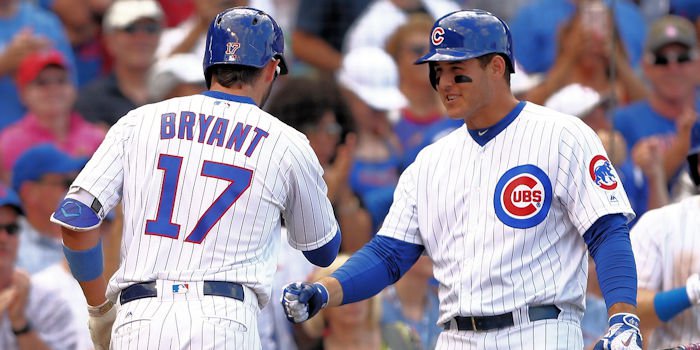 | | |
| --- | --- |
| Commentary: Is Bryzzo disintegrating before our eyes? | |
---
Theo vowed change this winter, but not even I expected things to become this radical. Anyone with any working knowledge of MLB could have foreseen Kris Bryant being dealt this winter, but Willson Contreras? Anthony Rizzo? How far this will go remains to be seen, but I never dreamed "change" was going to look like this.
There seems to be some sort of underlying discomfort in the Cubs' camp, though I'd stop short of calling it discourse; until this:
Anthony Rizzo
Anthony Rizzo's agent, Mark Pollak, opened the day by announcing that Anthony Rizzo will not be extended this offseason. Rizzo wants to say in Chicago.
"The Cubs have informed us that they will not be offering Anthony an extension at this time," Pollack said to ESPN. "Anthony has let his desire to be a Cub for life known to the organization. Although we do not know what the future holds, a deal to make that happen will not be addressed now."
Still, it raises eyebrows that the Cubs recently announced that they'd be focusing on extensions, yet haven't reportedly spoken with Kyle Schwarber, Kris Bryant or Anthony Rizzo.
I predicted that the Cubs would focus on extending Javier Baez now, then work on locking Rizzo down next winter, but it's starting to sound like Rizzo wants it now or never. I've always said where there's smoke, there's fire, and for some reason, Rizzo's name suddenly appeared in trade rumors last week.
I think it's perfectly OK to both acknowledge that an Anthony Rizzo extension does not need to be addressed right now *and* be annoyed that his agent seemingly approached the Cubs about one and was turned away.

I get the logic. I'm also a fan and this is Anthony Rizzo.

— Michael Cerami (@Michael_Cerami) December 11, 2019
Jesse Rogers said on ESPN 1000 this morning, that you must read between the lines: Rizzo is obviously not happy with the Cubs right now, or he'd never have allowed his agent to go on the record and state that he would not be extended this winter. So, does this mean that Rizzo now enters the trade block? Quite possibly, but on the other hand, it may also mean that he finishes up his last two years and then leaves without being re-signed. The most appealing option would be that things iron themselves out, the Cubs clear some hefty payroll over the next two seasons, then lock Rizzo down to a lifelong deal.
Rizzo being extended this winter was highly unlikely, as the Cubs were already bumping the luxury tax threshold, and that was without having to pay Cole Hamels, Nicholas Castellanos, Brandon Kintzler, and others. So why would Rizz decide to allow his agent to put pressure on the Cubs now? Perhaps because he sees the money drying up and wants to make sure that he gets his.
Jesse Rogers says that Rizzo's tenure with the Cubs has already netted him about $77M between guarantees and incentives, but that comparatively, his play has been worth an estimated $221M. While Rizzo's deal was extremely team-friendly, you must remember that Rizzo and his agent ultimately agreed to the deal, so you can't blame the Cubs for making the deal.
Rizz has a very well-documented history of back injuries. That history may very well be factoring into Theo's hesitancy concerning an extension. Still, Anthony Rizzo has become Mr. Cub 2.0, so certainly that's not enough to stop an extension – or is it?
Anthony Rizzo has 2 yrs left on his contract. I'm sure the Cubs are more focused on what they are going to do with Bryant/Contreras/Baez than what they are going to offer Rizzo at 32 years old & beyond.

An extension right now is not needed but should not get lost in translation.

— Cubs Live (@Cubs_Live) December 11, 2019
Something seems weird about all of this. Rizzo is undoubtedly not a guy that you'd expect to make waves, yet he authorized his agent to announce that the Cubs aren't talking about an extension, even though he has two years remaining on his deal. Is there perhaps some sudden resentment that Javy is looking at getting paid (and extended), while Rizzo is stuck at an AAV of just over $7.5M for eight years? Maybe, but who's to say?
While that marinates in your mind, let's move to the next player on the trade block.
Willson Contreras
When it was announced that the Cubs would deal from the core, I expected names like Kris Bryant, Ian Happ, Kyle Schwarber, or Albert Almora Jr., but I never expected to see Willson Contreras' name out there. Granted, Willy would probably bring a better return than KB at this point, if for no other reasons than the number of controllable years and the lack of a grievance over service time.
Although Theo has said that the price for Contreras would be "absurd," the San Diego Padres are reportedly now "all in" on the Cubs' backstop. Even beyond the Friars, multiple other teams are looking for quality catching help, and big names are flying off the free-agent shelves. With Grandal and Gomes signed, Contreras makes for just about the most appealing catcher out there, but despite a potentially healthy return in a trade, the Cubs would get dangerously thin at the catcher's position if they trade him. Victor Caratini could assume an everyday role in Chicago – something he has probably earned – but who backs him up? Miguel Amaya is not MLB ready, and in my opinion, won't be for at least another year.
If there's any bit of merit to the possibility of Anthony Rizzo being traded, the Cubs almost have to hang onto Contreras, as Caratini would undoubtedly become the Cubs' new first baseman, leaving the catcher's spot unattended. Caratini could fill in as a backup backstop should Contreras go down, with the possibility of Ian Happ or others available to cover first.
It isn't known whether or not the Cubs have made any attempt (privately) at extending Contreras, but with him not gaining free agency until 2023, it certainly wouldn't seem like something that needs to be prioritized. With David Ross now at the helm, surrounded by former catchers on his coaching staff, Contreras has the opportunity to become one of MLB's most elite catchers, yet he remains on the trading block.
Kris Bryant
If you can't see that KB's days as a Cub are probably numbered, then I'm not sure what more I can do to show you. Every time that I sit down to work on my daily column, a new trade scenario involving Kris Bryant appears, and quite frankly, I'm getting tired of analyzing all of them.
Know this: As of right now, it looks like the Braves and Nationals may be serious about landing Bryant, each having lost one of the two superstar third baseman to free agency (Donaldson and Rendon, respectively). While Atlanta is the longest-running suitor to date, the Nats threw their hat in the ring after signing Strasburg to a $264M deal, leaving them unable to afford a reunion with Rendon.
Tim Stebbins (NBC Sports Chicago) put together three hypothetical trades between the Cubs and Nationals for Kris Bryant. Which would you prefer?
Scenario No. 1: Nationals acquire: 3B Kris Bryant
Cubs acquire INF Carter Kieboom, RHP Mason Denaburg, and LHP Tim Cate.
Scenario No. 2: Nationals acquire: 3B Kris Bryant
Cubs acquire INF Carter Kieboom, RHP Joe Ross and RHP Wil Crowe
Scenario No. 3: Nationals acquire: 3B Kris Bryant and LF Kyle Schwarber
Cubs acquire: OF Adam Eaton, RHP Joe Ross, and RHP Jackson Rutledge
I definitely don't like any of this stuff.
Kieboom batted only .128 this year, making him offensively worse than Daniel Descalso (.173). While Joe Ross was promising at one point in time, he's now had a plus 5.00 ERA for three seasons running. The prospects aren't great, though Denaburg may have a future, but if Tim is onto something with his hypotheticals, what does this say about the climate for KB? No wonder Willy is on the trading block if KB is going to fetch pennies on the dollar.
Atlanta seems to have more appealing players to offer, including Max Fried, Austin Riley, and an assortment of pitching prospects.
At this point, the only things that appear to be holding up a deal for Bryant are the signings of Donaldson and Rendon and the final determination of Bryant's grievance. By all accounts, the arbitrator will rule on KB's grievance within the next couple of weeks, making the delay more of an inconvenience than anything else. Entering the Winter Meetings with the issue settled would have given Theo a lot more bargaining power, though KB was still unlikely to be moved before either Rendon or Donaldson.
Stay tuned, Cubs' fans. This winter is either going to end with some miraculous cure, or next season is going to be unbearably long.

Tags: Cubs Baseball
,
,
Willson Contreras
,
Anthony Rizzo
,
Kyle Schwarber
,
,
Cole Hamels
,
Brandon Kintzler
,
,
Albert Almora Jr
,
Victor Caratini
,
Miguel Amaya
,
David Ross
,
Daniel Descalso