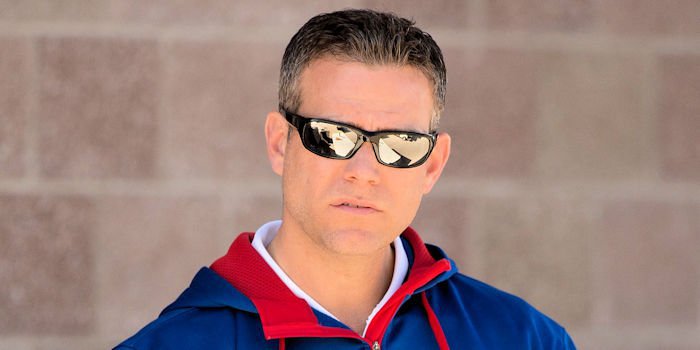 | | |
| --- | --- |
| Commentary: Is it 2019 yet? | |
---
| | | |
| --- | --- | --- |
| Thursday, October 11, 2018, 4:47 PM | | |
When Dan Marich announced that he was leaving for four days to go to sunny, San Diego, my editor asked if I could pick up the slack. "Sure," I said, "what makes this different from any other time?" While Mr. & Mrs. Marich were having fun in the sun, I spent my week writing (which I don't mind at all), caring for a wife sick with bronchitis, and dealing with a dying lamb. Sometimes life just doesn't seem fair. By the way, my wife has survived; the lamb, not so much.
As we (and the Cubs) are now better than a week removed from the 2018 season, all any of us can do is set our sights and hopes on 2019. With almost six months until opening day, that's an awful lot of hoping.
In my recent series, "Building for 2019," I did a lot of speculating. Some things seemed obvious, like figuring out how to part ways with Tyler Chatwood, while others took a bit of thought. I've already informed my editor that if I turn out to be 100% right, I'm sending a resume to ESPN, and applying for a job as a baseball insider.
I check the Cubs transactions every day, hoping to get that first look at what's going to happen for next season. While I know nothing will be happening this soon, I check anyway. Give me SOMETHING Theo! Can you just fire Chili Davis or Jim Hickey already, so at least I can say that I'm one-for-one with my predictions?
What I wouldn't do to be a fly on Theo's wall, listening in on the meetings and phone calls, knowing before anybody who the Cubs were pursuing and who the team was about to send packing. I'd hear his wheeling and dealing, laughing at trade proposals that he deemed to be ridiculous, and then becoming stone-faced and stern as he dealt with Addison Russell's future. If there is a fly in that office, he has it made.
So, when will things start to happen? The Cubs wasted no time last year replacing their hitting coach, and it didn't take Joe Maddon long to replace Chris Bosio. The free agents hit the buyers' market on November 12, and the trades can start just about any time. The days until the action starts can't pass by fast enough.
Speaking of Bosio, I guess now is as good a time as any to address this. I've seen many readers speculate about Bosio's possible return to Chicago, but I wouldn't hold my breath. First, Bosio was none too pleased with getting fired to make room for Hickey, and I'd imagine there's a degree of bitterness left in him. Next, due to Bosio's firing in Detroit over racial sensitivity issues, I don't think the Cubs would even consider him. Even though the smoke has cleared about Daniel Murphy, I surmise that Murphy won't be re-signed due to free-agency and that Russell may be gone as well. The last thing the team is going to do is take on another guy with political correctness issues.
All I know is that this season ended much too soon, and 2019 seems light-years away at this point. So much to get done for the Cubs, and plenty of time to do it, making it all the more agonizing for those of us on the outside looking in.
The playoffs have already bored me, as there hasn't been much to see. Houston, L.A., Milwaukee, and Boston all made quick work out of their respective opponents, collectively winning their four divisional series by a lopsided twelve games to two. Hopefully, the championship series gets better. If the only the Cubs would have won a few extra games before the end of September…