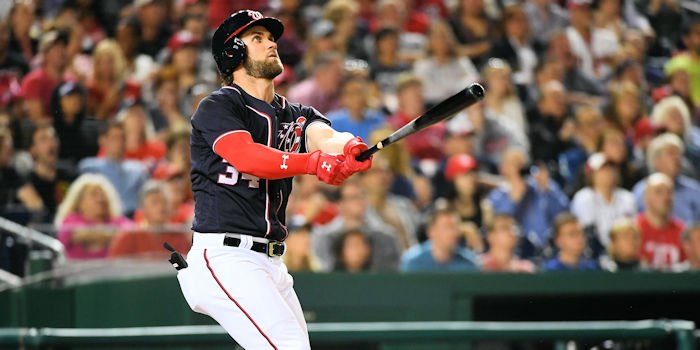 | | |
| --- | --- |
| Commentary: The Cubs don't need Bryce Harper | |
---
CHICAGO -- Presumptuously, the only thing separating Bryce Harper and a Cubs uniform is the end of the 2018 season. Do the Cubs need Bryce Harper though? I'll go against the grain here and say no, we do not need another MVP on the roster. The parallels between Harper and the Cubs run deep. By now every fan knows that he played high school ball alongside fellow former MVP Kris Bryant. Their wives are known to be great friends, and hell, the guy named his dog Wrigley. Coincidence? I think not. Harper practically bleeds Cubbie blue. But again I'll say, we don't need him.
There's speculation his new deal will exceed $400 million, and frankly, we don't need another right fielder sitting on a long-term, high-value contract. Now I'm in no way saying Jason Heyward has lived up to his 8 year / $184 million contract, and I'm sure not saying Harper would be the bust the other guy has turned into. The problem here is if we wanted to pay Harper what is speculated, the front office would need to either trade or buy out Jason Heyward. I'm not a general manager in the league, but it's a safe assumption that no team is willing to take on Jason Heyward's contract along with his seemingly forever slumping bat. The next option would be to buy out the remainder of his contract, which again just seems illogical. I've been bashing on Heyward's play, and it's easy to considering his feeble .243 average while donning the blue pinstripes. However, I've neglected to mention his irreplaceable defense. He's accumulated five gold gloves awards in his career, with his two most recent coming in Chicago. I find it hard to take that kind of defensive consistency out of the lineup, even with his bat.
What many people are calling a "problem" with the Cubs is our current outfield depth. On the opening day roster, I'm expecting the Cubs to carry five outfielders including: Ian Happ, Albert Almora Jr. , Kyle Schwarber, Jason Heyward, and Ben Zobrist. Not to mention, Kris Bryant has proven his versatility and ability to cover the outfield as well. To any manager this is a dream come true, however only three can play out there at a time. Any three of these guys could be taking the field in Miami on March 30 and I'll be content. Add Bryce Harper into the mix and now only two of these guys get to play along side him. Ian Happ has had the spring of his life batting .341 with six homers and an inane 1.295 OPS, and has undoubtedly earned himself a starting spot on opening day for this year and surely years to come. Albert Almora Jr. has proven to have Gold Glove capabilities along with a consistent bat that could potentially sit atop the order in the future. And as sure as God made green apples, we are bound to see another thirty plus Schwar-bombs for years to come, just in a skinnier variety. I previously mentioned Jason Heyward and made my case for him being in the lineup, but it solely relies on his glove unless he can turn it around at the plate. Ben Zobrist is on the decline but has retained a level of consistency, but will likely be used in a utility role for the remainder of his career. Bryce Harper would surely sit atop this stellar group of fielders, but that means less playing time for the core that Theo Epstein has put together.
I welcome Bryce Harper to Chicago with open arms and would love to see him win a playoff series for once. However, the Cubs are not doomed without him. The dynasty will carry on with our without you Bryce. All I ask is that you sign with an American League team if you don't choose the Northside next winter.

Upgrade Your Account
Unlock premium boards and exclusive features (e.g. ad-free) by upgrading your account today.
Upgrade Now