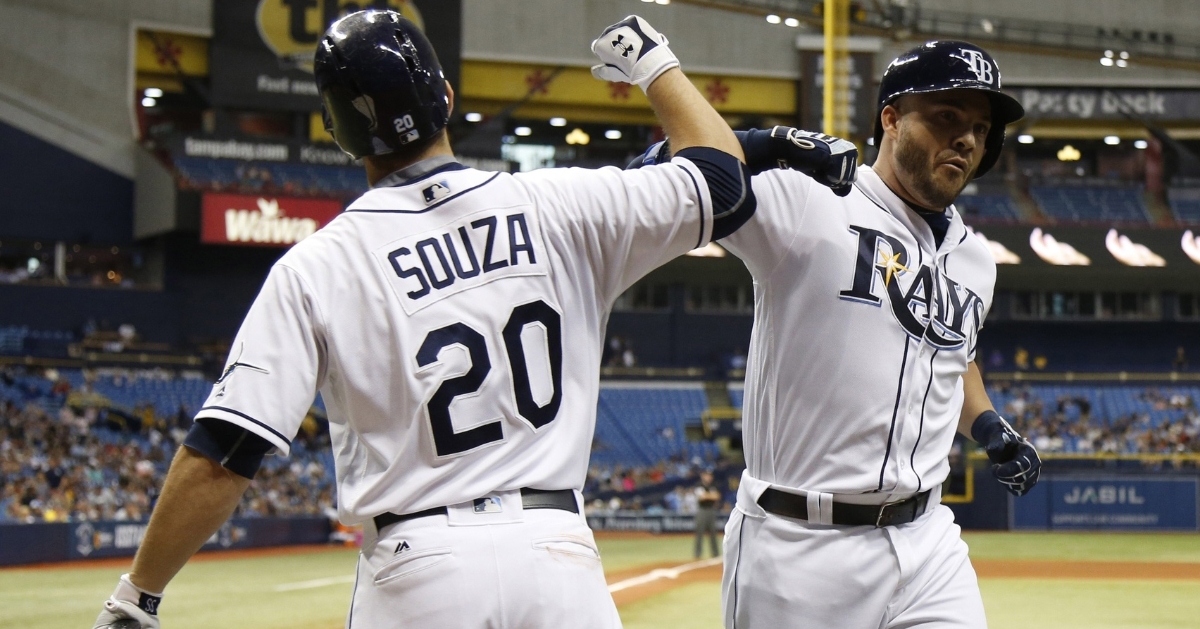 | | |
| --- | --- |
| Commentary: You may have to look past the numbers on Steven Souza | |
---
Uh-oh, the hopes for a reunion between the Cubs and Nicholas Castellanos may finally be dashed. Yesterday afternoon, reports began to emerge that the Cubs were nearing a deal with free-agent outfielder Steven Souza Jr. This would be the first major league signing for Chicago this winter.
The Diamondbacks failed to tender Souza a contract this winter, subsequently leading him to be granted free agency by Arizona on December second. Souza entered the majors in 2014, playing a partial season in Washington and three seasons in Tampa, followed by a year in Arizona (2018) before sitting out last year as a member of the D-Backs.
In 2016, Souza was something of an offensive force to be reckoned while with Tampa, but in February of 2018, a three-way deal between the Rays, Yankees and Diamondbacks landed Souza in the middle of a desert. I don't think anyone has ever felt as stranded in Phoenix. His next two seasons would become complete disasters.
After debuting with Arizona in 2018, Souza appeared in only 65 games due to another knee injury – the precursor to his 2019 injury. During those appearances, Souza managed a slash line of just .220/.309/.369, with a less than desirable OPS of only 678. He's never been a guy who puts up huge offensive numbers, but he can deliver power – that is when he's healthy.
Last time I saw Steven Souza Jr, he hard slid into Javy, took a pitch to the nuts for it and almost duked it out w Rizzo. #Cubs @BleacherNation https://t.co/EpMGrYozGf pic.twitter.com/SY7zG4PNYK

— MBDChicago (@MBDChicago) January 24, 2020
.
Souza will turn 31 in April but is just returning to action after surgery, having torn his ACL and LCL during Spring Training last year (March 26). I realize that by this point you're probably banging your head on a table, but look at the bright side– Kyle Schwarber bounced back from a similar injury to become a pretty damn good hitter…
2020 you better be ready #4TK pic.twitter.com/k9xNWvN8y2

— Steven Souza Jr. (@SouzaJr) November 14, 2019
During his two-year stint with Arizona, Souza racked up a total of three injuries (two pectoral, one knee), landing him on the IL for a total of 267 days. Before joining the D-Backs, he spent a total of 85 days on the IL (two hip injuries, a hand injury and a finger injury) with Tampa. According to Spotrac, all told, those seven injuries have now cost his former teams a total of $5,908,308.00.
While the injuries are very disconcerting to me, there's something about Souza that I can't help but like. Unlike a lot of guys who hit the IL, collect their checks and never give things a second thought, Souza seems to be a guy who's genuinely concerned and saddened about not being able to showcase his skills for his team and their fans. This guy has a lot of heart. Period.
Following the latest knee injury, an emotional Souza discussed his injury, determination, and his lackluster two-years in Phoenix.
Did you see the exhibition game injury that claimed Souza's 2019 season? It was nothing short of bizarre. With the consent of the doctors and trainers, Souza had rushed his way back from a re-injury of his left knee during Spring Training, but with just two Cactus League games to go, disaster struck.
While trying to score completely unchallenged, Souza took the final stride, but just as his left foot came down to touch the plate, he slipped, the knee buckled, and that was the end of that.
Understandably, both Souza and the D-Backs' hierarchy took a lot of heat for the trade that brought Souza to Phoenix – after all – he was injury strapped and not overly impressive when healthy. However, even as he was leaving, fans still got after him. Souza tweeted something about being non-tendered (it was since deleted), and the fans apparently went crazy on him.
For those of you that took my non tender joke personally, I'm sorry it was just a joke about how bad I was in AZ and that was the fans best memory of me was them letting me go. Y'all need to take a deep breath! Im moving on from these tweet i suggest you do the same. ??

— Steven Souza Jr. (@SouzaJr) January 16, 2020
I'm the first one to berate guys for grossly underperforming, but man – give the guy a break. He apologized sincerely for underperforming in Phoenix and even tried to provide fans with a laugh at his own expense while packing his bags for his next move. Jesse Chavez never shined in Texas, and Nick Castellanos wasn't shining nearly as bright in Detroit before joining the Cubs.
Despite everything that I've come to know about Steven Souza, the man, I'm still sort of split right down the middle on this one-year deal. I can't fully embrace signing a guy with those kind of career numbers – especially after last year's offensive struggles for the Cubs. On the other hand, I admire the guy for who he appears to be, and I think that kind of dedication to himself, the team, the fans, and the game may pay some huge dividends.
This is identical to my life right now! #Comebackszn https://t.co/2xRe44aunr

— Steven Souza Jr. (@SouzaJr) November 23, 2019
Had the Cubs made some big moves this winter, signing Souza as an extra piece for depth wouldn't have seemed to be such a big deal, but so far, this is it for Chicago. No Kris Bryant trade, no big bullpen arm and no Nolan Arenado, not that he was ever coming to begin with. Somehow, this reminds me a lot of the last former D-Back the Cubs signed; his name is Daniel Descalso. Still, Souza and Descalso seem to be two completely different breeds, even if their offensive numbers do seem to mimic one another.
For those wondering, THIS is what Steven Souza Jr. brings.

(??: @dbacks) pic.twitter.com/OdVGE9pp10

— Cubs Talk (@NBCSCubs) January 24, 2020
Like him or not, it looks like Souza will be a member of the 2020 Chicago Cubs. Staying healthy will be the toughest part of the battle, but if he can, Souza could put up some potentially big numbers at Wrigley. The interesting part is going be how they use him, considering the various contracts belonging to an already crowded outfield.
I guess for now we'll just have to wait and see what Theo Epstein and David Ross do with Souza and what Souza may do for the Cubs.