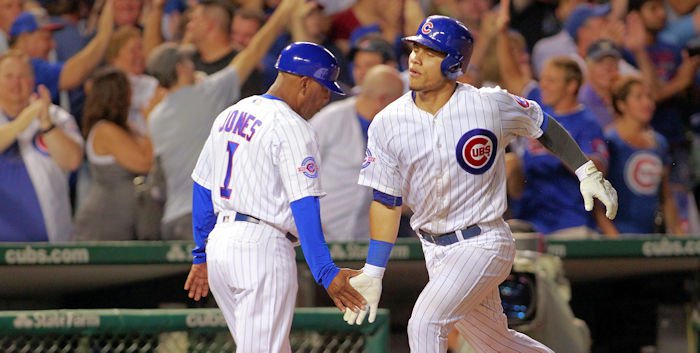 | | |
| --- | --- |
| Contreras homers late as Cubs win close call with Padres | |
---
CHICAGO – The last time that the Chicago Cubs faced off against the San Diego Padres, the late-May series resulted in a three-game sweep in favor of San Diego that extended a Cubs losing streak to six games and saw the North Siders sink to depths of despair not previously experienced under manager Joe Maddon. With that being said, the Cubs (35-34) were able to earn some redemption on Monday night, using a clutch two-run seventh inning to pull out a 3-2 victory over the Padres (28-43) at Wrigley Field.
One of the primary factors behind Chicago's less-than-stellar performance so far this season has been the consistent early-inning struggles put on display by its starting pitchers. Having given up a jarring number of home runs in 2017, the Cubs' starters have not been even remotely close to as dominant as they were last year. Jon Lester is a prime example, and, tonight, he suffered his usual early-inning woes as early as possible, giving up a leadoff home run to start the game.
With a bomb to center on the third pitch of the contest, Padres left fielder Jose Pirela, who now has three homers on the year, gave San Diego an early 1-0 lead. Interestingly enough, Lester settled down thereafter, producing an overall solid performance through the first two innings, save the opening homer. The home run bug bit him yet again in the third, however, with a solo shot to left by second baseman Yangervis Solarte putting the Padres up 2-0. Solarte finished 2-4 on the night.
Lester proceeded to pitch well, for the most part, allowing only five hits in six innings pitched while striking out seven. Fitting the mold of Lester's season, the lefty's outing on Tuesday was a tale of two starts, with the overarching dominance that was a mainstay for the Lester of old intertwined with Lester's recent lapses in giving up too many critical hits.
To be fair, offensively, the Cubs did not offer Lester much support, with first baseman Anthony Rizzo serving as the only legitimate playmaker in the batting order through six innings. Continuing his recent streak of making magic happen in the Cubs' first at-bat of the game, Rizzo epitomized once again that he could very well be the leadoff-hitting savior for Chicago by reaching base on a surprise bunt single to start the bottom of the first. Rizzo next produced in the third inning, as he came through with a sacrifice fly that scored center fielder Albert Almora from third.
Best leadoff hitter in @MLB? @ARizzo44 is making a strong case. pic.twitter.com/8oUUxGt2qZ

— MLB (@MLB) June 20, 2017
Lester had a hand in the Cubs scoring their first run, as he successfully bunted Almora over after the outfielder drew a leadoff walk. Almora next took third on a Jon Jay single, setting up the Rizzo RBI. In the fifth inning, Lester's bunting actually served as a detriment to the Cubs, as he bunted foul with two strikes, which, in large part, contributed to the Cubs wasting a golden opportunity created by Javier Baez's double to begin the inning.
Struggling with runners in scoring position has been a theme of the Cubs' season thus far, and it plagued them on Monday, particularly in the sixth inning. Rizzo led off with a triple, his first of the year, but a strikeout and a lineout ensued. On the lineout, Rizzo attempted to tag up and score, but he was thrown out at home, keeping the Cubs down by a run. Rizzo went 2-3 at the plate with one RBI and now boasts a career-high 13-game hitting streak.
The Cubs gave the Padres a taste of their own medicine in the next inning, though, knotting the game up on a solo homer. Catcher Willson Contreras smacked his sixth home run on the year, booming one to right on a 1-2 count off of Padres starter Clayton Richard. Richard, a former Cub, was yanked soon afterward, finishing with five hits and two runs to his name in 6.1 innings pitched. He was arguably pulled too quickly, though, as Richard's replacement on the hill, San Diego reliever Kirby Yates, struggled mightily.
On the one-year anniversary of his @MLB debut, @WContreras40 provides some déjà vu. pic.twitter.com/EZS5YIXAJU

— Chicago Cubs (@Cubs) June 20, 2017
Yates, who received the loss on the evening, gave up a single to Baez to start off. Then, Almora collected a crucial double that led to Baez scoring, as Pirela bobbled the ball in left and allowed the speedy Baez to come home. The Cubs held onto their 3-2 advantage thereafter, though just barely.
Chicago reliever Koji Uehara escaped a situation in which a runner was on second with only one out in the eighth. In the inning after that, Cubs closer Wade Davis, who has not pitched particularly well as of late, got caught in a major jam after he hit Pirela with a pitch to put the tying run on with one out. Davis next threw a wild pitch that moved the tying run into scoring position. Davis proceeded to walk a batter to place the winning run on first, and, following that, a second wild pitch advanced both San Diego runners.
Wade was able to showcase why he is considered one of MLB's top closers, however, by bearing down in a pressure-packed situation and outing the next two batters to finish off the game for his 14th save, providing the Cubs with a hard-fought 3-2 win in a relatively evenly-matched contest. Both teams accrued seven hits on the night, with the Cubs garnering four extra-base hits to the Padres' three, and Almora's clutch double proved to be the winning hit.
Cubs middle reliever Hector Rondon (2-1) was granted the win for a seventh-inning showing that saw him escape multiple sticky situations unscathed, and Uehara received his ninth hold of the year. The Chicago Cubs, who have now won back-to-back games for the first time in nearly two weeks, will look to win their third consecutive game tomorrow night in the second matchup of their three-game home affair against the San Diego Padres.
#Cubs rally to beat #Padres in opener.

Recap: https://t.co/cTQKn0sXGs pic.twitter.com/y3O3owZJ5s

— Chicago Cubs (@Cubs) June 20, 2017